It takes me a good 2-3 hours to get through the small strip of shops on one side of Leura Mall. So that's probably why I never made it up the stairs to the Nook. The goods on sale were more my family in law's style but the one display that intrigued me was of course food related. When I asked, they told me that the man that makes the jams (presumably Jack of Faye and Jack) is 84 years old, jam making keeps him young and like a lot of small homemade companies, the price hasn't changed for a long time.
From the laminated sign, I could see they were big winners in country shows and the Sydney Royal Easter show and having a look at the strawberry jam (my favourite flavour) I could see that they were very chunky and full of fruit, the way I like it (although there was some inconsistency with the level of fruit in some jars). Picking the jar most packed full of fruit, I also selected another judge's favourite, the passionfruit butter. My husband is not a huge lemon butter fan so I thought that Passionfruit might be more to his taste. Smaller jars like the Passionfruit butter are $4 and large jams are $5. An absolute steal really.
I don't know what is better to try these with than French Toast. On the first day our of family holiday I made 6 slices of French toast, mainly for Blythe and my husband. Everyone ended up enjoying it so much that poor Blythe only received one piece so the next day I made double that.
The passionfruit butter was the favourite, the sweet and true passionfruit flavour bursting through in every bite. It was easy to see why it was a winner with the judges.
The strawberry jam was luscious and chock full of fat strawberry chunks although it was a little less sweet than regular jams which may be to some tastes.
DID YOU MAKE THIS RECIPE? Share your creations by tagging @notquitenigella on Instagram with the hashtag #notquitenigella
French toast for a hungry family
6 slices fruit bread or chocolate swirl bread
4 large eggs (5 small eggs)
butter and oil for frying
Step 1 - Beat eggs, milk and sugar in a bowl. Heat frying pan with butter and oil (the oil is to ensure that the butter doesn't burn, the butter is for taste). Dip the slices of bread into mixture just before frying (don't do this too ahead of time or the bread, if fresh, will fall apart). Repeat with remaining slices and serve with bacon or jams and preserves.
Variations: add 1 teaspoon cinnamon and 1/2 teaspoon orange rind and 1 tablespoon orange juice to egg and milk mixture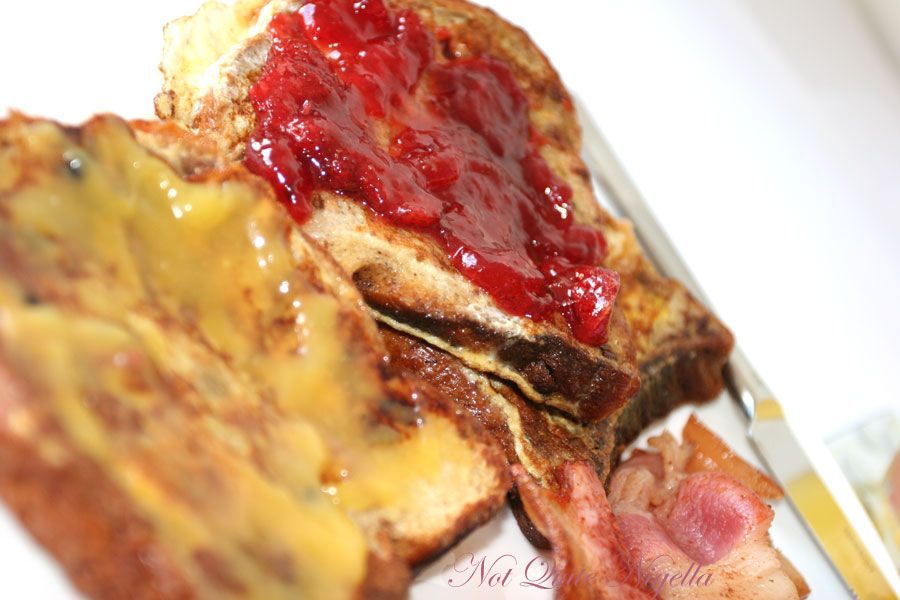 Faye and Jack's Jams
Available at The Nook Craft Co-operative
133a Leura Mall Leura 2780
Tel: +61 (02) 4784-2917
http://www.thenookleura.com.au