Prior to my visit, I was told three things about Bourke Street Bakery: 1. The queues are long but move quickly 2. The shop is tiny and 3. They make fantastic baked goods worshiped by many.
I can confirm all three. It was 1.50pm on a Saturday afternoon, where we, pre-picnic and perilously peckish fronted up the store. We needed something delicious and tasty to take to Centennial Park to eat before enjoying a tandem bike ride. And like everyone said, the line was long but moved quickly. I was queueing for less than 5 minutes when I reached the crowded front of the counter. With 4 people taking orders behind a fairly small space, its organised chaos.
As I've been waiting in the line I've already had a chance to decide what I want. I choose my selection of two sausage rolls, two types of rolls and two tarts (the strawberry and vanilla brulee tart is fresh from the oven, the huge tray brought out while I am waiting). Alas the ginger creme brulee with pistachio is not available. Sometimes life is just not fair! Its a cry for the spoilt I know and don't think I don't know how ludicrous that sounds but I would be lying if I said that I wasn't disappointed. There's also quiches, sandwiches, pies, cookies and breads available.
Lamb, harissa and almond sausage roll $4
The short trip to Centennial Park is fraught with danger with the enticing aroma of the warm sausage rolls emanating from their brown paper houses. We unpack and unfurl our trusty picnic blanket quickly and slide our goodies out. With our wooden knife which we keep handy in the car we cut open the sausage rolls to reveal the filling. I try the Lamb, Harissa and almond sausage roll first ($4). Its flakey and gorgeous, delicious with harissa and the almond providing a lovely blunt crunch and the tiny currants sweetness. Why oh why did I take the smaller half?
Pork and fennel sausage roll $4
I try the slightly smaller and squat Pork and feel sausage roll next ($4), the one that they're known for. Its good, very strong in fennel and my husband is enamoured of this baby. I confess I need to be in the mood for fennel and I am not today so I am greatly relieved that he swaps me his half of the lamb sausage roll for my half of the pork and fennel. See, they don't sell you on that great part of marriage do they? They don't have vows like "Do you promise that if your wife wants your piece of pastry, you will give it to her?"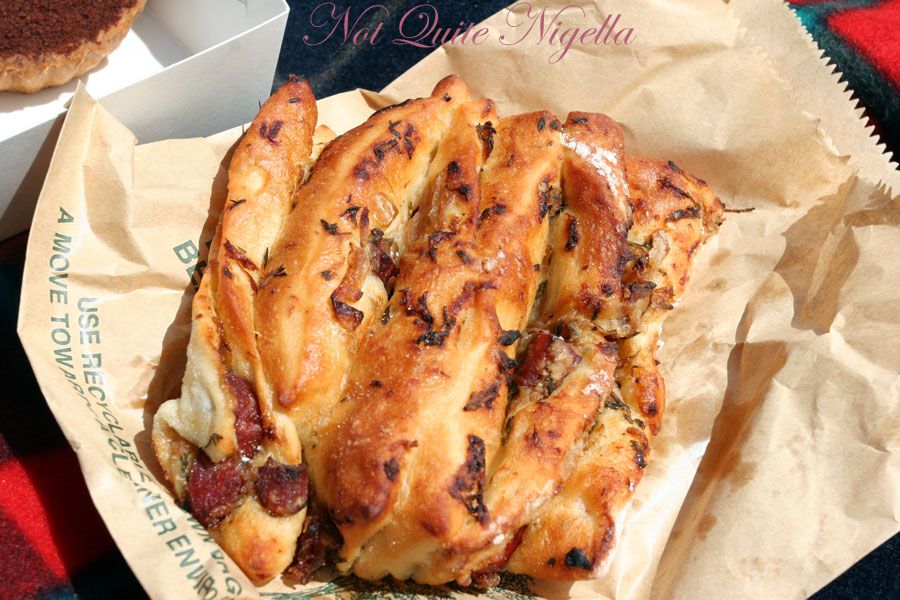 We try the chorizo and thyme roll ($3). Its a twisted, knotted roll thick punctured with cubes of chorizo and shards of thyme. Its very tasty with the chorizo and thyme flavour strong but feels a touch dry on its own. I keep thinking that it would be wonderful with a soup, giving the soup a boost with its intense flavour.
Panini $1
We pick at the panini but at this stage, we're feeling a little full. its soft inside with a smooth, slightly crunchy outer. It deserves a proper meal though and not to be preceded by the flavoursome sausage rolls or chorizo. I had it the next day for my lunch, toasted and filled and it was crunchily gorgeous.
Strawberry vanilla brulee tart $4.40
Now time for the tarts, who have miraculously survived the trip perfectly intact. We cut them in half to see what's inside and the Strawberry and vanilla brulee gives that necessary crack of toffee. Its like I have OCD of toffee. I need to have the crunch. The pastry at Bourke St Bakery is apparently baked dark and a look and bite onto it and you can definitely see the darker, more caramelised, more flakey crust. Its so good you want to stamp your feet in emphasis.
Raspberry and chocolate mousse tart $4.40
The chocolate mousse and raspberry tart is next. The top scattered with what looks like Milo when its cut into half and the tangily sweet baked raspberries in the centre provide a gorgeous juxtaposition to the creamy, chocolately mousse. I confess I licked the mousse with my tongue in one swift motion and ate the tart shell still with some mousse still on it afterwards.
Mmmm yes, foot stampingly good.
Bourke Street Bakery
* *633 Bourke Street Surry Hills (Corner Devonshire Street)
Tel: +61 (02) 9699-1011.
Open Tue-Fri 7am-6pm, Sat-Sun 8am-5pm
Also located at 130 Broadway, tel: 92813113