The food blogging world is an interesting one, far too complex to go into in one post and like a workplace, you're going to get on better with some than with others. Some people you gravitate towards for various reasons and if you've been reading a blog for a while, you feel like you know that person. That's the case when Claire from Claire K Creations and I met. She and I haven't actually met but we knew all about each other. And when she came to Sydney for a one night stay I took the chance to put the book editing on hold for a few hours and meet up with her.
Located where Sweet Infinity used to sit, the layout looks quite different. You're first greeted with owner Nadine Ingram's Cookie Couture cookies which come in a myriad shapes and patterns, some grouped into themes in little white boxes. I'm a bit early so I order a chai and take a seat at one of the tables. There are two tables inside, along with some bar stools at the window and an outside table.
And I just sit there and stare at the cookies fixated as if I were six years old and they're magic. The front display cabinet holds a tempting range of goodies and Janelle behind the counter is helpful when Claire arrives a few minutes later and we are trying to choose what to eat. A tip if you visit: listen to Janelle, she recommends well and she has tried everything there!
The chai is excellent, just the right balance of spices and made with whole milk. They use Alchemy coffee and Rabbit Hole loose leaf teas here and the sugar provided is rapadura sugar. All of the plates are in a lovely blue green shade and we couldn't help but turn them over to see where they were made (props, darlings, props!).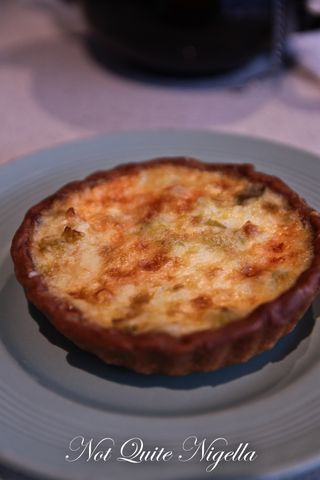 Starting with savouries we try the leek and gruyere tart with a short, crumbly pastry baked dark and a soft, creamy filling. Ideal for a quick and tasty lunch.
Ahh the famous fine apple tart with layer upon layer of thinly sliced apples. These take hours to make and when you see it in front of you in its perfectly rippled, layered glory it takes a stronger soul than ours to resist this. The base is a house made puff pastry and the apples have just the right amount of tartness and bite back to them. I'd imagine this to be brilliant heated up or straight out of the oven with a scoop of vanilla bean ice cream. Because they take so long to make, the apple tart is baked towards the end of the week.
Yep you read right, a panna cotta lamington. I spied it in the other display cabinet and Janelle described it as a lamington cake where they poke holes through it and pour over a panna cotta mix, much like in the same way that you make tres leches cake. With a method as crazy genius as that we had to order one and were amply rewarded. This lamington is for people that find lamingtons dry. The cake inside is moist and reminds us of the tres leches cake or a soaked trifle sans the alcohol.  The cake is split in half and filled with a raspberry filling and then it is coated in chocolate. There is desiccated and flaked coconut on the outside. And it may ruin you for other lamingtons for life ;) .
I look at Claire "Shall we order more? Are you ready for round two?" I ask.
"I'm ready for anything" she answers straight away. How great is that? We front up to the counter and take more recommendations including a savoury bun and two sweeties including a donut and a lemon tart.
I'd imagine that this might get passed up easily sitting among its more glamorous neighbours in the display but we both end up really liking this unlikely contender. It's a zucchini, gruyere and chilli soft white bun which Janelle has toasted for us to have with butter which is really how this is best eaten. The texture is soft and light but with some gravity to it and there is a satisfying lift from the chilli.
The curd in the lemon tart was a good balance of tart and sweet although I did find that the tart case was a bit too soft and crumbly and I prefer really crispy, short cases for lemon tarts.
Ending on a (sugar) high note, the doughnuts, which I had seen tweeted about a couple of hours earlier, had a tunnel dug deep into them and they were filled with raspberry filling and a thick vanilla custard. The donut itself had a lovely, spongey texture made voluptuous by the custard yet the raspberry filling gave it tartness. And the sugar rolled crust gave it a crunchy texture on the outside.
We have to dash as Claire has a flight and I need to go back to editing. The bill is a pleasant $19.50 a person (not bad considering how much we've eaten). As if reading our minds, Janelle brings over a box for us to take away what we haven't been able to eat. I think Claire is going to be the envy of everyone on her flight with that box! ;)
So tell me Dear Reader, what attracts you to a blog? Is it the writing, reviews, recipes, photography or something else altogether? And in your workplace, what makes you get on well with another person? I got on well with people that liked food (not surprisingly! ;)) .
Flour and Stone
53 Riley Street Woolloomooloo NSW 2011
Tel: +61 (02) 8068 8818