I feel  a huge responsibility when asked to choose a location for a get together, particularly if it's for an interstate or overseas guest. I need it to a) suit that person's likes and dislikes and b)  suit the other people coming along. And since the interstate visitor was Julia from Brisbane and my fellow diner was pastry chef Y it just had to feature something sweet. Lovely reader Crystal emailed me a few weeks ago to let me know about The French House and her quote "The kind (of place) you want to spend a whole afternoon chatting with your  girlfriends and eat their endless desserts " clinched it for me.
It's a Sunday afternoon around 1pm and they don't take bookings. No matter as Y and Julia are there waiting for me having nabbed a prime position in the middle of the room. There's outside seating in the partially sun dappled balcony that wraps around and inside is a stunning gilt edged French style room. There's black marble tables edged in gilt, mismatched furniture, black velvet lounges and opulence abounds. I watch a photogenic family of five feeding their children pastries and baguettes.
Ordering is at the counter and we take turns getting up and perving at the selection. As I've missed breakfast I start with a ham and cheese croissant and unable to resist pastry I also opt for a mixed berry crumble danish. There are bread loaves available as well (from $4-$5.90) as well as a selection of baguettes and quiches (and one salad) and an array of about a dozen tarts and cakes.
Everything comes out on pretty decorative plates. The ham and cheese croissant has been toasted and filled simply with cheese and ham. I would have liked a bit more filling so that it wasn't as dry but the pastry is flakey if not particularly buttery_._ I also prefer ham and cheese croissants to have some of that lovely soft cheese filling.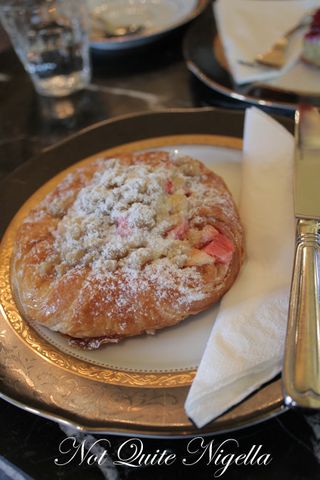 "You're hungry!" Y says when she notes that I've also ordered a danish. Hunger has nothing to do with it ;) I couldn't resist the look of this danish. It's filled with a plain custard, topped with some small amount of chopped strawberries and some brown sugary crumble topping  and dusted with icing sugar. The pastry itself is glazed and it's not bad but it's missing something, perhaps vanilla in the custard or more berries as it doesn't have a strong flavour either way just tasting of sugar.
The hot chocolate comes in a massive bowl and it's smooth and lightly chocolatey.
We had gone all morning without seeing a peek of a macaron but then suddenly a silver tray laden with vivid purple macarons appeared on top of the counter facing me (I am a macaron seeking missile so I spot it straight away).  Julia and I make our way up to the counter to make our sweets order Part Deux. We ask what flavour the macarons are and the ladies behind the counter guess that it's blueberry but then go to check. It's actually a plain almond but with a purple shade. We take three so that we can try them as we're all macaron fiends. I take a sniff - there's the almond flavour and we take a bit and it's chewy and a little too firm. It's a bit strange biting in a vividly purple macaron and just tasting almond and not blackberry or blueberry.
Yes I know almond croissants are usually made with day old croissants and they have an ungodly amount of calories but I do love a sugar syrup dipped twice baked croissant. There's something about the sweet, crispy sugary crust, buttery croissant and meltingly soft almond frangipane cream inside. This one is sparingly filled with the almond paste and generously topped with flaked croissants but there's no dipping in sugar syrup and double baking which is crucial to my enjoyment of an almond croissant.
The tarts however are a different matter. I start with one of the new cakes which is edged with pistachio crumbs and topped with apricot. It's moistly gorgeous with a layer or crushed pistachios and filled with a moist almond meal, some apricot pieces and a glaze on top. The combination of soft, sweet apricot, crunchy pistachios and soft almond centre is moreish indeed.
I can't usually eat a lot of super sweet tarts after a sugar onslaught like this so I expected to peck at this but the tart shell is buttery and filled with a soft caramel. The caramel layer is topped with a chocolate layer and a fresh raspberry, two blueberries and a light dusting of gold lustre powder. It's like a chocolate caramel sliced married well and got itself a spiffy new wardrobe and makeover.
I don't know if I'd make a special trip for the pastries but I adore the cake and the tart that I had and want to go back for more.  I also do know that we whiled away the hours here for over four hours so as far as catching up with girlfriends are concerned it was just what we needed.
So tell me Dear Reader, are you often the person that picks where you dine out with friends? And do you find it a tough task?
The French House
1G Danks Street, Waterloo, NSW
Tel: + 61 (02) 8399 2770
Open 7 days 8am-5:30pm
Closed public Holidays