Just when you think you've tried every pastry in the world, then suddenly you find yourself walking down Crown Street in Surry Hills. A woman sits at an outside cafe playing "Son of a Preacher Man" at full blast and this makes you stop and regard her momentarily. Then you look up and see a new addition to the street in duck egg blue called Kürtősh. A man stands behind the large glass windows twirling dough around a wooden rolling pin and then dips it in hundreds and thousands nuts or cinnamon sugar and then bakes it in its own Kürtősh oven.
So naturally, you just have to make a time to visit there with friends. Enter Buxom Wench and Silver Fox. She's the loyal, questioning and outspoken friend of mine who has brought her lovely husband Silver Fox with her. At Kürtősh, the name of the shop as well as the pastry, cakes are sold from large slabs and customers choose the size of the portion they want and pay her weight. Cakes are about $4.50 per 100 grams and there are also a range of samples on top of the counters.
Savoury lovers, there are some burek pastries on offer: a three cheese, spinach & cheese, pizza and a mashed potato burek on offer when we are there. Although Kürtősh is Hungarian, the owners are Israeli and French and the cake offerings are European style cakes, slices and pastries. Alas, no closeup photos of the cake display-apparently the owners don't mind photos of anything but the cake display but cakes once bought are fine. It's a bit of a mystery and Buxom Wench declares it a "ridiculous" policy in these days of social media. To be honest, I'm not quite sure why as the cake display isn't much different from what you would find at cake shops except things are made in large slabs and there are about 15 cake types.
Silver Fox and I order some things that take our fancy while Buxom Wench perches on a small wooden stool. Most of the tables but the one large share table are small and round with stools and you order and pay at the counter and take a number with you. We ask what is good but apparently everything is so just take our pick of what we feel like. Our total including one Kürtősh is $22 and that's for the three of us so it's not an expensive exercise at all.
"I hate that" Buxom Wench says when they bring the plate out. She is referring to putting a savoury item with sweet items. I have to agree, it doesn't make much sense and the burek with the mild flavoured spinach and cheese filling has a slight sweetness to it on top of the pastry.
We each take a forkful of the plum cake, a cake with a neat arrangement of dried plums on top. It's moist, not particularly sweet and quite good indeed. The carrot cake is heady in clove and ginger and has a lemony dairy free icing that doesn't taste dairy free at all-perhaps it's that dairy free butter that they use as it is similar to a lemon buttercream with a slightly hard thin layer on top. Silver Fox finds the layer of icing too much but I'm an icing fiend so his too much is my too right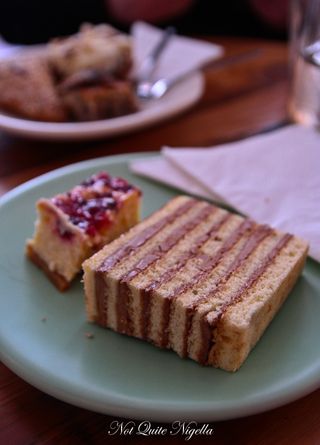 The second plate has a tiny slice of raspberry cheesecake, not bad with a nice tartness to it. The Dobos torte, another Hungarian cake tends to be on the dry side. There is a generous layer of milk chocolate buttercream but the cake itself is quite dry as it can be. It really needs a coffee with it (and I did order one later, it turns out to be excellent).
The Kürtősh or Chimney Cakes are freshly made although they offer us the choice of having one baked within the last half hour or one that has been freshly baked and we opt for the latter. They're a Hungarian sweet sold as street food and each is baked in the Kürtősh rotisserie oven that fits a dozen at one go. It's definitely the star of the offerings and cinnamon and sugar is the traditional flavour for Kurtosh. Hollow in the centre, the bread dough is burnished and crunchy with cinnamon sugar and fresh and soft on the other side. It also comes in flavours like Nutella, pistachio, hundreds and thousands and almond. "This tastes like a cinnamon donut" Buxom Wench says and indeed it tastes like a baked version of a donut with the crispy outside layer and soft inside layer. It's also large enough to share between two (or three).
Buxom Wench is outside cooing at a girl who has two small pieces of brownie, about 5cms x2 cms. "Look at the baby brownies!" she says and the girl laughs. "I think that I am on a diet that I wasn't told about."
So tell me Dear Reader, what's your favourite pastry? Mine is either a croissant or a Saint Honore! And what do you think about buying items by weight? Would you choose lots of small pieces to try or would you go for one or two larger slabs?
Kürtősh
604 Crown Street, Surry Hills, NSW 2010