When you're in the Potts Point or Kings Cross area, well, certain things do come out at night. The colourful crowd emerges, the bikies perched on their rides, ladies that work on the night streets for a living, groups of youths-the boys travelling purposefully with long strides in groups, the girls equally huddled in groups wearing the highest of heels. One thing I didn't expect to see was bakers or at least extensions of bakeries who always tend to be early morning sorts of places. But the well known Bourke Street Bakery chain's location in Potts Point defies baker's hours and opens its kitchen and doors at night.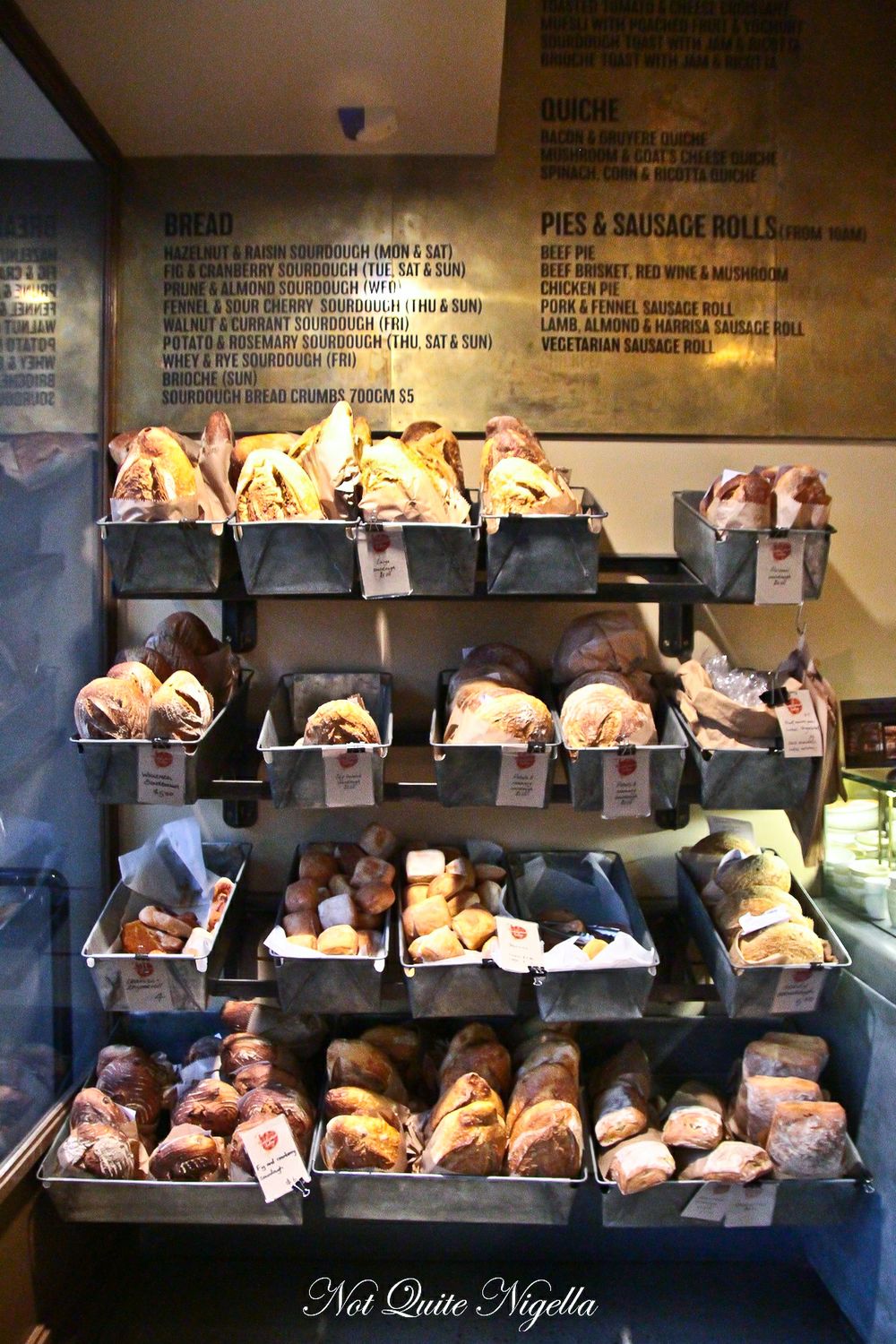 It's been too many months since friends Gina, Teena and I have caught up but every Christmas we make sure to get together for a gift exchange and dinner without the boys. Gina suggested Bourke Street Bakery At Night and after perusing the menu online, I give them a call to find out about bookings. Calling a restaurant in Sydney can result in a few things:
Step 1 - Nothing: the phone isn't picked up and you leave a message
Step 2 - Being asked to hold while someone furiously busy on the phone has exactly 20 seconds to um and ah, not have the time that you want available but they can squeeze you in for an hour but you have to give the table back and thanksverymuchwe'llseeyousoon!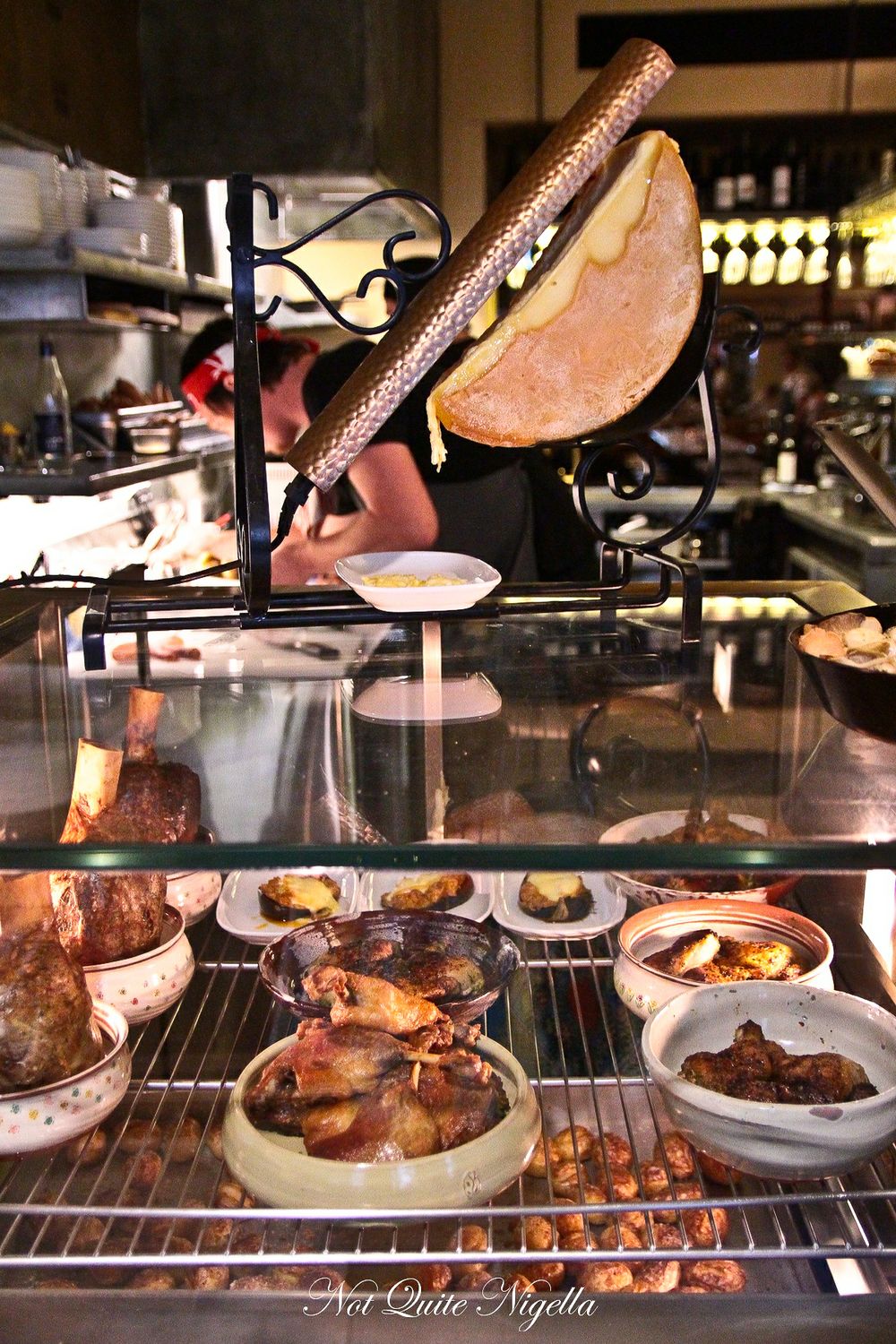 The man that answers the phone is neither hurried or harried. He chats pleasantly and tells me all about where they are located, the best times to come as there are no bookings and what's on the menu and how it differs from Wilbur's Place, another BSB offshoot.
Chef Sam Bennett
A couple of weeks later, we all arrive and look around for where it might be. Part of the glass cube building, the entrance is down the stairs, opposite the street from The Apollo restaurant and entrance is on Crick Street. At 6.30pm there are a couple of tables dining and there's a handsome selection of food in the front display cabinets as well as a copper and wrought iron raclette iron melting the half moon of raclette cheese. The staff are friendly and we are shown to a table.
House made lemonade $4
Gina starts with a house made lemonade cordial which has a good amount of lemony sourness and a light sweetness to it and is served uncarbonated like traditional lemonade.
We take our friendly waitress's recommendations for the food and she suggests going up to take a peek at the front cabinet to see some of the portions of the food. They show us the raclette being melted and kindly give us a taste and we peer at the colourful range of crostini. After that, it's an easy decision on the food.
Sausage Stuffed Eggplant $7
The first bites arrive quickly. The sausage stuffed eggplant is filled with tender mince and topped with smoked mozzarella, avocado and a spicy chilli sauce. The overall sensation is that it is creamy, soft and flavoursome. If I could have a tray of these I would.
Sticky Crab Bun $6
The sticky crab bun is a small puff that is filled with a crab mousse and served with a sticky honey sauce and topped with spring onions.
David Blackmore Wagyu Salt Beef Bagel, Sour Cabbage $6 each
Whilst these were bagel shaped, they were crispy and appeared to be more sourdough based baked round rolls that boiled bagels due to their texture. They were filled with thin slices of wagyu salt beef, sauerkraut and melting cheese and despite the fact that the bread texture was a bit crunchier than I expected, I thought that the toastiness suited it well.
Fishy Tartare, Toasted Fennel Seeds, Pickled Celery & Chili $14
We all love tartare and the fish today was kingfish which was diced alongside pickled celery, dill, aromatic toasted fennel seeds and chilli. Some celery leaves and a halved, crunchy baguette completed the dish. Although a little on the smaller side, the flavour and texture was very good indeed.
Frenchy Duck Salad $17
There's a small break and then the mains arrive all at once. I loved the plates that the salad was served in and it was a generously portioned frisee salad with very crunchy pancetta and a duck confit leg with some pieces of duck torn and tossed throughout. Little dabs of duck liver pate gave the salad a richness and this was a bold, strong salad.
La Raclette on a plate with Baby Potatoes & Pickles $14 plus salami $6
This ended up being one of our favourites. The baby potatoes were cushioney soft like marshmallows inside the skins and paired with the pickles and the added salami and salty, melted cheese, we left not a skerrick on the plate.
Salt Baked Snapper, Ox Heart Tomato Salad $34
The snapper had a moist and soft texture but in lovely large, shiny white pieces. However, following the Frenchy duck salad and the la Raclette, it seemed too mild in comparison. We should have probably eaten this first. The ox heart tomatoes are beautifully sweet especially with the whole snapper and it's a very big serve.
Custard Tart with Lemon Ice Cream $12
I'm a fan of all custard tarts from the Portuguese custard tart to even those classic nutmeg dusted custard tarts of yesteryear. This is one of the latter but there's a very strong eggyness to this tart that is a bit overwhelming. It reminds me of duck egg custards where the yolk is so very strong. The lemon ice cream is refreshing and smooth textured.
Flourless Chocolate Sponge of Passionfruit Mousse, Praline and Meringue $12
The waitstaff are very friendly and one waiter stopped by to personally sell us on this flourless chocolate sponge which we've never seen before even going so far as to say that he would cry if we didn't order it (obviously joking I'd hope ;)). So of course we had to order it and it really is lovely although quite a petite sized serving and I think a little lonely looking on the plate. The flourless chocolate sponge and passionfruit mousse is soft as velvet and it has a crunchy praline base and a torched meringue outer.
So tell me Dear Reader, are you a morning person or a night person? And have you ever had raclette before? And what do you think of places where you can't book? Do you go early in order to snag a table or avoid them?
Bourke Street Bakery After Hours
Open from 6pm-10pm Tuesday to Saturday (bakery is open during the day 7am-5pm)
Tel: +61 (02) 9569 3225