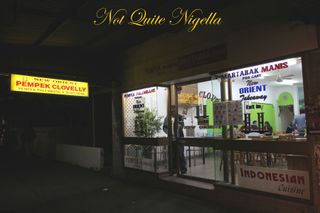 What on earth is a Pempek I hear you ask? I can only anticipate your question as that's the exact thing that I said upon hearing it. Pempek is an Indonesian fish cake which is a mix of ground fish and flour, deep fried and comes in variety of shapes and is much loved food. This may sounds rather boring but it is nothing like the fish balls or cakes that your local asian food grocer stocks in the fridge. Incongruously, there is a Pempek Clovelly, not in the suburb Clovelly but in Kensington on Anzac Parade. It's not a fancy looking place, somewhat dowdy in fact like most of the eateries on Anzac Parade but it is supposed to serve some fabulous Pempek so a Pempek-ing We Go!
There are already several tables of people seated as we walk in and the waiter is hurriedly bringing out dishes for them. We sit down and stare at the menu for a while. It's in Indonesian with an english translation and some pictures of the food. We're not quite sure how the Pempek is served, it seems you can get a bowl of it but it is priced per piece from $2.50 to $17.50 for the large sampler plate. Our waiter comes back with a smile on his face, apologises and takes our order. We choose to go individually as this is our first time trying it and order a Pempek Lenjer (Fish stick), Pempek Kulit (fish cake skin) and Pempek Bulet (fish cake ball), all $2.50 each, usually 3 per serve . We order some Bakso Abang Abang Indo style noodle soup ($8), a piece of Ayam Goreng ($5) and a noodle dish with Lontang (rice cakes), vegetables and tofu with peanut sauce ($9). There's a note that all of the meat supplied is Halal and a request on the wall that no alcohol is consumed on the premises. There's also a helpful reminder that Anzac Parade is a tow away zone before 7pm should any patrons enjoy their food, only to find later that their car has been towed away.
](https://images.notquitenigella.com/images/pempek-clovelly-indonesian-food-at-kensington/a-pempek_clovelly_fishball.jpg)
_ Pempek Lenjer (Fish stick), Pempek Kulit (fish cake skin) and Pempek Bulet (fish cake ball), all $2.50 each_
It's a short while before our Pempek arrives, the three crispy pieces in a bowl of cuko (a sweet thin sauce made of brown sugar, garlic and vinegar) served with a side pot of chili. Ahhh ok so this is the soup we were seeing pictured. The first Pempek we try is the round fish ball, split into quarters and open like a flower. Each segment is delicious especially when dunked into the sauce although the taste isn't very fishy at all. It could be any sort of filling, even deep fried tofu although it is tastier than tofu. The accompanying chili sambal is very hot and strong, unlike most of the chili sauce one gets so we treat it with caution.
We try the second Pempek, the Pempek Lenjer (Fish stick). The texture to this is slightly different although if you asked me to describe how different, I'd have difficulty. The crispy baton was more moist then the others and tasted like it had some sort of vegetable in it.
Lastly we try the Pempek Kulit (fish cake skin) and it is the crispiest and darkest of the lot. I can't taste much fish skin but what it does taste like is like a double fried crispy patty, cut up with deep slash marks on the surface. It's delicious in the fabulous way that only deep fried foods are.
Our noodle soup arrives, with 4 meatballs floating among the hokkien and vermicelli noodles. The bowl isn't very large and the soup is garnished with chopped celery leaves. I don't like these noodles much as they're way too soft and the celery leaves are a jarring taste.
The noodle dish with Lontang (rice cakes), vegetables and tofu with peanut sauce ($9) is large and adorned with prawn crackers. Underneath there is a tumble of bean sprouts and vermicelli, some sliced cucumber and fried tofu cubes. The whole thing is liberally doused in a satay sauce. It's actually delicious when you scoop up the noodles onto a prawn cracker and take a bite, the prawn cracker giving an earth shattering crunch compared to the soft, almost soupily sauced noodles.
One thigh and drumstick of Ayam Goreng arrives, the skin glisteningly puffed like a Peking Duck. The skin is lovely and crispy and the chicken soft inside. Our waiter called this fried chicken but it seems more grilled but with a lot of oil to make it super crispy.
We look around the place, with its chalk drawings of the Year 2000 fireworks over the Sydney Harbour Bridge and quaint unfancy surroundings. I don't think I would be back for the noodle soup but I will most certainly be back for the Pempek.
Pempek Clovelly
198 Anzac Parade Kensington NSW 2033
Tel : +61(02) 9697 0009
Closes at 8pm