Anzac Parade, Kingsford is littered with student priced eateries ready to cater for the hordes of students from the nearby University of New South Wales. What it is light on, is a restaurant for the non student, the person whose budget could extend a little further. That's where Ratu Sari fills a gap, an Indonesian restaurant that looks a bit spiffier than the utilitarian student dives (and please know, I use the term "dive" without malice, there is often great food to be had at these places).
We've booked for an early dinner as we are seeing Rose and Ronald off at the airport and need to be in and out fairly quickly. I wasn't sure if I needed to book but I did a couple of days before for 6pm and even though we've arrived at 5.45am on this Saturday evening there are already 3 tables ordering or eating. We sit down and there are 4 waitstaffers rushing about bringing dishes and food from the kitchen. It's hard to flag one down but where one doesn't hear us, another hears and summons another to take our order. I ask for some recommendations and we end up ordering a Soto Ayam (Chicken soup $9.50), Prawns Kapitan ($18.90), Ayam Goreng Pemundi ($15.90) and Lontong Salad ($12.90). I can't resist when I see the name of a drink, the Cherry Blossom drink so I order that too ($5). We let our waitress know that we need to make a flight so she assures us that she will let the kitchen know about this. She's efficient, if not exactly stop and chat friendly.
During the next 5-10 minutes, when it's nearly 6pm, a surge of people arrive and the restaurant goes from having a few tables to becoming completely full with many large groups. The clientele is mixed and consist of larger groups of Non Indonesians to family groups of Indonesians and Chinese. During this time, my Cherry Blossom drink arrives with a layer of syrup at the bottom (raspberry rose flavoured but fairly hard to pin down), a layer of milk with milk ice shavings and then jelly-like basil seeds on top. It's sweet and refreshingly good and everyone tries some and enjoys it.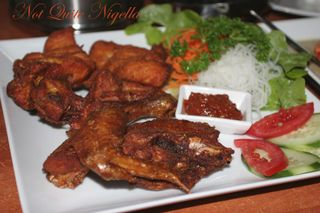 We see many, many dishes of Ayam Goreng Pemundi whiz past us during the evening, the lemongrass chicken with 5 large pieces golden fried to a crisp. The chicken is lovely with the lemongrass aroma and it's quite juicy. We're give 5 decent sized pieces with wing, drumstick and rib pieces. My husband points out that it tastes very much like the lemongrass tofu at Bay Tinh and I agree, although this I'd say is nicer as the chicken doesn't get as dry as the tofu can.
The Prawns Kapitan lies on a long rectangular plate and would have probably been better served in a shallow smaller bowl as it looks a little small on the plate despite the fact that we've received a decent amount of prawns on our plate. The sauce is beautifully creamy and the butterflied prawns very fresh and perfectly cooked. It's not quite like the Kapitan prawns at The Malaya which are battered and deep fried and then coated in a coconut curry sauce. These prawns aren't battered and the sauce is more coconut than curry. Nevertheless this is my favourite dish.
_ Lontong Salad ($12.90)_
I'd chosen the Lontong Salad as it sounded quite interesting and I like the fact that it was served with either chicken curry or beef rendang giving me a chance to sample either of these. I love beef rendang but I find that I am never like it quite as much as the beef rendang from Satay Delight at UNSW so often end up disappointed. I opted for this dish as it allowed me to try some as well as a salad. This salad is intriguingly served in a bowl of what seems to be a coconut-ty scarlet soup. I dig under the peanut, cabbage and other assorted vegetables and what appears to be thick round slices of potatoes are actually rice cakes-ok this is the Lontong! This is where partially cooked rice is rolled up in a banana leaf and boiled and then sliced up as a hot or cold snack. I like this execution as it gives the rice cakes a delicious tasty soup and the rendang, fall apart soft is a great accompaniment to this salad.
_ Soto Ayam (Chicken soup $9.50)_
I try the Soto Ayam (Indoensian Chicken soup) which is slightly thickened with coconut milk which also gives it that luxurious creaminess. It's full and deeply flavoured and restorative. The cold southerly outside is kept at bay with the soup, although it isn't anything fancy. The small chunks of chicken, fried onion and bean sprouts are tasty and they recommend this with rice which gives it some body and reminds me of a Dutch curried soup with rice.
One thing that we do notice is the paddle given to scoop out the rice has little circular indentations all over it much like a golf ball and what this means is that not a single grain of rice sticks to it-genius! Must get one...well if I start to eat more rice I will. The problem with the Chinese soup spoons usually provided is that the rice sticks to it so when you think you've got a large spoonful of rice, you can only usually dislodge only half of it from the spoon, the rest steadfastly refusing to move.
It's now 6.30pm and we've enjoyed 4 dishes and are ready to leave. Good thing as we turn around and the restaurant is operating at full capacity. We pat out stomachs and face the cold Southerly winds signalling Winter is coming and rush to the car.
Ratu Sari
470 Anzac Pde, Kingsford 2032
Tel: +61 (02) 9662 8788;
Open Tuesday-Sunday, noon-3.30pm, 5.30pm-10pm