A knowledgable friend of mine, Kathy from Brisbane recommended that I try Christon Cafe after I canvassed friends for unique Tokyo experiences. Started in Osaka in 2000, there are now 8 Christon cafes around Japan, each boasting incredibly detailed interiors decorated in a religious gothic theme. It speaks to the strong Lolita goth culture that exists in Tokyo. In the lobby there is a glass display of the Virgin Mary. Upstairs, Cafe Christon doesn't disappoint. On the 8th and 9th floor of the Oriental Wave building, you're struck by the fantastic interior decor the minute you step off the elevator.
We were greeted with 3 leather chairs with naked iron maidens on them the arms well worn and loved. We were then led into the inner sanctum which was awash with wrought iron, gothic and catholic imagery.
To our delight, we're led towards a blood red curtained booth, private and completely gothic. I'm not a Catholic so the imagery doesn't strike fear into my heart although I have heard that it can make anyone raised Catholic slightly uneasy. Indeed, there is an altar in the restaurant which we're told is an authentic altar that was used in a European church.
The details are numerous and quite astounding including the painting on the ceiling.
Gargoyles
Gigantic chandelier
We're shown the menu, an assortment of izakaya dishes (small dishes typically served with beer). We choose a Japanese beef carpaccio Y1380, Foie Gras sreak with baked risotto Y1800 and grilled salmon steak with mushroom cream sauce Y880.
Amuse Bouche Y300
We're given an amuse bouche or a spinach tortilla and some sort of pressed meat like a mortadella (we learn we are later charged for this although we may have agreed to it, we just kept nodding yes). The spinach tortilla is delicious and full of spinach and cheese and the luncheon meat is actually delicious, much better than a mortadella.[
](https://images.notquitenigella.com/images/christon-cafe-at-shinjuku-tokyo/a-christon_lights.jpg)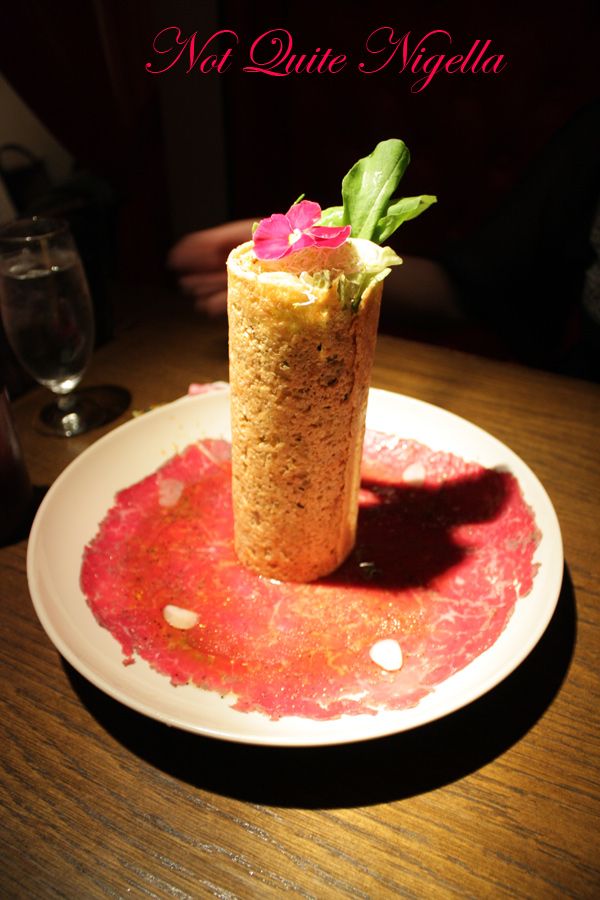 Japanese beef carpaccio Y1380
The beef carpaccio arrives, spread thinly on around plate with a vase like pillar of lacy baked cheese filled with salad. The waitress lifts the tube and the salad tumbles out over the carpaccio. She then crushes the vase with the tongs and spreads this and the salad out and places the flower in the centre.
The carpaccio is gorgeous, soft and very thinly sliced with japanese dressing drizzled on top as well as dressing the salad. My husband finds the dressing too strong but I adore it and go through bottles of the stuff easily. It's a surprisngly large serve given too and whilst perhaps there is a bit too much of the baked cheese, the presentation can't be beat.
Grilled salmon steak with mushroom cream sauce Y880
The salmon dish arrives, not quite the steak as envisaged but two pieces of salmon. They're slightly too overcooked although the skin is nice and crisped. The mushroom sauce, with cubes of bacon is creamy like a pasta sauce and goes surprisingly well. My husband adores this dish. I'd be a bigger fan if the fish was not as dry.
Foie Gras steak with baked risotto Y1800
The Foie Gras sreak with baked risotto cake arrives, looking wonderful. I know I will like this as I love risotto cakes. It doesn't disappoint with the fried foie gras "steak" perched atop the crunchy edged risotto cake. There are pink peppercorns scattered about which my husband finds enhances it as he doesn't really like foie gras very much. I prefer it without the pink peppercorns as I find this masks the flavour a bit too much. I pick up every piece of rice, if I can make one negative comment is that I would have loved more!
Cappucino gelato Y630
My husband is hankering for a dessert, after all it is hotter here than in Australia and he hasn't had ice cream in a long time. So he opts for the Cappucino gelato which shows up with a white and milk chocolate stick in a tall glass. At the bottom are pieces of white chocolate wafer, still lovely and crunchy and on top, a milky Cappucino gelato, whipped cream and almonds. It's nice enough but I'm not a big ice cream eater. My husband enjoys it but says that he probably wouldn't order it again, preferring to try some of their other offerings.
We leave with our gothic Lolita urges satisfied. And I leave you with a panorama of Christon Cafe that my clever husband stitched together, around the restaurant and of the ceiling so you can see Christon Cafe as we did that enchanted evening (click on image for full sized view).
Christon Cafe
Levels 8 and 9
Oriental Wave building
Tel +81 (03) 5287 2426
5-17-13 Shinjuku Tokyo Japan
Open: Monday 5pm-11pm Tuesday to Saturday 5pm-4am (Yes 4am!)
At Shinjuku San Chome station, use exit E2 then turn right and right again. Look up and you'll see a big lit sign of the side of the building for it.
http://foodscope.com/restaurants/christoncafe/index.html