I know this overseas trip was a while back but we had such great meals that I just couldn't not publish these stories. Finding a restaurant in Tokyo is not an easy experience, the addresses make no sense in relation to street signs and the easiest thing to do is ask a passerby or if you happen to see a Police station (Koban) they're best to ask. So when we emerge from Aoyama Itchome train station and have no idea where to go, the nearby friendly neighbourhood Police point out the way-of course they know Menya Musashi ramen. We follow their instructions to the ramen restaurant with the tell tale blue curtains and Japanese writing on the outside.
You know that you're in a slightly different ramen restaurant when you walk in and hear reggae music playing and there's a team of young cool tattooed guys at the helm whilst the patrons themselves are a range of ages. It's full and there are 4 people waiting for a seat. As most ramen restaurants, they're not a linger and savour kind of place, within a few minutes, everyone that was waiting is seated.
We however are standing in front of the vending machine looking confused. My very limited Japanese can only read a few things (in Katakana and Hiragana) so we do what we always do in this situation, either order what the person before us ordered or just press a random number. Ramen is between Y750-1200. We hand the tickets to the goateed guy behind the counter and he asks if we want the soup "Kotteri-aji" (thick or heavier) or "Assari-aji" (thin or simple). We choose thick as that seems to be what everyone else is ordering.
The show is definitely on the floor where one of the gumbooted guys carefully extracts one single strand of ramen, pulls on it gently and examines it carefully for "doneness" before inevitably putting it back in the pot. Once done, he takes out the basket of ramen from the boiling water and then shakes the excess water onto the floor with a deft flick onto the floor producing a clapping or slap sound several times until the ramen is ready.
We receive the bamboo shoots first, simmered in a lightly sweet soy stock.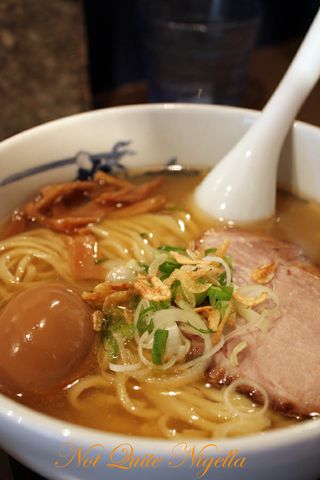 [
](https://images.notquitenigella.com/images/menya-musashi-ramen-tokyo/menya_musashi_ramen2.jpg)
Ramen Y820
Our ramen bowls arrive, mound of yellow ramen with sliced spring onion, tiny dried prawns and veges. They look very similar except one has a soy sauce boiled egg in it. The ramen is good and firm, slightly thicker than the ramen at Ryo's (which I confess I still prefer) and the thin large slice of pork is gorgeously soft.
I add some chili sauce and find myself doing a good job of finishing these noodles (I usually can't eat a whole bowl). It's restorative and soothing in the heat.
We leave to go to Harajuku to have a look at the "show" of Cos-Play-Zoku costumed people. Perhaps it's the heat or the time of day but there are only a few girls in their outfits. I seem to recall the area being full of them. Indeed there are almost more people taking photos of them.
And for the Arrested Development fans amongst us, we found a Never Nude!
As well as a bank that should probably rethink their name...
Menya Musashi Ramen
2-3-8 Minami-aoyama, Minato-ku, Tokyo
Aoyama Itchome stattion
Tel: 03-3796-8634
Open: Monday-Saturday 11:30am-3:30pm, 5:00pm-9:30pm
Sunday 11:00am-9:00pm
Address shown on below Google map is not accurate