I know I'm hardly a child, and I know that every visit to Tokyo for me has to seemingly include a visit to Tokyo Disneyland. This time however I had the excuse that I wanted my husband to come along. When he was 2 years old, his parents took him to Florida Disneyland. When he met Mickey Mouse he promptly burst into tears. The poor thing had not only the humiliation of crying at the cartoon character at such a tender age but also a second round of humiliation when his brother, his best man at our wedding, recalled the story to all of our guests.
So in an effort to purge him of his Mickey Mouse demons, I took him to Tokyo Disneyland. I shan't bother you with the details of the rides (although I loved them and as always my favourite was The Haunted Mansion) but here is a look at some of the food we ate:
_Smoked turkey drumstick  Y472 (about $4.90AUD)
_
The Smoked turkey drumstick was a gigantic sized drumstick where the delicious smoked aroma beckoned to us. I know that I am in Western World when I can smell these. There's some gristly bits but it's soft and the flesh eases away easily which is a must when you're eating takeaway style without utensils.
Caramel popcorn stand
_Caramel popcorn Y300 (about $3.20AUD)
_
I wasn't too impressed when I saw the streaks of caramel on this freshly popped popcorn. I prefer a more even distribution and simply bugs me when I see that it isn't evenly coated. However my grumbling ceases when I pop these little morsels into my mouth. They're so fresh and the caramel so perfect but they are different from Lolly Gobble Bliss Bombs or thicker toffee coated popcorn. I prefer these as there's nothing like absolutely fresh popped popcorn.
Boiler room bites
_Mickey Mouse steamed Pork bun Y400 (about $4.30AUD)
_
We try a Mickey Mouse Pork bun and it's a cute silhouette of his face. Both ears pleasingly have pork filling in them. It's not quite like Char Siu buns but close. Great for cute value.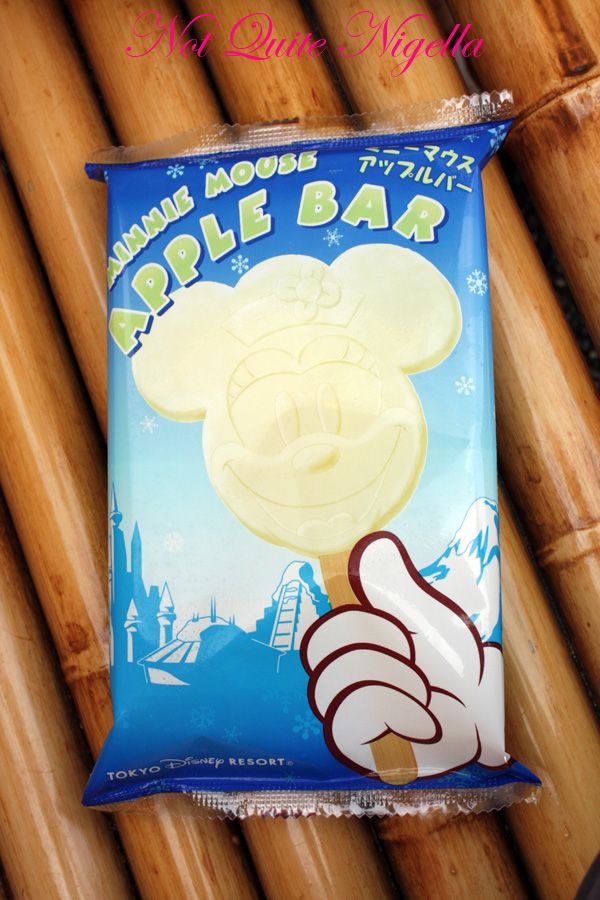 _Minnie Mouse Apple ice block Y260 (about $2.80AUD)
_
It's very, very hot today so when we spy people sucking on Minnie Mouse Apple ice blocks we make our way towards the stand and are rewarded with perfectly wrapped Apple ice blocks in a Minnie Mouse face mould. There are also orange flavoured Mickey Mouse ice blocks for sale.
Above are pictures from one of the shops, I was rather excited to see these cakes but once I entered the store, was disappointed to find out that they don't sell these cakes, they're just for display. They sell biscuits and lollies and other items that are less perishable. So this was a fake fake cake!
Have you ever wondered what is in Minnie's Mouse's fridge? Apparently, a lot of cheese!
Her oven can bake a cake within seconds too
The outside of Minnie's house
A cute ride, Alice in Wonderland's teacups (although not the most exciting)
Alice's outfit, reminiscent of traditional Finnish costumes.
Lastly a picture from It's A Small World ride. Cute stuff and Australia even has a small section to itself!
One thing that has me stunned when we leave at the end of the day is the number of girls wearing sky high spike stilettoes. One is even wearing stripper platform shoes. I have no idea how they managed to get around Disneyland in them and stand in queues. My husband can't believe that they aren't crippled given that he has been running around in sneakers and his feet are killing him!
And whilst I'd hate to say that I'm an expert on anything, I have some tips borne from my many visits to Tokyo Disneyland (I have no idea about the other Disneylands although I suspect Minnie Mouse may smoke at EuroDisneyland ;) ).
NQN's tips for conquering Tokyo Disneyland
Go on a weekday-queues and crowds are the enemy
Wear comfortable shoes and use sunscreen-we got sunburnt!
As soon as you enter, get a fastpass for a really popular ride that you want to go on, these are generally Splash Mountain, Space Mountain, Big Thunder Mountain Railroad and Pooh's Hunny Hunt (Haunted Mansion although popular can seat many people so the line moves quickly whereas Pooh's Hunny Hunt only seats a few people at a time so the line moves very slowly). A Fastpass means that you can skip the long queues but you can't get into the queue straight away, you are asked to come back in 2 hours to go on the ride and you can only have 1 fastpass at a time.
If you don't have a fastpass try one of the more popular rides during the parades or lunchtime (unless you want to see one of the parades). Most people will watch the parade.
All rides have an estimated wait time which is pretty accurate.
Don't bother with the twilight pass where you can enter after 3pm for a somewhat reduced rate. A lot of fastpasses will finish soon after whereas the crowds do not abate.
Food at Tokyo Disneyland isn't that expensive so you can eat there without selling one of your children.
Go in a clockwise motion to each "land" to avoid backtracking to save your feet. I always start at Western Land and end at Tomorrow Land but that's only because I don't really like many rides in Tomorrow Land.
If you go on Splash Mountain, you definitely will get wet so if it's cold, go while the sun is shining so you can dry off.
Check out the fake Jack Sparrow on the Pirates of the Carribean ride, he looks spookily human!
Some rides are not so exciting, usually the ones without huge queues
Have fun and know that I am dreaming about going back! :)
Tokyo Disneyland
One day entry Y5800 (about $60AUD) per person
Open 8am-10pm 7 days a week
Right near Maihama train station