Yes Dear Reader, I know I promised to write about my overseas travels. This was delayed somewhat with  intermittent internet acces. Tokyo is a city that has a firm place in my heart. I lived there for a couple of years and found myself at times, bewildered, curious, enchanted and exasperated by this fantastically weird city. It's a city I enjoy now as a tourist which allows me to weave in and out of the areas with a familiar assuredness whilst remaining detached and appreciative of the idiosyncracies that may have niggled at me before.
So without further ado, I give you my adventures starting in the weird and wonderful city of Tokyo, followed later by Finland, Paris and London.
I love the story of Alice in wonderland as my babbling and cupcakes will attest. So it was with excitement that I found a "Fantasy Dining" restaurant in Ginza called "Alice" where waitresses, dressed in cute little alice outfits served Alice in Wonderland themed food, all in a setting fitting the eccentric little tale. We asked the Hotel concierge to book for us (I cannot live without a good concierge in Tokyo)  but even then it was busy and we couldn't get the exact time we wanted. It seemed promising, most places are only full if they are good as the Japanese really queue and wait for things that are worthwhile.
Two of the Alice waitresses
Arriving at our destination, we head up to the 5th floor in the elevator along with 6 other people also headed to Alice and are led through narrow blue velvet curtained mirrored halls, past a large oversized clock and into our blue curtained private booth. All of the rooms are blue curtained booths in varying sizes to accommodate different sized parties. It's not for the claustrophobic although I find it cozy and quite Alice rabbit burrow-like. There are silhouetted mirror images of Alice and the Hare at  the tea party and a vertical mirror image of it. We can see the people in the other booths somewhat through these but not clearly.
Our first waitress is a scream. She's completely batty and I'm sure has no idea that she isn't in Wonderland. She's confused and confusing us to no end but doing it with a big smile and enthusiasm. We do place our order despite this and it is correct so perhaps it's all part of the experience (although the later waitresses show no sign of the "altitude sickness").
The drinks menu
Playing cards open to reveal pictures of the drinks
There is a minimum order of 1 drink and 1 meal per person which she tries to explain to us. She shows us each menu like revealing a big storybook and the drinks menu is particularly cute with the cocktails hidden inside playing cards. The coasters are Alice playing cards and should you want service, you simply press the bell on the table and a waitress will come within seconds. There is even a section at the back of the menu that tells you where you can buy the outfits from.
Amuse Bouch Y600 (yes, seriously)
As we are waiting they give us the Amuse Bouche course, curiously a tiny cup of dried banana chips and dried apricots with a little sign saying "Eat Me". I didn't like either given how parched we were and the waitress was a little batty so it took a while to get our drinks and water. Again, we learn that we are charged for our Amuse Bouches under the heading "charm" and the price of these little unwanted morsels? Y600 each, yep $12AUD for two of us for some bits of dried fruit.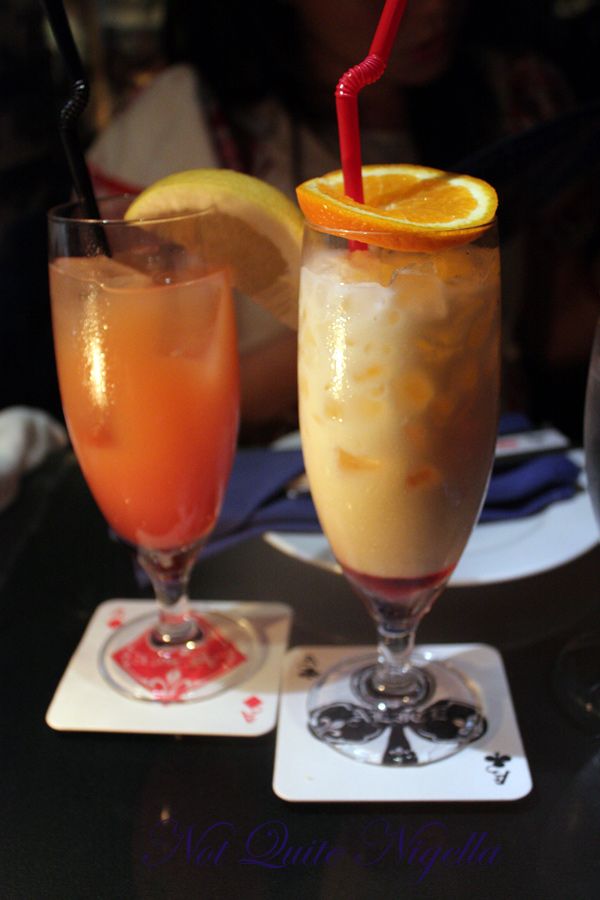 Left "Lolita" drink Y750 Right Milkshake Y850
Our drinks finally arrive, the Lolita drink (orange and cranberry) is not off to a great start. The orange juice is not particularly fresh (you know, the point where Orange juice in your fridge is starting to go off but hasn't yet) but the milkshake isn't bad, although it is more just milk mixed with fruit, no ice cream.
Cheshire Cat croquette Y750
Our entrees arrive, a cheshire cat croquette is sitting a pool of that tangy brown sauce with thousand island  marked paw prints. He has a fried noodle as a tail which the waitress sets alight much like a bomb.
Poor Kitty. The croquette is good with mashed potato, mince and melted cheese inside.
Potato hors d'oeuvres plate Y750
The potato hors d'oeuvre plate arrives with 6 hors d'oeuvres each sitting on a slice of potato. Some of them are obvious like the smoked salmon stuffed with cream cheese, asparagus, snow crab, prawn, and avocado and there also seems to be a seafood terrine as well. The sauces in the centre row are slightly different from each other although there is an sesame flavour to all of the sauces.
"I'm late! I'm late! For a very important date. No time to say "Hello." - White Rabbit
A trip to the bathrooms past the giant clock is interesting. Inside the ladies room is a giant wall size picture of Alice and a toilet that you need almost need a degree to know how to flush (I managed to flush it, my husband had to ask). The water in the sink is also triggered by a button on the floor. Perhaps it's to make the disorienting Alice experience a little more authentic.
Pepperoncini, scallop, salmon roe and prawn spaghetti Y1200
Our pasta arrives first, about 10 minutes before the pizza so it's good that we are sharing. The Pepperoncini, scallop and prawn spaghetti is flecked with a generous portion of salmon roe. The good thing about Japan for seafood lovers like me is that seafood is often cheaper than other dishes and excellent quality and they don't skimp on the seafood. The pasta itself is a little too garlicky for me but overall it's not a bad dish.
Chicken teriyaki and mayo pizza Y1200
The small rectangular chicken teriyaki and mayo pizza arrives with the paprika shaded clubs on each side and they cut it into pieces at the table. I know a lot of people will baulk at mayo on pizza but I love it-don't knock it until you've tried it! ;) The pizza is nice, very crispy, on a fairly thin crust and whilst is pleasant on its own, its much nicer with the supplied tabasco which gives it the requisite kick.
We pay our bill (of course summoning it by pressing the bell) and leave. The waitresses are lovely and wave us goodbye saying "Take Care" and "Thankyou" in their adorable Alice uniforms. And yes I do want an outfit for myself of course - tell me you don't...
Alice Fantasy Dining
Taiyo Building 5th floor, 8-8-5 Ginza Chuo Ku Tokyo T 104-0061
Tel: +81 (03) 3574 6980
Open:
Mon-Thurs 17:00-01:00
Friday, Saturday and Holiday eve 17:00-05:00
Sunday, public holiday 17:00-23:00
Reservations recommended
Service charge of 10% added to bill automatically as well as 8% tax.
Unfortunately no room for dessert although Tweedledum and Tweedledee look cute (bottom centre pic)
Menus, the bottom one is opened like a Storybook