Life is a funny thing. I had a recommendation for a yakitori place in Tokyo. It was called Toriki. Being the very last night of our trip to Tokyo it meant that things were a little sloppy. And by things I mean me. As in I was tired and not really paying attention. I googled "Toriki" and up came a result showing a place in a suburban area of Tokyo called Hatanodi. It's far from the Shinjuku/Shibuya/Ginza madness and when we switched trains to the Tokyo Ikegami line it deposited us into a suburban area of Tokyo's Shinagawa. And what ensued was one of the highlights of our Japan trip.
And less than 200 metres from the station sat the place called Toriki. I take a peek under the Noren cloth. It's very busy and he looks up and smiles back and gestures for us to come in. The man is Kunio Aihara who has been the owner and chef here for the past 42 years.
"Futtari desuka?" he asks and I answer in the affirmative for two people. They seat us on the side of the kitchen and ask if we mind waiting. He apologises for the small space but we're happy to get a seat. They furnish us with the English menu - since Anthony Bourdain featured him he has had a steady patronage of diners from around the world.
But this is not the Toriki that I was recommended - that was in Sumida and is a completely separate business. But what we found is such a convivial warmth and delicious yakitori that we considered our visit here like hitting the jackpot. As I get up to take a photo another customer waves at me.
Natto and chicken soup
First we try some natto. Fermented soybeans are to Japanese what Vegemite is to Australians. Japanese love a texture that we would call slimy. Natto has the added effect of having long strings of glistening stickiness - the first thing that comes to mind are the special effects from Alien. But the natto here is served with a raw quail's egg and soy sauce. It's delicious too. I've never found natto palatable until now. It doesn't help that this natto is low on the string factor. The bowl of chicken soup with daikon, carrot and cabbage is a heart warmer. Like a home made chicken soup no doubt it uses the countless chicken carcasses that Aihara san goes through.
We move to another table soon after and our yakitori arrives one plate at a time. It's a leisurely pace and what we love about this is the genkiness of the patrons. Genki means healthy or with vigour and while that morning's stop in Ginza was nice, it was full of quiet, well behaved people that would probably be a bit aghast if you dropped a fork. Here people are boisterous but in an affable way. There are no sloppy, aggressive drunks. People just seem like they're in a good mood.
Nikomi Y500
The Nikomi arrives and it's one of their best sellers. The key to the chicken here is the freshness. Aihara san despatches the chicken in the morning and then serves them that evening. The Nikomi is a full flavoured and rich soup made with chicken pieces, konnyaku jelly and daikon and it is as restorative as it is tasty. The couple next to us ask if it is our first time here. "Hajimemashite hai" I say in my broken Japanese. They speak excellent English and the man raises his beer. "Kanpai!!!" and we toast and eat. The friendly waving man stops by and asks us if we are enjoying our food. Then Aihara san himself gets out from behind the bar counter and asks us where we are from and chats to us. He points to a small koala on the bar clinging onto a beer menu.
Chicken breast tenderloin with grated Japanese radish Y550
The chicken breast tenderloin comes with a small bowl of grated daikon radish and spring onions. You pour some soy sauce over this and then mix it and then spread it over the chicken tenderloin. It adds a lovely infusion of flavours to it for such a simple idea.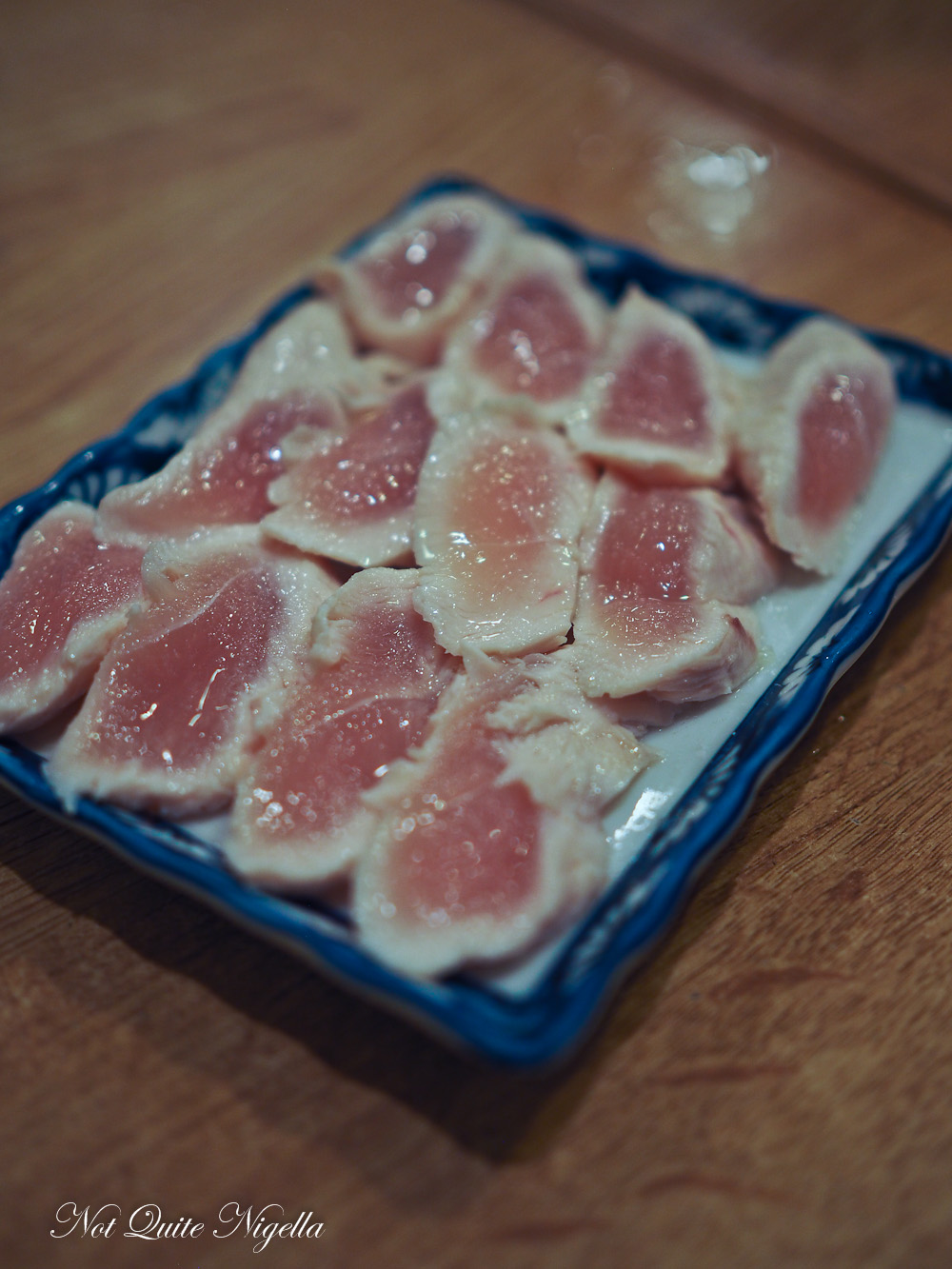 Chicken sashimi
I'm not sure how much this was as we just got a total at the end and it wasn't on the English menu but there is chicken sashimi that we wanted to try (there is also chicken sushi but it isn't on this evening). The chicken is lightly cooked on the outside and then seasoned with lemon and salt. And for such a simple seasoning it absolutely works. It's not that unlike the flavour of ceviche. And did we get sick? No we were fine although we didn't think that it was the smartest idea trying this the night before flying out. But of course it didn't cross my mind until I had already eaten a piece.
Then shortly after we are offered a spot in front of the bar where we are warmly greeted by the two girls sitting next to us. Another girl three down is asleep with her head against the bar (she will wake up about 15 minutes later and resume her conversation). They too like all of the other patrons are really chatty and we are made to feel welcome into their conversation with Aihara san. They tell us that his son has another restaurant about a minute away also called Toriki and one opens when the other closes and vice versa. Aihara san is a "tori master" or chicken master who has been cooking for 42 years and is now 59 years old. Yup that's right, he has been cooking chicken since the age of 17.
Chicken thigh
This is the most popular dish. It is chicken thigh pieces with skin on, seared on the grill and it comes with a sauce that you pour over. The sauce is piquant and gives the rich thigh meat a slight puckering flavour that it needs.
Master's secret menu Y510 each
The Master's secret menu changes every day and today it is heart. Not for the faint hearted it has an offal flavour but is beautifully tender.
Take a little peek inside Toriki!
It's getting late and mindful of our early start the next morning we are loathe to leave as we are having such a great time. We pay the bill-it's Y5500/$69AUD. Aihara san shakes our hand and thanks us for coming. Everyone in the bar area waves goodbye and keeps waving until we are out of sight. It's the best ending to our final night in Tokyo.
So tell me Dear Reader, have you ever turned up at the wrong restaurant? Would you or have you tried chicken sashimi? Have you ever tried natto and do you like Vegemite?
This meal was independently paid for.
Toriki
3-11-13 Hatanodai, Shinagawa-ku, Tokyo
Japan, 〒142-0064 Tokyo, Shinagawa, 旗の台3丁目11−13
Tel: +81 03-3785-8472
Open 17:00-00:00, closed Sunday, Monday and public holidays
http://www.toriki.jpn.org/
1 minute walk from Hatanodai station