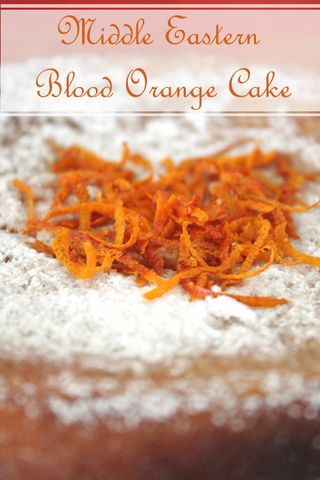 I was once invited to an associate of my husband's house for afternoon tea. My husband's friend set down a huge plate filled with great hulking slices of cakes (bought up from a shop in Melbourne) and the one that caught my eye was a fragrant orange cake. I figured the man of the house was a little clueless as men usually tend to be around cakes and tea as there was no fork or knife around and I only wanted a small slice (I usually start small in case I don't like it as I feel rude not finished things). As I didn't know them very well I didn't want to interrupt the fascinating sailing conversation that was going on between the menfolk (ok sarcasm there) so I kept quiet and transported the huge hunk of cake onto my plate.
And once I lifted the slice to my lips, I was so sweetly rewarded in the most wonderful way. The cake was incredibly soft, cool and damp inside and sweet and heady with zest.
Of course when his wife sat down, out came the forks and knives and proper instruments but did I give up my slice or offer a taste to anyone? Absolutely not. I was shamelessly and unrepentantly greedy that day. And ever since I tried that cake, I sought a recipe for it, making orange cake after orange cake, ones with syrup, ones claiming to be the moistest Orange cake, hoping to replicate that cool, sweet fragrance. And when I finally found it several years ago, I became ecstatic. I should have known that the moistness was due to the exclusion of flour and the inclusion of almond meal.
I don't remember which cookbook I got this from, although I do know that the printout I have attributes this recipe to Claudia Roden. She used regular Oranges rather than Blood Oranges but I have a stash of Blood Oranges at the moment and couldn't wait to use them. They are in season for a shortish time, although they are now being imported, and I have seen them around a lot lately at a very reasonable price so if you do see some, grab them. They make a fantastic juice (but the juice must be drunk straight after juicing). Or use it as an excuse to make this divine cake.
Claudia Roden's Middle Eastern Blood Orange Cake