Make no mistake, although these biscuits resemble those crumbly, delicious Passionfruit melting moments these biscuits have a steely core. OK perhaps not exactly steely but a definitely crunchy core. While Melting moments literally can melt on the tongue these pale sandwiched beauties give you a firm crunch back from the addition of the polenta.
This recipe started out as a regular unfilled cookie but I felt that they were a little too dry. If you're not one for the drier biscuits, or aren't having these with coffee, filling them might be preferable. The crunch does lessen somewhat after the cookies have been stored, making them more like a melting moment, which is never a bad thing you do see...
DID YOU MAKE THIS RECIPE? Share your creations by tagging @notquitenigella on Instagram with the hashtag #notquitenigella
Lemon Polenta sandwich cookies
Makes 20 cookies, 10 sandwiched together
Ingredients
100g unsalted butter, softened
Zest of 1 lemon (finely grated)
1 cup or 150g plain flour
Method
Step 1 - Preheat oven to 200°C. Line 2 baking trays with baking paper.
Step 2 - Beat butter, sugar and lemon zest with an electric mixer until light and creamy. Add egg yolks one at a time, incorporating well.
Step 3 - Sift flour and a pinch of salt into a bowl, then stir in polenta. Add dry mixture to buttery egg mixture and beat until combined.
Step 4 - Knead the dough lightly for 1-2 minutes and form into a ball. Wrap in cling wrap and chill for 30 minutes or until firm.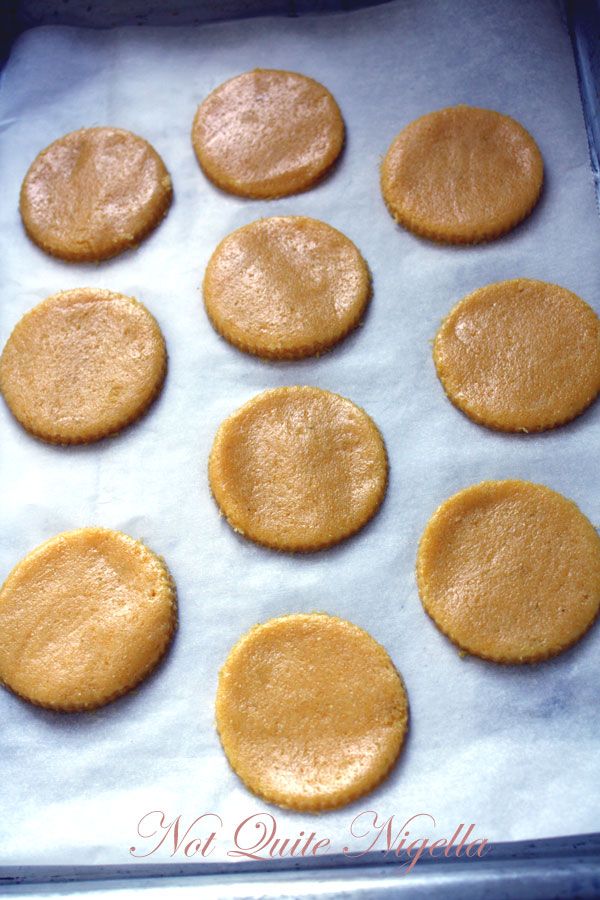 Step 5 - Roll out the dough between two sheets of baking parchment until 5mm thick and cut out circles using a 6cm pastry cutter. Gently lift biscuits and place on trays. Bake for 10 minutes or until light golden. Cool on wire racks.
Step 6 - Fill with lemon buttercream once cooled (recipe below) using a plain 1cm nozzle and piping bag (the piping bag will make the filling look more professional but you can use a knife to add filling too if you can't be bothered with a piping bag and nozzle.
Adapted from delicious. - June 2005
Recipe by Lisa La Barbera
Magnolia Bakery's Buttercream frosting
Makes enough for one 1-layer 9-inch cake or 1 dozen cupcakes.
1/2 cup (125grams) unsalted butter, softened
3 to 4 cups icing sugar (I halved this to 1 1/2 cups)
Step 1 - Place the butter in a large mixing bowl. Add 1 cup of the sugar and then the milk and vanilla. On the medium speed of an electric mixer, beat until smooth and creamy, about 3-5 minutes.
Step 2 - Gradually add the remaining sugar, a little at a time, beating well after each addition (about 2 minutes), until the icing is thick enough to be of good spreading consistency. You may not need to add all of the sugar.
Step 3 - If desired, add a few drops of food coloring and mix thoroughly. (Use and store the icing at room temperature because icing will set if chilled) Icing can be stored in an airtight container for up to 3 days.