These lemon crinkle cookies are adorable as they are delicious. These delicious, chewy cookies with the distinct "crackle" top are flavoured with lemon, white chocolate and coconut for an utterly moreish treat to go with tea or coffee. In this recipe I'll teach you how to get a never-fail crackle on your cookie. This is a pushy recipe Dear Reader!
Sometimes I make recipes that I consider keeping to myself in case I ever want to sell them commercially. This lemon crinkle cookie is one of them. It's not just that I spent literally three days baking and testing out 8 batches of these, it's also that they are so absolutely moreish and lemony too. These lemon crinkle cookies are simplicity itself as all you need is a whisk, spatula and bowl to make them.
Tips For Making Lemon Crinkle Cookies
1 - Please make sure to use the exact measurements as I've specified. The rising (and therefore cracking effect) agents are the eggs and the baking powder. If you add too much egg or baking powder the crinkle effect will not be as effective and they will look a bit like they exploded. Also make sure that your baking powder is still in date.
2 - There is no lemon juice in this cookies, only lemon zest so it's a great low waste recipe. I love using the zest as it has all of the aroma and flavour of lemon without the sourness of the juice.
3 - These crinkle cookies do not need to be refrigerated for 3 hours like crinkle cookies normally do. They can be baked straight away!
4 - Bake these as soon as you coat them with the icing sugar. Otherwise the icing sugar will melt into the cookie and you won't get that snow white effect.
5 - These lemon crinkle cookies will spread so make sure to not overcrowd the baking tray.
6- Bake these cookies at 170C/340F or 150C/300F fan forced as you don't want them to brown too much so that you can keep the golden yellow colour.
While I consider making 8 batches of cookies a necessity in order to perfect the recipe Mr NQN did wonder why the containers of lemon cookies were rapidly piling up. To him every day for the next month was going to be lemon cookie day but I explained to him that I had to get the recipe juuuust right. The flavour was always good but it was the shape of the cookies and the crackle effect that I was stuck on. Some batches were almost right but they were too thin, others had too much spread, some too little. But none of it was a waste of time as I finally got the recipe that I wanted with a reliable crackle!
I was talking to Laura the other day about things that we consider a waste of time. Mr NQN and I are both in agreement that we consider making the bed a waste of time. However many people including Laura consider bed making an essential start of the day. Even when I was young my parents never made me make the bed and I'm not sure why because they are fastidious people about pretty much everything else. I know it only takes a minute or two but when I think of the minutes per year that add up to 365 minutes or even 730 minutes that's between 6-12 hours a year spent making your bed where I can think of other things I'd rather be doing. But I know that if you're a bed making person that is time you'd happily spend and it's hard convincing you otherwise!
So tell me Dear Reader, do you make your bed? What do you consider a waste of time?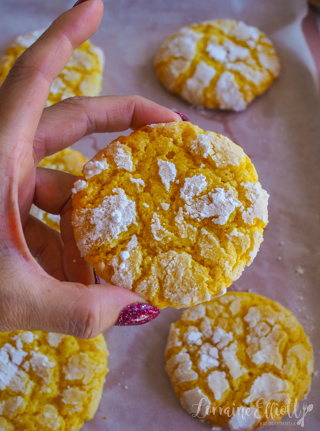 Lemon Crinkle Cookies