Hallowe'en is one of my favourite holidays of the year. If only for the opportunity to dress up in a ghoulish outfit and eat Halloween themed food and drink. I don't even need to go trick or treating, in fact I've never done so. Just the food and costumes will do me fine. And it's food like the following Goblin Pies that really excites me.
My little Goblins!
I absolutely loved making these pies and cutting out the various faces for them. The first lot I made had more demure looking expressions but then I recalled seeing a picture of the Pumpkins at the start of Nigella's Hallowe'en chapter in Feast and cut out more sinister looking ones. Use a sharp paring knife and whatever you can find to cut out the various parts (cutters tend to be a bit too big for these pies so I used clean pen lids for the eyes etc). And don't you think the one in the picture above in the middle row second from left looks like a Mummy laughing?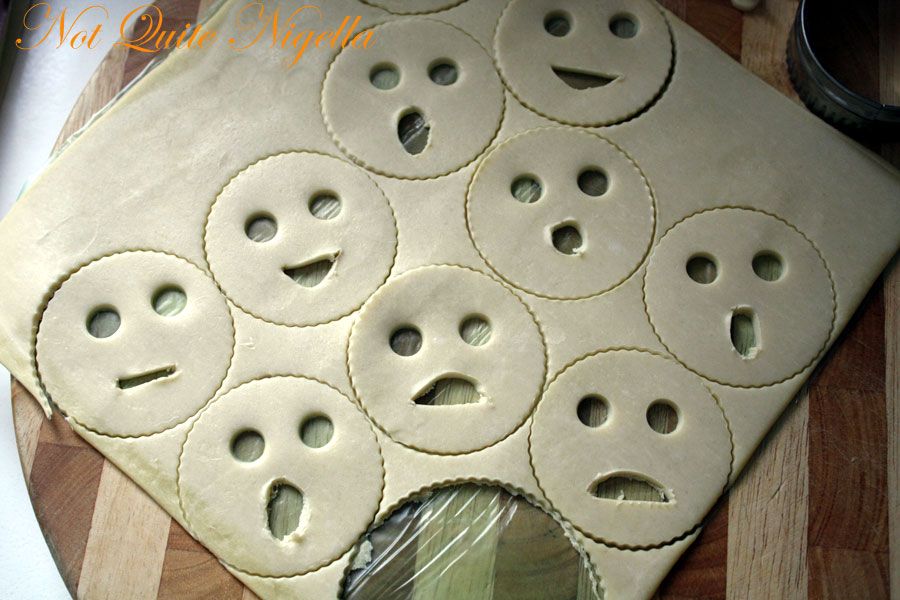 More demure Goblin faces
These taste exactly and I do mean exactly like party pies but perhaps the best ones you've ever had. And if you mince the meat yourself you'll know what exactly is in the meat pie. My friend Carbon Debit is currently in Romania and she told me that in the supermarket they'll mince the meat freshly for you, you just choose the meat you want minced and they'll do the rest.
But getting more wicked...
As for me, I'm counting down the days until Hallowe'en for we're holding our first Hallowe'en party! Let the gruesome games begin muahahahaaaaaa...
DID YOU MAKE THIS RECIPE? Share your creations by tagging @notquitenigella on Instagram with the hashtag #notquitenigella
Goblin Pie Faces
2 tablespoons tomato paste
1 teaspoon Vegemite or Promite (optional)
salt and lots of black pepper
2 teaspoons of cornflour mixed with 2 teaspoons of cold water
4-5 sheets store bought shortcrust pastry
Step 1 - Preheat the oven to 180c if you are baking these straight away (I didn't, I made these ahead of time to save my sanity). Cook oil, onion and garlic in a saucepan over medium heat until the onion softens. Add the beef, using a wooden spoon to break up any lumps until browned (5 minutes). Add paste, stock, Vegemite, white wine and salt and pepper and cook for 5 minutes. Then add cornflour and cook briefly on low heat until thickened. Cool completely.
My goblins!
Step 2 - Use a 7-8cms cookie cutter to cut 24 rounds of pastry for the base and line two 12 hole cupcake of muffin tins. If they don't fit, you can stretch out the pastry a little. Use a 5.5cms cookie cutter to cut 24 rounds from the remaining pastry. Use a small paring knife to cut out eyes and anguished mouths. Place one tray in the freezer while you fill the other tray cases with 2 teaspoons of the beef.
Step 3 - Top with goblin face rounds and brush with egg. You can either freeze these now for later use or just bake in the oven for 10-12 minutes until golden. If baking from frozen, cook for 25 minutes. I placed a white cupcake liner in the bottom for easy removal from the muffin tray.
Adapted from Donna Hay Magazine