Hello ghouls and boys!! This "rotten" raspberry and coconut pie with tiny edible flies and mold was hands down the most popular sweet at my recent Halloween party! Even if you don't want to make it rotten version try making this delicious fruit pie as a regular pie!
I made this pie last minute. I had a bit of extra time the night before my party and I had originally bumped this pie from my list because I didn't think I'd have time to make it. I ended up making a deal with myself - if I could make the edible flies then I'd make the rest of the pie which was a cinch. I didn't want to make the whole pie only to find that I couldn't make the flies.
Dear Reader, I hear you if you don't want to bother making the pastry. You can definitely buy the pastry. The key to this is the luscious raspberry and coconut filling. My chef friend Monica was surprised that the raspberries were set and weren't too liquid. She liked it so much that she ate two pieces at the party.
Every year Mr NQN's former colleague Julie comes to our party. We only see her once a year at Hallowe'en (because Mr NQN is hopeless at arranging catch ups with friends) and she's a fantastic party guest. She comes by herself while her husband is at home looking after the kids and she's that friendly person that talks to everyone. After every party people will say to me "That girl Julie is so nice," or "I really enjoyed talking to Julie" and it's true.
This year she told me about the time that she came to Halloween a few years back. Julie has three children and for each child, she has coincidentally been pregnant during the party so she works that into her costume.
This one particular year she caught a bus to come to our party. It was on a Friday night after work and our Halloween parties are a bit earlier than the official Halloween date so that I can share the recipes and ideas with you Dear Reader.
Julie came with ghostly makeup and a trickle of blood down the side of her mouth. She had some baby doll arms sticking out of her belly but she only attached these once she got to the house. Still her makeup was a touch alarming and she recounted how her bus ride from work.
At least three people stopped her to ask her if she was alright. It must have been a bit confusing because she would have had a very normal demeanour and not been distressed at all despite the blood and ghoulish make up. "I had to explain that I was going to a Halloween party," she said. The only thing was that it wasn't quite Halloween yet so people accepted her explanation, just with some reservations!
So tell me Dear Reader, do you tend to ask people if they are ok if they look like something might be amiss?
DID YOU MAKE THIS RECIPE? Share your creations by tagging @notquitenigella on Instagram with the hashtag #notquitenigella
Rotting Raspberry Pie With Edible Flies and Mold!
Preparation time: 35 minutes plus 1 hour resting time
Cooking time: 50 minutes
For Pastry
2.5 cups flour
2 teaspoons sugar
1/2 teaspoon salt
226g/2 sticks butter, cold and cubed
7-8 tablespoons ice water
For Filling
700g/25ozs raspberries (I used frozen, thawed)
180g/6ozs caster or superfine sugar
1/4 cup cornflour/fine cornstarch
1/3 cup desiccated coconut
1 teaspoon vanilla
Eggwash for brushing
For Flies
Walnut sized quantity of black gum paste
Grape sized quantity of modelling chocolate
Grape sized quantity of white gum paste
1/4 teaspoon red royal icing
Edible teal shimmer powder
Small sheet of rice paper
For Mold
1 tablespoon desiccated coconut
A few drops green food colouring
Fly bodies and wings
Step 1 - First make the flies. Take small balls of black fondant or gum paste and make a small head and body. Make a small indent in the head for eyes. Dot the eyes with red royal icing and brush the body with edible teal shimmer powder.
Attaching the legs to the body with tweezers
Step 2 - Cut out small wings in rice paper drawing veins on with edible ink. Make two cuts on the sides of the body with a paring knife and insert the wings. Poke holes in the body with a toothpick so that you can insert the legs. Shape little legs with tiny pieces of modelling chocolate and chill until set. Using tweezers, place them in the holes. You can also make some tiny maggots using white gum paste.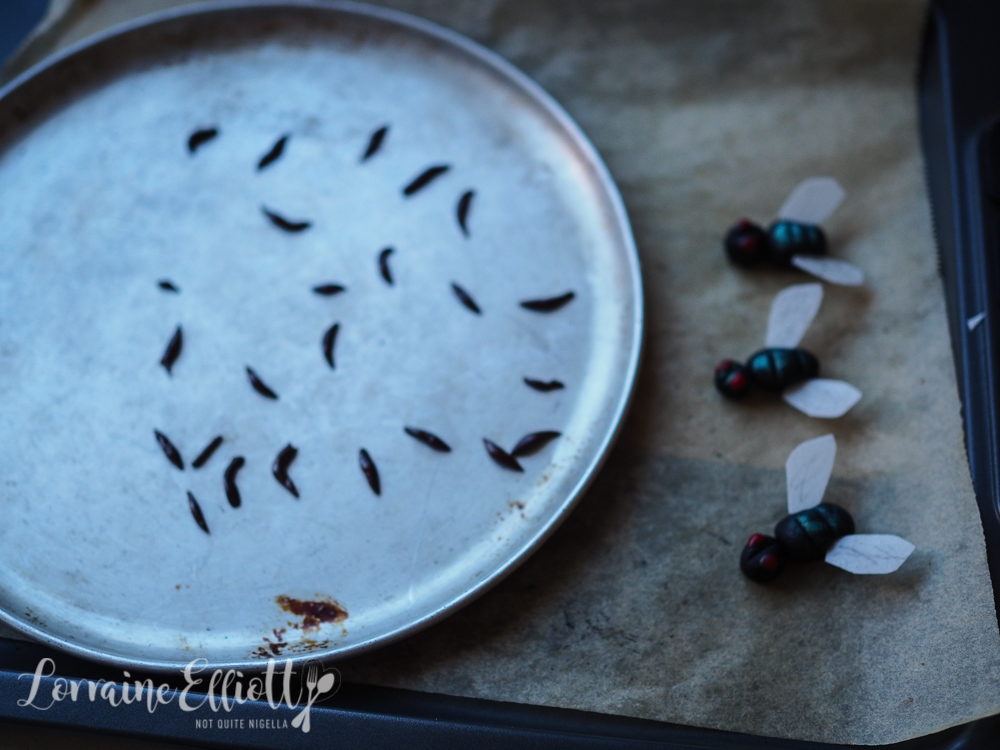 Step 3 - In a large food processor, pulse the flour, sugar and salt until combined. Add the cold butter and pulse until you get fine crumbs. Add the ice water and pulse until it just comes together. Knead on a clean surface and divide the dough into 2 equal portions. Rest in the fridge for 1 hour.
Step 4 - Spray a pie tin with oil spray. Roll out the first disc of dough between two sheets of parchment. Carefully lift into the pie tin and flute the sides and dock with a fork. Cover with cling film and chill for 1 hour. Oil a sheet of foil, line the pie cavity (covering the edges of the pie) and fill the centre with baking beads. Bake for 25 minutes. Remove the beads and foil and cool.
Step 5 - Meanwhile roll out the other round of pastry between two sheets of parchment. Cut into long strips and chill for 1 hour.
Step 6 - Mix the raspberries, sugar, corn starch/cornflour, coconut and vanilla together in a bowl and then fill the pie with this. Top with the strips of pastry. Brush with egg wash and bake for 25 minutes or until the pastry on top is golden.
Step 7 - Mix the coconut with the green colouring and when pie is cool, place it on top of pie in patches along with the flies.