Colefax Chocolates has closed down
After my Easter visit to Colefax where I was told that a Chocolate and Coffee Lounge was forthcoming, I'd always meant to come back to see it, after they'd had a chance to settle in. A trip overseas and work always intervened and it came to September before I could come back and check out their shop and newly appointed Chocolate shop and Coffee lounge.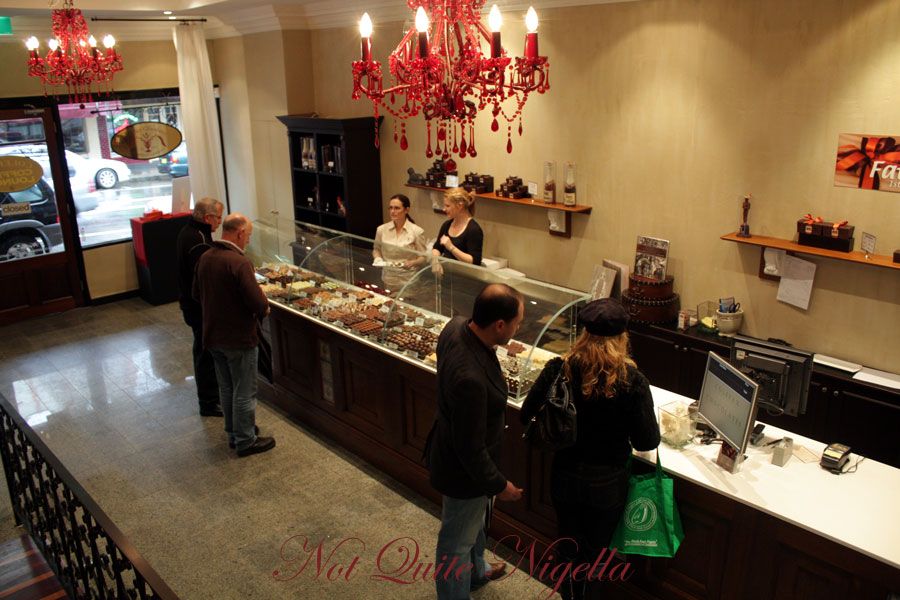 Entering we see that the whole shop has changed and it has opened up completely. The crowds of chocolate connoisseurs are still there buying their tablettes of single origin chocolates, truffles and novelty shaped lips and golf balls, but there are also those that are sitting down to a cup of coffee and hot chocolate, made with their famous Belgian couverture chocolate. Reg, the affable gentleman who had previously showed me such courtesy is behind the counter and shows me the new range and packaging.
Heavenly truffles $9 per 100grams
Real Cocoa Bean display
Single Origin Chocolate tablettes
The best sellers and the trends that they spotted last time were the Single Origin chocolates which now fly off the shelves where cocoa beans are sourced from the various area around the world and each chocolate has a different cocoa content from a mild milk chocolate at 34% to one for the hardcore dark chocolate fan, the Tanzanie chocolate at 75%.
Single Origin Chocolate tablettes
Unlike some of the supermarket chocolates with the high cocoa content of 70% or 80% which are too bitter to be eaten, these are so subtly and well blended that they are made to be eaten, indeed the Tanzanie chocolate tablette at 75% cocoa is one of the best sellers. Even I, not normally a dark chocolate eater, know that Colefax do the best dark chocolate and will only buy dark chocolate here.
Dark Almond Slabs $15
The divinely crunchy coffee beans appear on shelves alongside panned caramelised Chocolate Macadamias, sultanas as well as a new item, the Chocolate Almond thins and the Coconut Rough thins. Designed as a chic alternative to the After Dinner Mint, these are made using the finest almonds and have a delightfully crisp crunch. If anyone were to ask me what the difference between a regular nut chocolate and a Colefax one was, I'd say not only is the chocolate superb but the nuts and coffee beans themselves are so freshly roasted and crisp, it's gives it an altogether different experience.
Truffles $9 per 100grams
Dark Coffee Beans-the best ever $15
The coffee beans, my husband's favourite, so much so that I had to ration him on them for fear of having a husband hopped up on chocolate and caffeine are there, and apparently they go very well with a beer! Who'd have ever thought of pairing the two...
Coffee Lounge cake display
But onto the chocolate and coffee lounge where we're sitting at the table towards the back. The shop itself is very parent friendly and apparently during the weekday mums with their prams stake out this table as it's easy to park prams around it and the ramp ensures easy access to the lounge. I take a peek at the menu and there is an assortment of coffees and teas (which all come with a complimentary chocolate truffle from the monthly selection, yep the gorgeous little things that sit in the glass cabinet) for $3-$4.50 for a regular size. The new Italian barista with the fetching smile was a former barista at the Armani cafe in Italy. Yes _the _Giorgio Armani.
Hot lips!
But because the weather outside this spring day is a beastly 12 degrees, my husband opts for a hot chocolate, the only problem is deciding on a flavour of the 8 varieties. Among them there is Aztec (with chili infused hot chocolate), Angel Wings (hot milk with white chocolate) Brown Sugar (caramel and milk chocolate) and Darkolishious (hot milk and 70% dark chocolate). We get a Chocolat (hot milk and milk chocolate). I am intrigued by the Chill outs, a blend of milk, chocolate ganache and crushed ice.
Choc Rocks Chill Out $5.60
My Choc Rocks Chill out is sweet and cold, similar to a frappe but with tiny choc flakes dotted throughout. Delicious!
Chocolat Hot Chocolate $5.80
The prize however is the Hot Chocolate, the Chocolat is a delicious glass of the most delicious liquid couverture, not too thick, not too thin, just right. The kind of drink that you'd prefer not to share with anyone and territorially keep to yourself.
Mini Coconut cake $2.80
Coffee $3.50 with truffle of the day
Reg chats to us about how he can read the state of the economy through chocolate sales, when the economy is booming companies spend more on chocolates, when it isn't, they spend less.
](https://images.notquitenigella.com/images/colefax-coffee-lounge-and-chocolate-shop-haberfield/a-colefaxchocolatesmenu2.jpg)
At home I can't wait to try the boxed selections. The Dark Almond slabs are absolutely delicious, the finest dark chocolate paired with fresh almond splinters. I want to save these for a dinner party but I know they will be gone (and the dinner party is only on in a few day's time). Same for the Milk Coconut Rough squares, which my husband adores. They're delicious and a square would be perfect for subduing that rampant sugar hit.
The Caramelised Dark chocolate macadamias are heavenly, the large whole macadamias lightly coated with a crispy toffee crunch and then enrobed in dark chocolate.
Even the Milk panned sultanas are a cut above, the lovely squidgy sultanas and the Belgian couverture temptingly good. And of course I need to ration my husband on the Dark Chocolate Coffee beans. He has already wolfed down a large handful in excitement.
Trying the three tablettes of Single Origin cocoa bean chocolate, we find that they're all indeed distinctly different with varying notes. The descriptions on each are quite accurate and surprisingly, a couple of little cubes of these are satisfying which leads a friend to suggest them as a dietary measure.
There's nothing quite like chocolate, and nothing quite like a prepared perfectly hot chocolate.
Colefax Chocolates
78 Ramsay Street
Haberfield NSW 2045
Tel: +61 (02) 9798 2022
Open Monday-Saturday
Vegetarian options: Cakes, chocolates and coffees so most things are vegetarian friendly