Australia is not the kind of place that you think of when you think chocolate, our weather is mostly too warm for it I always feel (although it doesn't stop me from consuming it). I always think of somewhere cold with falling snow for chocolate. But here in Australia we have the Max Brenner chain, the Lindt cafes (the only ones in the world apparently) and now the newest addition, Guylian cafe at East Circular Quay. Situated in a prime tourist and eating location, it's right next to the Dendy Opera Quays cinemas and is so brand spanking new, it has only been open since last Wednesday.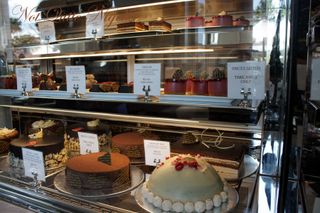 Despite its relative newness, the only telltale sign is the sign saying that the credit cards facility is not working. It's still packing people in and the service is noticeably enthusiastic. When we enquire about seating the girl behind the counter comes out and shows us the range of cakes, chocolates and breakfast pastries and is more than happy to answer our questions and give recommendations.
There are displays of hot chocolate powder ($10), clear bags of individual chocolates ($12) and a large seahorse shaped bottle of Guylian Liqueur ($60).
There are plenty of seashell seahorse motifs adorning the space.
We choose a seat inside so we can observe the comings and goings and of course get some good photos of the displays. Our waitress is very friendly too and takes our order as soon as she notices that we are ready. We've had lunch so we bypass their filled rolls and make a choice of cake, waffles with chocolate and ice cream. Items range from 70c for an individual twisted wrap chocolate to $2 for a small biscuit to $10-$11 for a filled roll to $12 for an individual cake or waffles.
Our hot chocolate arrives first, we've asked for Dark but we actually get Milk chocolate which we only notice when we get the bill, we just thought it was a really weak and not very Dark Hot Chocolate.
There's a small tile of chocolate at the bottom of the cup and a larger accompanying pot that holds about 1.5 cup's worth of hot chocolate. It's not bad but I have to say that Colefax's is richer and sweeter and more chocolatey.
I do like that they give you a little sampler pot of sweeteners plus a little Caramel Crunch chocolate which is absolutely delicious. Dime or Daim chocolate lovers would certainly approve of it.
Caramel Crunch chocolate[
](https://images.notquitenigella.com/images/guylian-cafe-east-circular-quay/a-guylian_cafe_bits.jpg)
Our cake arrives, the 100% Pure Pleasure is plated beautifully with raspberry coulis and chocolate swirls. Inside is a mousse with a white chocolate mousse centre which is slightly more firm than the quivering mousse surrounding it. The whole thing is enrobed in a dark chocolate ganache with crunchy pieces of brandy snap on the side adorning it.
The Waffle comes out with 3 individual pots of chocolate all with different strengths from 54%, 60% to 70% (you can choose just one or three, of course we'd choose three). On the side is the scoop of white chocolate and raspberry ice cream. The waffle is interesting, it's different from the other Belgian waffles that I've had, admittedly none in Belgium itself, but in Tokyo where they're somewhat of a national obsession. However looking up Wikipedia, it is indeed an authentic Belgian waffle, or specifically a Brussels waffle. The one that they sell in Tokyo is the Liege waffle (Liege being in East Belgium). It's freshly made and lovely with the chocolate although I would have to say that the additional of cream or ice cream makes it much better, it could be perhaps too overpowering, especially if you do like what my husband did. Like only a boy does, he filled up every single crevasse with the chocolate. As for the three different chocolates, the differences in each was very small and even the 70% was fairly mild in strength.
The White chocolate and raspberry ice cream is good, reminiscent of those white chocolate and raspberry chocolate bars. It steers towards more a gelato than a full on creamier than thou ice cream.
_Looks like this one could be a birthday cake for next year...
_
We're excited to learn that they'll be open until 11pm to midnight every night which I am happy about as we often find ourselves faced with wanting somewhere nice to have dessert.
Guylian Cafe
East Circular Quay
Shop 10 Opera Quays
3 Macquarie Street Sydney
Tel: +61 (02) 8274 7900
Open 7 days: 8am-11pm/midnight
http://www.guyliancafe.com.au/