Hear ye hear ye! I feel like yelling this swinging a large brass bell Town Crier-style. For today I am revealing the Ultimate Chocolate Cake round up! I realise my timing was not brilliant, being right near Thanksgiving and before Christmas in the two busiest months of the year so it makes me appreciate your efforts that much more!
Without further ado, here is the round up of 48 of the most luscious, indulgent chocolate cakes.
**Warning: have some chocolate or chocolate cake at the ready and be ready to chomp down on or stick a fork into at a moment's notice! ;)
Reem from I am Obsessed with Food made a beautifully rich, dense chocolate cake. She, like all devoted bakers, cajoled the recipe from her friends Penny and Fiona.
Y from Lemonpi made the temptingly named Eve's Chocolate Cake-no not Eve from the Garden of Eden but someone else! Not just flourless and nut-free, it is also low in butter and sugar and intriguingly has a topping made out of unbaked cake mixture!
Marieen from Earth Goddess made a beautifully decorated cake with fondant flowers and patterned icing for her brother's birthday-lucky guy!
Anudivya from ...and a little bit more... made a gorgeous Whole wheat Linzer Chocolate Cake, a healthier version of the Austrian Linzer torte. Well done!
Chris from Mele Cotte made a stunningly decorated sour cream chocolate cake with a cream cheese icing. The cake had 2 cups of sour cream in it which just goes to show how moist it would be! And be sure to check out her dentist cake too ;)
Suzie from Munch & Nibble came up with a light and dark chocolate cake, a sinfully rich offering in which slivers of it are eaten delicately.
Sue F from Melbourne sent in her entry (she doesn't have a blog) for Chocolate Almond Cake from a recipe by Stephanie Alexander which she assures us, is fail-safe! I'm sure her mum loved every bit of it too!
The recipe is here
125g chocolate
1 tablespoon brandy
1 tablespoon black coffee (2 tsp instant coffee + hot water => 1 tbsp coffee)
100g unsalted butter
100g castor sugar
100g ground almonds
3 eggs separated
icing sugar
preheat oven to 160c
butter an 18cm round cake tin and line it with baking paper
combine chocolate, brandy and coffee in a bowl over water or in a double boiler.
stir when melted and add butter and sugar.
mix well.
add ground almonds and stir very well.
lightly beat egg yolks and stir into bowl off the heat.
beat egg whites until firm.
lighten chocolate mixture with a spoonful of egg white, then fold in rest of whites and spoon into prepared tin.
bake for 40-45 minutes.
the cake will still test a little gooey in the centre.
it will have developed a crust and be very fragile.
cool completely in the tin, then carefully invert onto a serving plate.
dust with icing sugar
The last time I baked this I broke it in half! so I patched it up with half a block of chocolate! (125g of chocolate + a few splashes of bailey's in the microwave)
Dhita from Cooking Etcetera made a brilliant move-she made a brownie recipe into a cake one, specifically a cupcake one! I know I said full sized cakes only but I just can't knock back someone that has baked something for the event, and how good does it look?
Karen from Citrus and Candy made a classic Missisippi Mud Cake but with a twist, it was a double layered cake with one "bourbon" layer and another more chocolatey layer. All finished with a gorgeously glossy chocolate icing!
Rita from Clumbsy Cookie found a most fitting chocolate cake to enter into the round up-for it was called "The Best Chocolate Cake in the World" in a recipe book. And with a meringue base and chocolate mousse and Toblerone ganache layers we are in no position to argue! All I would say to a cake like that is: Hurt me!
Tracy from Tracyfood made a gorgeous Vegan chocolate cake-I always get stuck making cakes for vegans that satisfy non vegans but this one definitely looks like it would do the trick!
Richard from Here Comes the Food made a luxuriously sinful chocolate cheesecake. If ever a cheesecake, already a delicious enough cake, could ever be improved it's with the addition of chocolate!
Shibani from Anyonecancook made a delectable sounding chocolate cake topped with three kinds of nuts-almonds, pistachios and walnuts as well as caramel sauce!
Mansi from Funandfood made a gorgeous three layered chocolate cake with fluffy white meringue frosting. Chocolate and meringues? Fantastic combination indeed especially with chocolate shavings.
Anne from A Foodie Froggy in Paris made a stunning gold topped chocolate cake that not only looks stunning but does not require any baking at all and is from a recipe handed down from mother to daughter. She aptly titled it the "Bling Bling Chocolate Cake"!
Yasmin from Almond & the Hazelnut made a stunning rich chocolate cheesecake that she calls "The Chocolate Heart Attack". Love the photography on this pic!
Johanna from Green Gourmet Giraffe couldn't resist the challenge and made a lovely chocolate pumpkin spice cake that only needs a simple but beautiful dusting of icing sugar to finish it!
Adrasteia from An Empty Stomach Is The Best Cook made a lovely four layered "lighter than air" cake for times where only the lightest whisper of chocolate will do. Look at those layers!
](https://images.notquitenigella.com/images/the-ultimate-chocolate-cake-recipe-round-up/priyas-easy-n-tasty-recipes.jpg)
Priyasuresh from Priya's Easy N Tasty Recipes made a delectable sounding Chocolate Ricotta Cheese Cake with Chocolate Gelatin Ganache. I love the numner of chocolate cheesecakes that have been made for this challenge and this looks delightful!
Alexandra from Chefspiration made a most intriguing sounding chocolate combination-one with cranberry and ginger and a white chocolate frosting! Perfect for Christmas time coming up too :)
Molly from Molly's Recipes made an adorable Baby cake filled with cherries and dried pecans which her daughter not only helped to eat but also ice too! Love the sideboard styling-so chic!
Katie from Apple & Spice's cake was very impressively decorated with chocolate candles on the side. Aptly called the Chocolate Overload cake, it is indeed an overload of delicious chocolatey goodness topped with bags of Maltesers, minstrels, fudge, Rolo, Flake and chocolate button!
Jeff from Sweet Tooth? Meh. treated this challenge seriously, read about his hilarious account of putting the cake together. And what a cake it is with rich chocolate butterscotch tones and fancy caramel!
Angela from A Spoonful of Sugar never disappoints and she didn't with this light as air Chocolate Decadence cake. And can you believe that this delicious cake is actually low in fat? Talk about an early Christmas present :)
Suzana from Home Gourmets made a Chocolate and Cardamom cake. Cardamom is one of my favourite spices, and Suzana's version is a gorgeous loaf version.
Yien from The Delectable Delight made a Double Chocolate Layer Cake but made two separate cakes instead, each decorated gorgeously with sprinkles and cachous.
Ivy from Kopiaste made a beautifully decorated Cuckoo's Nest Cake with an array of chcoolate tiles cascading down over the top and some chocolate coated Maltesers for eggs. What creativity!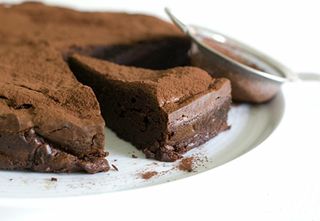 Y from Lemonpi (will we ever learn her name? :P) made a second chocolate cake, a deliciously fudgey looking rich chocolate cake made with 2 layers, a fudgey bottom layer and a moussey layer.
Aparna from My Diverse Kitchen cooked up a Molton Chocolate cake where the centre is delicious melted chocolate. It looks divine!
Renee from ...And All Things Nice made a beautifully rich Chocolate and Coconut cake which had the bonus of being incredibly easy to do-no creaming, just 2 steps and voila!
Hii Meng Ni from Sugary Secrets took her task seriously, making a lusciously rich chocolate cake with the glossiest icing you could ever dream up-look at those gorgeous side drips!!
Trisha from The Zest: Cooking Like I Mean It made a fudgey dense dark chocolate cake flavoured with cinnamon accompanied by poached mandarins! Even better still, the cake itself is better made the day before nad the mandarins can be made a few days ahead so great for a dinner party, Christmas or Thanksgiving.
Adrasteia from An Empty Stomach Is The Best Cook made a second entry, a deliciously densely solid chocolate cake. She speaks of the layers needing trimming but I think it looks just fine and the first thing that Australians will think when they see her cake is that it looks like 3 Tim Tams stacked on top of each other!
Belle from Ooh Look... made a Nigella recipe from Feast beautifully swathed in ribbon on the prettiest stand. The oranges are boiled and then mashed and what you end up with is a gorgeously moist chocolate cake, much like the Middle Eastern Blood Orange cake that I made a while back.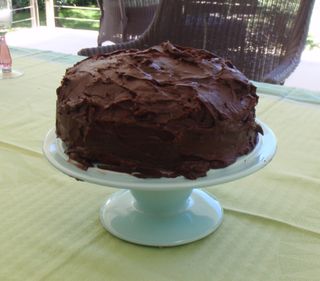 Stephanie from Killara doesn't have a food blog but baked a cake and provided her own recipe-love the amount of frosting and is that a Nigella cake stand? ;)

The recipe for the chocolate cake was from The Commonsense Cookery Book, which I just found recently. The idea of the book appears to be to have just basic recipes for classic foods – it has my Grandma's recipe for coleslaw for example, which my extended family agree is better than the complicated recipes you get in modern books.
The recipe is called 'Basic Plain Cake', however gives instructions for a number of variations, including the chocolate cake recipe given here, and variations for orange cake, coconut cake, cherry cake etc. The instructions are useful as well as it gives lots of ideas of pans you can use, and different cooking times according to the pan.
Basic Chocolate Cake
Ingredients
· 125g butter
· ¾ cup sugar
· 4 drops vanilla essence
· 2 eggs
· 2 cups self-raising flour
· 4 level tablespoons cocoa
· ½ cup milk + 1 tblspn extra
Method
Step 1 - Grease and lightly flour desired pan (I used a 20cm x 7cm ring pan)
Step 2 - Cream butter, sugar and vanilla
Step 3 - Beat eggs and add gradually, beating well after each addition.
Step 4 - Add sifted flour and cocoa alternately with the milk, beginning and ending with flour and cocoa. Beat 1 minute on low speed of electric mixer, or 30 strokes with a wooden spoon.
Step 5 - Spread in prepared pan and cook on centre shelf in a moderate oven, 180-1900, for 35 minutes (the recipe states 40-45, but the cake was cooked after 35).
Step 6 - Test with a clean fine skewer.
Step 7 - Stand pan on a cake cooler for 5 to 10 minutes before turning cake out. Cool.
For the icing, I was a bit rushed as we had my Grandparents coming over for lunch, with the cake for dessert :D. I decided to make the easiest icing recipe I know – chocolate ganache. While I was very happy with the look of the cake, after having tried it I think the ganache was a bit heavy for the cake – the cake itself was delicious, but would have been best complimented with a chocolate butter icing I think.
Chocolate Ganache
Ingredients
· 190g butter
· 190g chocolate (I used dark and milk as I didn't have enough – 190g was just what I had – its just 1:1 butter: choc)
Method
Step 1 - Place butter and chocolate in a saucepan over low heat (we have induction, but with gas it might be best to put in a dish over boiling water so the choc doesn't burn)
Step 2 - Stir until both the chocolate and butter have melted, then take off the heat and refridgerate about half an hour, until spreadable
Step 3 - Spread on the cake.
Sonia from Frenchs Forest made a lovely chocolate box cake decorated with fresh flowers and chocolate curls.
This is a picture of my chocolate cake - a divine choc mud cake recipe, coated with delicious chocolate ganache, boxed in chocolate sheets and decorated with chocolate curls & fresh lilies.
The recipe is as follows:
Chocolate mud cake
Preheat oven to 160 C
Grease a 22cm tin and line with baking paper ensuring paper extends at least 5cm above top edge of tin
Melt 250g unsalted butter, 250g dark chocolate, 2 tablespoons instant coffee, and 185mls hot water, stirring over low heat until smooth then remove from heat.
Sift 150 g of plain flour, 150g of SR flour, 1/2 cup (60g)cocoa powder, 1/2 teaspoon bicarb soda into large bowl. Stir in 21/4 cups caster sugar and make a well in centre.
In a jug combine 4 eggs, 2 tablespoons oil and 1/2 cup (125mls) buttermilk.
Using a large metal spoon slowly stir the egg mixture into the flour mixture. Then gradually add the butter mixture to the combined four and egg mix. Stir until combined - don't beat.
Pour mixture ( it will be quite a wet mixture) into tin and bake for 1 & 3/4 hours - if top still looks raw bake for another 5-10 mins. Leave in tin until completely cold before turning out.
Can refrigerate in airtight container for up to 3 weeks or in a cool dry place for 1 week. Freeze for up to 2 months - it freezes really well.
Chocolate Ganache
Heat 300mls cream in a pan until it reaches boiling point then remove immediately from heat.
Immediately mix in 600g good quality dark chocolate and stir until smooth
Allow to cool until a spreading consistency.
Ganache cooled cake all over (Can torte the cake and ganache in between for an even more luscious cake)
Chocolate box
Measure size of cake sides and cut sheets of greaseproof paper to size
Melt chocolate and coat sheets before allowing to cool
Peel off paper and stick chocolate sheets to the cake.
Smooth joins at corners using a palette knife dipped in hot water and dried.
Decorate with fresh flowers of your choice and chocolate curls.
ENJOY!!!!
Cynthia from Rustic Cookin' made intriguingly named Lick-Your-Plate-Clean Chocolate Spoon cakes paired with luscious black cherries. The culinary equivalent to a Little Black Dress!
The amazingly energetic Adrasteia from An Empty Stomach Is The Best Cook then made two more entries for the challenge. Yes, four in total! The top one is a Dense Chocolate Loaf Cake that is gorgeously dense and damp. The bottom cake is a Boiled Chocolate Cake which is where the ingredients are simply but into a pan, no creaming or palaver, and then baked in an oven (although I admit that I thought it was going to be like a boiled pudding when I first read the title :lol: ).
Rosa from Cakes by Rosa made a Cake or Death cake, a sky high creation measuring 20cms in diameter and 12.3 cms high which she calls her Deadliest Chocolate cake! A warning though, reading on the full description on this is going to make you want some-stat!
Cakelaw from Laws of the Kitchen made a Chocolate Cherry cake which is a low fat version of a chocolate cherry cake which cleverly does not taste low fat as it includes chocolate and cherries and apples!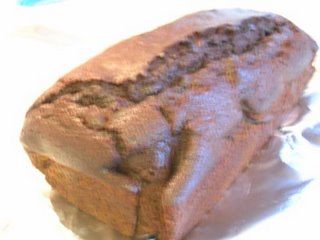 Lysy from Munchkin Mail made a Chocolate Spice Gingerbread which was rich in treacle, ginger, prunes and orange chocolate which I can imagine would be delicious!
Tina from Sweet Designs made a Chocolatey Fudge Cake from an aptly titled book I'm Dreaming of a Chocolate Christmas. Coated with a heavy dense fudge icing, it looks just tailor-made for all of us chocoholics!
Yasmeen from Health Nut made a festive looking Chocolate cake with cranberries and decorated with pomegranate. Just what Santa ordered!
Kim from A Yankee in a Southern Kitchen made a stunning Chocolate Chestnut Bourbon Torte. Yes you knew it was going to be a goodie when you saw the picture with the glossy swirly icing, macaron and chesnuts on top didn't you? And Kim never disappoints!
Ashley from Introducing Ashley made Chocolate Fudge Mini Bundt cakes with a chocolate toffee glaze-too adorable and I just love the drips of glaze!
Jude from Apple Pie, Patis, and Pâté made an Austrian Sachertorte Chocolate cake with some stunningly beautiful glazed icing. Mirrored icing is so pretty don't you think?
And for our final entry, Isdihara from A Parently Speaking made a delicious looking chocolate rum Bundt cake with a drippingly good buttery rum glaze!
As for choosing the lucky winners, please vote for your favourites in the poll below. You have 1 week to vote and voting closes on Midnight AEST (Australian Eastern Standard Time) on the 19th of December, 2008.
***THIS POLL IS NOW CLOSED, THANK YOU FOR VOTING! CONGRATULATIONS TO Yasmeen from Health Nut, Alexandra from Chefspiration and Kim from A Yankee in a Southern Kitchen. I'll be contacting you soon about your prizes
***
[poll id="2"]