There are often signs that one should not step foot in the kitchen. This morning, I received one. I was closing a kitchen cupboard door when the whole door came crashing down onto the ground shattering everything in its path. Luckily my irreplaceable china was safe in the credenza but as luck would have it some rather loved china was broken in the process. This made me wary after that. Is this the universe's way of telling me to stay out of the kitchen?
Then there was the other not so subtle hint when I was reading the recipe I had planned to make. I had no sugar thermometer. I asked my twitter friends if anyone had made Marshmallows without a sugar thermometer before. The answers ranged from No to Yes but only if you get to know the soft and hard ball stages. The crucial piece of information came from the blogger Passion4 Eating who gave me this very helpful site which, if you don't have a sugar thermometer, you should read before starting to avoid any confusion. Which I did very quickly and I set a bowl of cold water in the fridge to standby.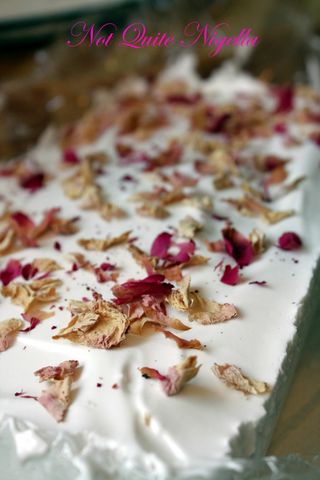 Despite the clear warning signals, and despite my nervousness, somehow these gorgeous Marshmallows worked. They are as light as a whisper, sweet nothings to be treasured on lazy days. These gorgeous fine bone china white cubes are dusted with freshly fallen sugar snow and topped with pink rose petals. I gave one to my husband who had never tried home-made marshmallows before and his face registered confusion "Is it meant to be so ... light? Aren't they firmer?". And then he went on to eat more, and more, and more. And then there were none.
Champagne and Rose Petal Marshmallows