Years and years ago I'd be excited at meeting a pop star or a rock star. For when I was a teenager I realised every teenage girl's (at the time) dream and met the Norwegian band A-ha when they visited Sydney-please tell me that you remember them. I even managed to get an autograph and a photo but for reasons of 80's hair and fashion crime, I shall refrain from posting it here. Nowadays the sighting of a chef excites me. And tonight when we're visiting the Taste of Sydney festival, I'm feeling a culinary version of A-ha-mania.
The Taste of Sydney festival was an event we'd been looking forward to for a while, not only spurred on because of the preview that we got of the fabulous food we'd be having. Held at Centennial Park it was billed as a bit of a food market a la Castle Hill's Food Affare and a bit of a food festival a la the SMH Good Food Fair. We were being joined by Christie and her husband Dillon tonight and trying to fill our hungry tummies with some of the best food Sydney's chefs had to offer.
Who do we see carrying his wobbly booby pannacotta but George Francisco of Jonah's. We talk to him about enjoying it at the launch and introduce ourselves. It seems that his friends from the US have found his wobbly sensation on our blogs and emailed him about it. He was talking to the PR company The Mint Partners and they had told him that one of the best things they had done was inviting bloggers to the event and preview. We love that attitude! We also bump into Suze, Helen and Billy.
Onto the food. While Dillon and Mr NQN menacingly guard the tables (the faux menacing purely as a buffer to the people who wanted our table and a warning, tables are in short supply), Christie and I tag-teamed it to the stalls to buy the food. Forget cavemen bringing home the goods, we modern cavewomen were armed with "crowns", the currency of choice for the festival. $1 buys you 1 crown with each course being 8-14 crowns each and to eat 3 courses you would want to have about $30 or so crowns and it's Crowns only at the restaurant stalls. We start with a selection of dishes, different to what we had at the launch so that we could try as much as possible.
We start with one of my favourite dishes ever, the one that Peter Conistis takes with him to every restaurant and which I unfailingly order: the Moussaka of eggplant, sea scallop and Taramasalata. It's more like a chic stack of textures and flavours rather than a baked down moussaka and the creamy texture and delicate taste get approving nods all around. And at 10 crowns, this is one of the best value dishes around. And we get a bonus, Peter Conistis comes out and we get a photo of him with his creation!
Ottoman Cuisine Salmon Dolma-Salmon crayfish and prawn wrapped in vine leaves, lightly battered, served with savoury piquant sauce 12 Crowns/$12
You understand cutting the Moussaka into quarters does not exactly sate the men so we are off again, to seek more food which we find from Ottoman Cuisine. The Salmon Dolma is salmon, crayfish and prawns wrapped in vine leaves, lightly battered, served with savoury piquant sauce. While we are waiting, there are complimentary Turkish Delights and a generous sized plate of cured beef to nibble on. When we get the plate of Salmon Dolma, there are two on the plate, if I were to make a crass comparison it would resemble those terrible deep fried dim sims from a takeaway shop but we know it's nothing like them. It's flavourful and rich inside, heady with roe and a crispiness on the outside with the vine leaves acting like a golden filo.
Berowra Waters Inn we try the slow cooked petuna ocean trout, cauliflower puree, kalamata olive tapenade 14 crowns / $14
At Berowra Waters Inn we try the slow cooked petuna ocean trout, cauliflower puree, kalamata olive tapenade. It's delicate and soft and very subtly flavoured. The olive puree gives it saltiness I'm sure but my morsel doesn't have any (there are downfalls of dividing things in 4).
At Plan B, Dillon gets his much hungered for Gundooee organic grass fed Wagyu beef burger. We don't torture the poor hungry soul and make him cut it into quarters.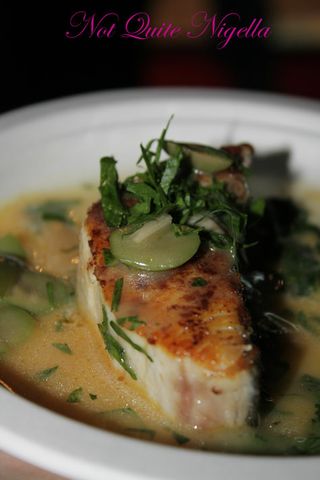 _Pilu at Freshwater: Hiramasa Kingfish with Vernaccia, green olives and a hint of Bottarga 12 crowns/$12_Pilu's Hiramasa Kingfish with Vernaccia, green olives and a hint of Bottarga is delicious-a firm fish flavoured with a soupy sauce flavoured with olives, herbs and Bottarga (cured fish roe). I also get a picture with chef Giovanni Pilu which is very exciting indeed. He gives us a card for a complimentary cocktail if we dine at Pilu for lunch or dinner. Having eaten there for a friend's wedding and having some of the most delicious food ever served at a wedding, we've always meant to go back.
The Roast Kurobuta Pork Neck with fennel and witlof salad was chosen as we knew that a large slab of meat would appease the men and their eyes light up a the sight of it. It's a little hard to cut and if I can be picky a touch on the chewy side but gets a big thumbs up from the men who like the size and the fennel flavour.
We also try the entree dish of Hiramasa Kingfish in citrus oil, fresh peas and creme fraiche. This is more my and Christie's style with the delicate and super fresh sashimi fish.
The brief given to us is clear from the guys, they need some more meat and need it now so we make our way to Restaurant Balzac for their Saddle of Suckling Pig with crackling and baby garden peas. It's perfectly soft and delicious and absolute perfection. We're over the moon with this dish and the bonus is getting to meet Lela Radojkovic and Matthew Kemp.
_Lela Radojkovic _
Our last dish is Assiette's loin and crumbed belly of lamb with basil mayonnaise and a tomato olive jus. We also spy their dessert, a fabulous looking strawberry bellini with strawberry and cinnamon donut. The loin is soft and tender and pink inside while the crumbed belly is nothing but scrumptious. A fantastic way to end the dishes of the night. We're impressed with the standard of food being turned out in an outdoor setting like this (unlike some other outdoor events where the food really suffers).
Some of the dishes that were sighted but not eaten:
Danks Street Depot selection: in foreground Poached strawberries with a chocolate and hazelnut meringue with whipped cream 8 crowns/$8
Wandering round and partaking of some of the samples is also part of the fun. Many of the stalls take crowns but all accept cash. Some of the stalls that we saw were...
"All Things Sweet" Rose, date and pistachio cupcakes-delectably rose-y with a praline topping!
Lakelands olives and olive oils-the mandarin and ginger infused ones are particularly good.
Sparkle Cupcakery: although they do accept crowns, their cupcakes are $4.50 so you'll need to pay the 50c in cash/coins.
Cupcakes from the EQ markets stall, one of the most generous with their samples!
One of the most interesting stalls was the Zokoko chocolate stall where they give you a taste test with 3 types of chocolates and explain the difference between the. I won't give it all away except to say that one ingredient can change the whole taste of chocolate.
The Taste Wine tent is great value for wine lovers where for 4 crowns ($4) you get to taste different wines and eat nibblies.
There's the Emirates Lounge where for a $100 ticket, you can sip on drinks and nibble canapes. Not a bad idea if you're after a long, lazy weekend day.
And don't forget there's the Chef's Table where you'll be able to chat with the chefs over a glass of wine. See the website for a timetable and chat with your favourite chef!
The Taste of Sydney festival will be held at the Brazilian Gardens, off Grand Drive, Centennial Park on the 12th-15th March 2009.
Opening times:
Thursday 12th March - 5pm-9pm
Friday 13th March - 11:30am-3:30pm & 5pm-9pm
Saturday 14th March - 11:30am-3:30pm & 5pm-9pm
Sunday 15th March - 12pm-5pm
For more information see their website.