We're making the most of our trip Out West today. Earlier in the day we'd eaten at Al Aseel in Greenacre and later that day we find ourselves at the busy Auburn Festival sprawled across a few central streets in Auburn. It's a swelteringly hot day with a hot gusty wind but that doesn't seem to have deterred visitors, with many gathered at various stations watching musicians, karate kids and competitions in progress. Of course we're here for the food and to soak up the multicultural atmosphere of Auburn.
There are stands selling Turkish coffee.
Flowers on stilts with flowerpot feet
There are whole young coconuts on sale.
As the temperature is very hot, we've lured M's boys S and In to the festival with promises of ice cream. And it's not just any ice cream, it's Dondurma, the deliciously stretchy Turkish ice cream. One of the first stalls we hit is this and given the temperature we quickly make our selections ($3 for one scoop, $5 for two in either a cone or a cup).
Turkish ice cream being churned
Rockmelon ice cream on top, Sour Cherry ice cream on bottom (hidden)
I choose a rockmelon and sour cherry and S and In choose chocolate ice cream cones where a gentleman makes a little show out of putting the ice cream cone on the end of his stick and urges the kids to grab it which they make a few attempts to do so but he is too quick.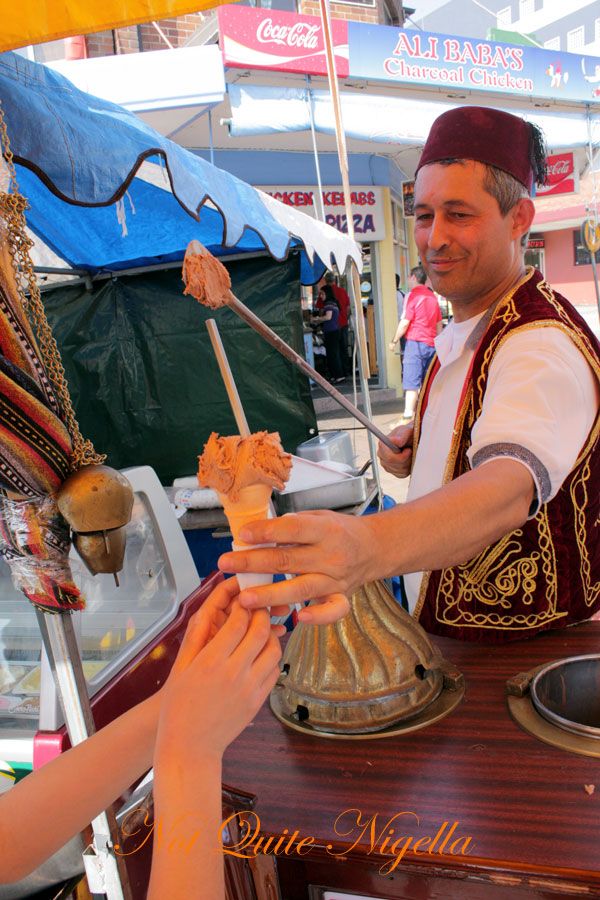 They're happy with the chocolate ice cream and I try our rockmelon and sour cherry. The rockmelon is creamy and my husband's favourite. However M and my favourite is definitely the sour cherry, with small sour cherry pieces studded throughout with nothing but unadulterated sour cherry flavour.
I also get the urge to have a snow cone, it's so hot by the time we walk up to the other end. I know it's a little pricey for shaved ice and syrup ($3.50) but I need to cool off and I choose a green apple one with lime jelly (extra 50c) on top. I actually thought it would have actual jelly but it turns out they sprinkle some jelly crystals on top. Despite its weirdness it's exactly what I need.
Sugarcane
My husband has other things on his mind...sugar cane juice. He recalls country school trips spent on buses chewing on sugar cane and the last time we went to Auburn he enjoyed a cup. Wandering down to Wok King near the train station, we spot the familiar sugar cane juice contraption. It looks like it's seen better days but delivers the sugar cane juice nevertheless. They even seal the top with plastic and give us a pokey ended straw which we use to puncture the top and we sip the very sweet but delicious sugar cane juice.
Sugar cane juice $3.50
Yes, the bearer of this juice is one very happy camper indeed.
Auburn Festival 2008
Held in Auburn CBD area 20th September
Vegetarian options: some