Start them early!
Cheese, cheese and more cheese!
We had grand, slightly tentative plans for this years Primo Italiano Festival mainly due to me thinking that it was on last week and getting up early only to discover that I was a week early. Then the weather forecast for the weekend was foreboding and warned of occasional showers which meant that Plan B's were set in place until we awoke on a gorgeous Sunday morning to find a sky blue and the sun strong and beaming.
Sweet goodies at Bertoni Casalinga
Primo Italiano is an event which is part of the Sydney Italian Festival where everyone is invited to participate in an Italian wedding from the proposal, the ceremony, the reception to the farewell. And in true Italian fashion, food features prominently which is another lure for us.
_
The Rose Fountain_
Housed along three intersecting streets in East Sydney (Stanley, Yurong and Riley) and dubbed "Little Italy", the main focus and the place where everyone wants their photo taken is the Rose Fountain. You can toss coins and make wishes and all coins are to be donated to charity. We take care of all matters culinary first and scope out what is best on offer. There are red and white checkered tablecloth covered tables but most people are sitting on the kerb and eating or standing and doing so. Securing a coveted table is left to Teena with her pram whilst Gina, Mr NQN and I track down the food and stand in some very long but thankfully moving queues. We try a range of dishes and sit down to try our meals.
Beppi's Octopus $5
The Beppis Octopus in a tomato based sauce with polenta square is delicious and cooked beautifully tender. It's a small serve but also a small and reasonable price.
Proscuitto Pizza $9
The pizzas aren't bad although they're a little thicker in the base than I'd like although Teena suggests that this is because they are made to be picked up and eaten with the hands. The Proscuitto is my favourite although the Margarita isn't too bad and is very cheesy.
Margarita pizza $9
Eumundi Smokehouse Ribs: 3 ribs for $8
The item that had hungry queuers salivating when I walked past carrying these were the glistening, saucy ribs from the Eumundi Smokehouse. They're heavily smoked and require a bit of chewing power as the meat is hard to get off the bone (I admit I prefer the meat softer).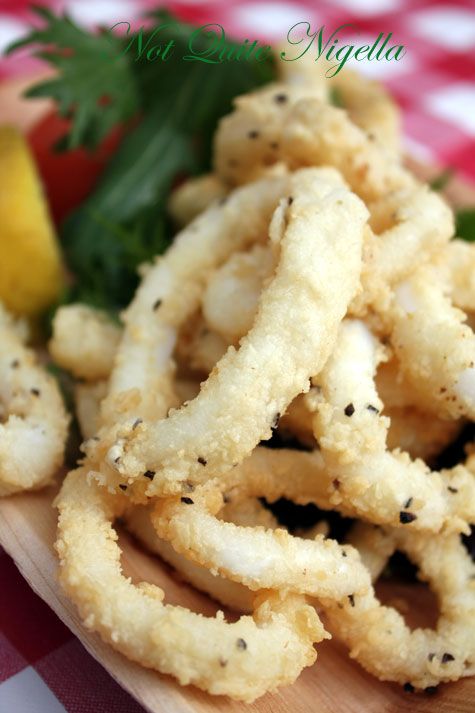 Salt and Pepper Calamari from Seafood Eat It $12
The dish of the day however is the salt and pepper calamari. Lightly battered and not greasy, it is beautifully tender inside and we're impressed by the quality given the outdoors setting.
Spot the accordion player!
We eye the gelato queue and it's long so we give up our table as we've finished eating and seek other pastures for dessert.
Formaggi Ocello
Cheese wrapped in chestnut leaves
On the way, we stop by the Formaggi Ocello stand which has all manner of fabulous cheeses and I'm particularly intrigued by the chestnut leaf wrapped cheese. We taste a little and it's rich and nutty with a strong taste from being aged in caves and wrapped in the chestnut leaves which is a more traditional way of cultivating the mould instead of the modern way where penicillin is injected. The leaves also help keep the moisture in and impart their own flavours. There's also Panforte di Siena & air freighted ricarrelli bisciuts from Siena, Italy and long packets of Castiglioni spaghetti.
Tiramisu and coffee $8.50
Custard filled donut
We take a brief break up the road at Giotti cafe on Stanley Street for coffee and dessert. The Tiramisu isn't bad at all but the custard donut is quite dry, and not really donut-like. More like a bread roll that has some custard inside and a slightly donutty outer so the resultant texture is dry rather than soft and delicious. The Chinotto hits the spot though in the warm weather.
Kid's gnocchi making classes
Wedding dancing
Of course the main attraction apart from the food is the Italian Wedding and it was apparently an actual legal wedding that was taking place in front of us. We watch as the bride and groom along with their wedding party perform dances.
The bride then passes the bouquet onto one of the bridesmaids who then scatters the roses amongst the audience.
A lucky rose recipient
A lovely ending to a great day outdoors with not a lick of rain. Viva Italiano indeed!
The Primo Italiano Festival was held on Sunday, the 24th of May 2009 in East Sydney and is part of the Sydney Italian Festival.