Eurofest was one of those events that I had marked in my calender months ahead of time. I set my stomach on watch for it and started counting down to the weekend. I knew that I had the best guide in town as I had made plans with someone who lives nearby and is a Eurofest regular (she and her husband have been there every year for the past 8 years). Eurofest is an outdoor festival that stretches over the whole weekend so that means should the urge strike you to join in the fun, you can do so today!
Even though the food doesn't start until a bit later we meet up at just after 10am to secure a parking spot that isn't too far from the centre of things ( if you come around noon, the crowds and cars ensure that you will park far away). Entry is $5 per person and children under 15 enter for free. It's held on a large expanse of the Ararat Reserve in Frenchs Forest and as we approach in the car, we hand the person our money and get our golden tickets. The first sight we're greeted with is a woman spinning wool on a spinning wheel.
Most popular stand on a hot Spring day? The Beer stand...
Chilli Ginger Lemonade $4
As we wander around we buy a cup of Chilli Ginger Lemonade which is a great way to refresh with the judiciously applied tingly chilli and ginger going well with the icey fizz. There are rides to the left for kids and things to buy on the right from homewares, to finger puppets and other market types of stalls. We head towards the large white tent where we camp ourselves. Each of the clubs, (German, Austrian, Armenian, Dutch and Danish) have a stand in here and produce hot food.
Finger Puppets
Swiss stand
Just outside of this there are also other food stalls that sell a variety of delicious European goodies from Switzerland, Turkey (the omnipresent Gozleme stand), Czechoslovakia, Italy, Germany and others as well as Himalayan.
Dutch Kroketten $2
We can't say no to a Dutch Kroketten and at $1.50 per stick and 50c for the roll I don't know why one would. There's a bit of confusion at the stand when they realise that there's no onion for the herring fillet and no forks for diners. I take the kroketten in the roll to the table and it's crunchy and freshly fried although the buttered bun is a bit too big for it.
Almdudler $3.50
The food is always good at the Austrian Club stand so our next stop is their stand. We grab an Almdudler (their version of a Coke in popularity). It's like a herbal lemonade drink like Chi.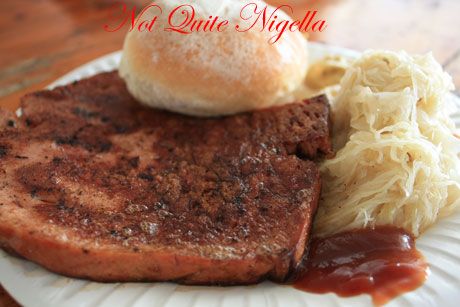 Leberkaese with sauerkraut and bread roll $10
We're curious about the Leberkaese and ask them what it's like. "Like pork or ham with liver" the friendly man with the tongs says and he offers us a sample. Literally translated it means Liver Cheese although it has no cheese in it, the name reflects more the texture of it when it's uncooked. It tastes like thick slices of devon fried which just happened to be one of my favourite childhood snacks (it had to be fried and on white bread with tomato sauce please) so I order a Leberkaese with sauerkraut $10 and a Bratwurst with potato salad $10 (both can be bought without the salad for $8).
The Bratwurst is juicy and delicious and the potato salad is an unusual take on the regular mayonnaise laden potato salad. It has a bit more mashed potato, vinegar and oil and is rather mild tasting. The accompaniment that I enjoy the most is the sauerkraut. Sometimes I find this too vinegary but the bacon cube peppered sauerkraut here is mild and tasty.
Ta da! The Belgian chip stand
Belgian fries $5
We sit back and chat for a while before we give in to the lure of the outdoor stalls. Mr NQN minds the table and we go out to buy some Belgian Fries. They're freshly fried and served in a cone with Dutch mayonnaise. Why Dutch Mayonaise? Well the man that runs it happens to be Dutch and he think it tastes the best. I take a wooden fork and try some. They're perfectly salted and crunchy golden with a generous serve of mayonnaise and they're the way that fries should be all the time. "If you get halfway down the cone come back and get some more mayonnaise" the stallowner says and it's like music to my ears.
Langos with garlic, tomato sauce and cheese $8
Mr NQN is still hungry and wandering around I tossed up between getting a fresh pretzel or a Langos from the Czechoslovakian stand and knowing how much we enjoyed Langos many moons ago I choose this. They fry it fresh and brush some garlic oil on top, cover it with tomato sauce and sprinkle cheese on top. We take it back to the table and cut it up and it's devoured except for the sauceless sides.
Lamb curry from the Himalayan stall
Poffertjes $7
Our savoury tooth is sated so we head over to our long intended target, the Poffertjes stand. We buy it the most traditional way: with butter and icing sugar. Each puff is fluffy and light and lip smackingly good. Good enough for Miss C too who takes a liking to these (although has there ever been a kid in the world that hasn't liked pancakes?).
Forestberry Gelato $4
Mr NQN also tries a forestberry gelato from the Bravo stand although it's missing that gorgeous tang that you get from berries and is a very muted and mild flavour despite the absolutely vivid colour.
Representing Austria...
It is then that the parade starts with a start of the bagpipes and we watch as each country parades around the ground in their National Costume.
The Danes (who were a very cheery bunch!)
And guess who? Yep, representing Australia!
We see what's on offer in the club houses.
Danish Club Christmas Decorations
Some of the nearby clubs are having open days and the Danish Club is one which we wander into. There are open face sandwiches for sale (3 for $12) and there are portraits of Princess Mary and Prince Frederick and Queen Margrethe and Prince Henrik on the wall. They're selling these adorable Christmas dolls and many are sold from the signs indicating so. On another table there's a table of marzipan and chocolate based sweets. My eyes light up at the Overflodighedshorn or the Horn of Plenty baked marzipan dessert - I recall Princess Mary and Prince Frederick had one as their wedding cake and it's usually used in celebrations. She offers me a sample of it and I buy one for my friends who have just gotten engaged.
Dutch Club's Windmill
I carry it out carefully and onto the last stop, the Dutch Club where there's a miniature version of the Dutch Shop in the club (damn, no Bitterballen :( ) but I do spy Apple Syrup which sounds interesting.
Mini Dutch Shop
Apple Syrup: stroop=syrup in Dutch
Although we spent about $80 here, I leave satisfied, after all I have the Horn of Plenty!
Horn of Plenty $20
So tell me Dear Reader, do you like outdoor festivals?_
_
Eurofest 2009
Held on Saturday the 19th and Sunday the 20th of September
Ararat Reserve, Bantry Bay Road, Frenchs Forest, NSW
Sunday: 9-5pm. Entry is $5 per adult. There is also a free shuttle bus.
http://www.eurofest.org.au/