Moo!
Egg judging
I was looking forward our visit to the Sydney Royal Easter Show with great anticipation. The last time I went was when I purchased a Wonder Woman showbag which gives you an indication of just how many years ago that was. I remember the showbag clearly and the headband, name tag, bracelet and other assorted goodies that made me my own pint sized version of Wonder Woman. This was of course when it was still housed at Moore Park. I haven't been since it moved to Olympic Park.
Although I love traveling by the comfort of car, venturing out there by train is easy and it's fairly straightforward and relatively quick. Before long we're standing in front of this enormous swell of people and contemplating our first move like seasoned chess players. Volunteers are handing out copies of maps with some vouchers on the back so we make sure to get one of those so that we can get our bearings. Food of course is priority, but then again so is the many other things that I've scheduled courtesy of the show planner on the Easter Show website. Sure some of the things are lower on the priority list (chook washing I could probably give a miss) but some things are too iconic (woodchopping and the ingestion of Dagwood Dogs) or too adorable (the many farm animals) to miss.
Wood chopping
Our first stop is the Woolworths Fresh Food dome. It's huge, about the size of the Good Food and Wine Show and full of exhibitors peddling their goods. Samples are a little rarer than at other events but most things are available for purchase and most things are discounted from the retail price.
The Chili Factory's range of chili from mild to frighteningly scary
We try some ferociously hot chili - if you dare, try the 10 out of 10 heat one although a word of warning, try it very sparingly!
My Little Cupcake's stand
Oysters near the Champagne and Oyster bar
We spy the truly impressive fruit displays towards the back, the fish in particular is fantastic and when we look closely we see that the open book display is actually made of glued seeds.
Sydney Royal Deli:_ prize winning goods available for purchase_
The Best in Show pack at the Sydney Royal Deli is $40 and has me oohing and aahing over the display. For $40 we can get a pack of the show's award winning produce including Tender Value Moroccan Lamb sausages,Small Cow Farm Fetta, Montana Smoked Salmon Dip (absolutely delicious), Kaczonowski Fresh Sliced Leg Ham, Brasserie Bread's Pane Croccante, Mick's Bakehouse Pies (a chicken and a beef one), Pasta Italia Fresh pasta and Country Valley yogurt. We can't resist and as they sell out of the packs quickly we buy one and they stow it away for us to collect when we're done for the day.
Love the cow imprint on the feta
The Royal Deli $40 pack
Tasting demonstration
Several times during the day, there is a tasting theatre which feature different types of food or wine being demonstrated along with a tasting for the whole audience. It's good to rest the feet and who doesn't like a free tasting so we settle in for the first of the day. It's 5 minutes til it starts and there are still some places so we take a seat.The chef is an amiable fellow who loves to carry a tune and he is here to demonstrate Dairy Farmers.
Samples of the beetroot dip
He shows us how to make a mango lassi and some girls come out with samples trays of the lassi and then he makes a delicious beetroot yogurt dip which is very low fat and good for you which I will definitely try to make. I then get a sample bottle of the smoothie which is good and gives away a prize  - an old fashioned Dairy Farmers Milk Bottle which I covet so much I go straight to purchasing one after the demo.
Next door there is a Kitchen demonstration area where Lyndy Milan shows how to cook various items throughout the day.
And we come across one of the most popular food stands of the show, the Dairy Farmers $1 toasted cheese sandwich. It seems everyone at the show wants to try the $1 cheese sandwich so we get in line and queue. It's not bad although it could do with some more butter on the outside as that's how I like my toasted sandwiches but for $1 who is arguing?
Dipping inside the Stuff on a stick stand
Hot Dog on a Stick $4
We venture on out in search of more entertainment and on the way we spy the carnival food of yesteryear. I remember Dagwood Dogs or Pluto Pups clearly. They used to be the only things you could buy there along with hot chips. My how times have changed. There's food from all over the world now including German Sausages, Sushi, American ribs, Berries, Thai and Indian although it must be said that the Dagwood Dogs are omnipresent and still reign supreme. And who am I to argue? I get in one line and receive one but it's more a Pluto Pup than a Dagwood Dog which I prefer.
So of course I go to the Rainbow Fritter Hut stand and order the item that I'm craving more than ever now, the Dagwood Dog. It's a frankfurter sausage dipped in batter on a stick with tomato sauce. Sounds terrible for you doesn't it and it probably is but I'm instantly transported back into time when I was half my height and wearing a cardboard Wonder Woman headband wandering the show in my embroidered blue dress. And I should warn you that there's no elegant way of eating these, they _will _make a porn star out of you.
And because deep fried seems to be the theme for carnie food, one stand even offers up Deep Fried Cheesecake-we didn't try this though.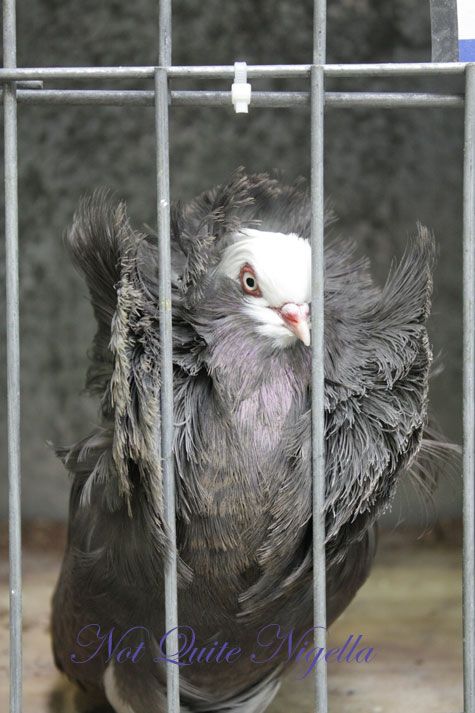 "Don't call me Mandy, my name is Amanda Vanstone!"
Our next stop is the bird section which features a stand for the Pigeon Fanciers Association (?!). We assume that this would be a fairly repetitive exhibit with it's many, many varieties of birds but once we look closer into the cages we see some truly amazing looking birds and spend some time in there excitedly peering into the cages to see what exotic and unusual looking birds they have. I have a rather strange habit of seeing famous human faces in animals which drives me husband mad but tell me that the birds above don't look like their names!
This bird looks so couture so I called her "Anna Wintour"
I shall call you "Newman!"
Click on the image to read the rather unfortunate X rated sign for this bird
We also see the Alpacas, one of the animals I am completely besotted by as they look so unreal to me (and tell me they don't look like Prince!) as well as the Dairy Farmers Farmyard Nursery where goats and sheep wander around the kids who eagerly pet them.
Our next stop is the Wood Chopping, a big draw card and a iconic vision of the Easter Show. We're lucky, we're just in time for some finals and the first international competition. In this ampitheatre setting it's the Australian version of bull fighting with singleted men and women wielding axes and saws and making mincemeat out of large trunks of wood.
Another show which was surprisingly fun to watch was the Sheep Dog display which for a certified city girl like myself, was a real surprise at how they train dogs to rally sheep with the dogs climbing all over the sheep to get them to follow a particular path.
Sheep shearing
Racing and diving pigs
The show that had people queuing like a Space Mountain ride was the Racing and Diving Pigs. Indeed, the seating is relatively limited for the demand and an hour before the show, people are already queuing. We arrive half an hour before the show and the stands are full and there are crowds 3-4 people deep around the outside trying to peer through the blue mesh to catch a glimpse of the pigs doing their show (why they don't remove the blue mesh we don't know). The show itself is relatively short, about 10-15 minutes where four pigs race around twice and two pigs jump off a stand into a pool and whilst the diving pigs are cute, they probably don't warrant the wait. Luckily we catch part of the Psycho Sideshow which is definitely worth watching and is only one twice a day at 3pm and 5pm.
The band playing in the Graze area
Seafood paella $15 from the Matador stand
At 6pm we're getting a bit peckish and so we make haste for the Graze area where the International food is housed. There's a range of Spanish, Thai, Indian, Seafood and Wine as well as a cafe. I have my eye on the Seafood paella from the Matador stand which at $15 is a relative steal and we order this. It's actually quite tasty indeed with prawns, squid, chorizo and chicken and a rich yellow shade although I have to say that their "Ladies Plate" offering was quite poor and misleading and the attendents were very disorganised and reluctant to give people cutlery only giving knives to many.
Next the Showbag pavilion was calling. The only problem is that I've sworn off lollies and sweets except under exceptional circumstances so all the lolly bags go unbought. I do procure myself a "A little luxury" bag which for $5 can't really be beat. When buying the showbags you can often get bonuses from printing off the pages from the website so check ahead to see whether they offer these bonuses.
We also see the fruitcakes and cakes which are hotly contested each year with some specimens looking lovely and luscious. How they judge these is beyond me though.
The Haunted Mansion ride
The "Buried Alive" ride
I always love to save the rides for last - at nighttime so that the lights take full effect and after downing another Pluto Pup (yes between the two of us we had three of these) we contemplate the rides. Rides start at about 6-7 coupons (1 coupon equals 1 dollar) but you can get discounts if buying 100 coupons by printing off a coupon here. The one that fascinates me the most is the "Buried Alive" ride where you can lie in a coffin and they simulate being buried alive i.e. being put in a coffin, driven to a cemetery and then winched down into a grave with dirt showering you. Sounds morose? Yes thankyou! At 10 coupons which equals $10 for the 4 minute experience it isn't cheap but it's fun for a ghoul like me.
_Me in the coffin second from right
_
You can also watch everyone in their coffin on the TVs outside. I collect my "Certificate of Death" and wish that I had the budget to hire the shaking coffins for my Halloween party.
_My Certificate of Death
_
And on that rather fabulous note, on a ghoulish high and after spending 10 hours at the show, the clock strikes 8pm and we go to pick up our cooler of produce and head off home with our tummies full of a mix of carnival food and fine food. And I still have a craving for a Dagwood Dog - is that wrong?
Buzz Me honey energy drink: just what we need for the ride home
Sydney Royal Easter Show
From April 9th-22nd April
Showground Road, Olympic Park, NSW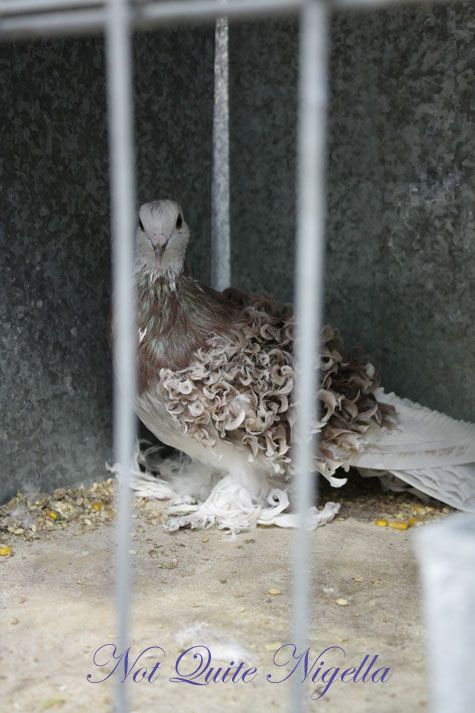 Another unusual bird