I tend to keep my head in the sand about festivals. Don't get me wrong, I love them but I often miss them, too busy working or scouting out restaurants, cooking or entertaining. But when a NQN reader Doro emailed me a month ago saying that she was part of the committee organising the Malaysian Festival I could hardly plead ignorance. And I was only too pleased to have a look see as I love Malaysian food.
Today, the weather is quietly foreboding with a forecast saying "Clearing showers" but with that impending rain scent pervading the atmosphere. Still I am looking forward to a family outing with my in laws and getting to sample some of the Malaysian goodies on offer.
We arrive in the afternoon and there are several stalls offering food as well as a marquee where we witness an array of dancers and singers from all over the world. There are people in Malaysian dress and there is a convivial and friendly atmosphere. The lines are long at some stands and we notice Mamak and Sydney Kopitiam Asian Cafe have a stall, two places I've yet to eat at but I've always meant to. Prices are reasonable with items starting at $2 to $10, a steal really.
Tuulikki, Cuddlepie and I have a look at our food options. We like to have a look at everything before we make a purchase and we always figure that the long queues mean that the food is better. We line up at the long queue at Mamak and I buy a Nasi Lemak $6.50, Anneli buys a Roti Telur with a vegetarian curry $6 and Tuulikki buys a Roti Canai without egg $5.00.
](https://images.notquitenigella.com/images/malaysia-festival-darling-harbour-2008/a-malaysianfestivalqueue.jpg)
The long queue at Mamak
Teh Tarik $3.50
We also buy a hot and a cold Teh Tarik, the cold being delicious, the hot more suitable for those who like their tea strongly flavoured.
Step 1: The cute Nasi Lemak package
Step 2: Unwrapping the brown paper to reveal the inner package
Step 3: Voila! Nasi Lemak
Nasi Lemak $6.50
I get a little parcel of brown paper which is a little smaller than I expected. Inside is some plastic on which coconut rice, spicy sambal, dried fish, cucumber and roasted peanuts. It's interesting although the fish is strong and the sambal very spicy but not very evenly distributed. The packaging is very cute though, its simpleness reminds me of the drinks you get in Singapore which are sold in thin plastic bags, that never break, although you always seem sure that they will.
Roti Telur $6
Anneli's Roti Telur should have come with 2 containers of curry and 1 of Sambal but since she is a vegetarian, they only give her 1 container which is a little lacking.
Watching them make the roti is interesting, to see how thin they actually get the pastry is a marvel and watching them make an airy parcel provided us with entertainment while we were in the queue. Tastewise it's sweet and the curry is a mildly spicy thick curry.
Roti Canai $5
Tuulikki's tissue roti is light and airy but small and whilst it's not bad, perhaps not for those that are ravenously hungry though.
Stomach growling temporarily averted, we seek more sustenance via the Selera Desa stand which sells 6 satay sticks for $8 and some small vegetarian tofu balls filled with vegetable ($2 each) and chicken crescents ($1.50).
We also pick up an Kopitiam Cendol from the Sydney Kopitiam Asian Cafe stand.
Satay sticks, 6 for $8
The satay sticks are good and smoky from the grill, the satay sauce spicy, rich and sweet.
Vegetarian balls with satay sauce on left ($2 each) and Chicken crescent $1.50
The prize however is the vegetarian tofu balls stuffed with carrot and cabbage which are absolutely delicious when paired with the satay sauce. The chicken crescent, much like a deep fried curry puff, isn't bad either although a little dry especially in comparison.
Kopitiam Cendol $3.50
The Kopitiam Cendol is a favourite amongst us, the sweet coconut drink laced with wriggly green worms.
Ice Kacang $4
Savouries done, we move onto the sweets. We had spied an Ice Kacang stand as well as a stand selling Black Sticky Rice. The Ice Kacang stand is selling Ice Kacang for $4 per cup and a thick slice of Kaya Toast (Coconut jam) for $1. We buy one of each and with the Ice Kacang we get a bit of everything in it.
Kaya toast $1
The Ice Kacang is good, although mostly melted, and we enjoy picking out the bits and pieces in it and I particularly enjoy the slice of thick Kaya toast with the sweet jam.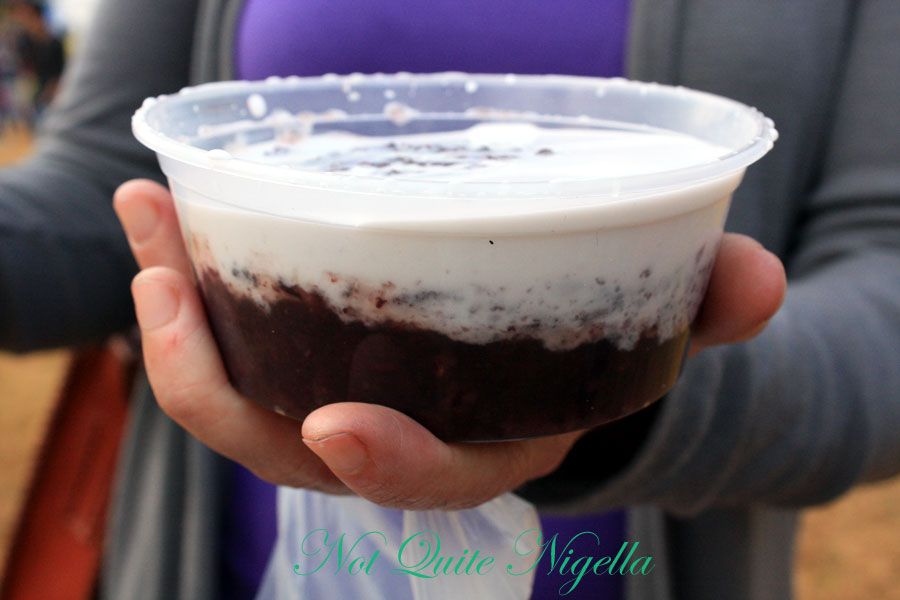 Black Sticky Rice $3
The Black sticky rice from the Penang Gurney Drive stall is unusual, the rice quite salty, much saltier than we've had before, Once we're used to it we don't mind it although we do prefer it sweeter.
_Kickapoo Joy Juice (carbonated citrus drink)
_
The heavens open and as the rain falls down, we find shelter for half an hour until a brilliant warm sun shines upon us.
Malaysia Festival
Sunday 31st of August, 2008
Tumbalong Park, Darling Harbour Sydney