"I'm not allowed to speak for two hours" I tell Mr NQN.
"I'd pay money to see that" he says laughing.
The Silent Dinner Party is an event that I heard about first on Amy's Cupcakes and Cornrows blog. Part of Sydney's Fringe Festival it is run by Australian performance artist Honi Ryan who has staged this event all around the world. This is the first time it has been here in Australia and it promises to be an interesting evening. Each Silent Dinner party is held at a secret location in Sydney's Inner West. There are three silent dinner parties scheduled for the month of September as part of the festival but they're proving so popular that new dates have had to be added.
The brief was simple:
"Silent Dinner Parties are a normal dinner party, except it is requested that you, the guests:
Step 1 - Please don't use words or your voice
Step 2 - Please don't read or write
Step 3 - Try to make as little noise as possible
Step 4 - Stay with it for at least 2 hrs
There is no audience, only participants, as we sit around a dinner table in someone's Sydney home devouring a 3 course feast, you are guaranteed a grand [silent] giggle".
Could I do it? Could I not utter a word for 2 hours? Mr NQN doubted it and I must admit I doubted myself. We arrive at the Inner West location and there is a collective of people at the door. "Silent dinner party?" one asks us and they are the last words that we utter for the next two and a half hours. As we walk through the house, we nod and smile at people and everyone shakes hands.  The effect of not being able to speak is immediate as we cannot rely on other cues of communication and as a result everyone waves at each new guest and smiles broadly. In fact my cheeks ache from smiling so much!
Covering the wine labels
There are a couple of groups of friends and interestingly a couple of people that have come by themselves, including Amy. The first half hour starts off a little awkwardly as people nod and smile at each other amidst much nervous laughter at the somewhat deafening silence. Then someone takes a seasoned seaweed leaf and we all dig in. All of the food in this three course dinner is vegetarian and prepared here by Honi and her friendly team. I'd tell you their names but we aren't allowed to speak and there are no name tags. In fact when people bring wine and water, the labels are covered over with a white sticker and people wearing logos on their tops also have these covered.
Miming conversation
Conversation is through mime and people try to converse to find out where we're from and what we do for a living. Amusement and laughter reigns as someone asks a girl if the man she is with is her lover via various hip grinding gestures. It turns out he is her father! There are also un PC gestures where people give which country they come from (I shan't name names! ;) ). I try to guess one guest's occupation-she gestures that her nose is growing longer so I think she means politician but I'm not entirely sure.  We ascertain who is together and who is married or engaged. The silence is broken at times by the barking and whimpering of the dog who may just be totally confused at the silence.
Vegetable soup
The first course comes out and it is a zucchini, onion and leek soup blended up until very smooth and served cold with a swirl of goat's yogurt. It's quite good and velvety smooth; What is interesting is that everyone acts a little differently because they aren't allowed to have adult conversation. In Mr NQN's words (afterwards!) he says "Everyone let their inner child out" by mugging and acting silly. There's simply no chance to have an adult conversation so you end up playing and acting like children do.
Cherry tomato, spinach, roasted pumpkin, feta and pine nut salad
Beetroot and sesame seed salad
Grilled Portobello mushroom, polenta cake and grilled red capsicum
Vegetable couscous
The mains come out share style and there is a range of three vegetable salads as well as a couscous salad. There is a leaf salad with cherry tomatoes, spinach leaves, cubes of roasted pumpkin, feta and toasted pine nuts. Then there is an avocado, chick pea and tomato salad and a beetroot and sesame seed salad. the couscous is flecked with small pieces of diced eggplant and they bring out the crumbed mushrooms, polenta squares and  grilled capsicum, one per person. The salads are nice and varied with lots of good bits and I particularly enjoy the pumpkin and cherry tomato salad, the Chickpea, avocado and tomato salad and the grilled mushroom.
Chickpea, avocado and tomato salad
Wigs...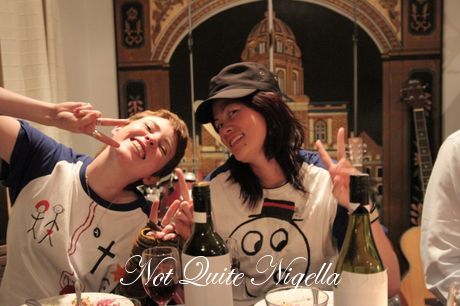 and hats!
The wigs come out as well as the toys and people play battle with smurfs and Simpsons figurines. Again we end up playing like children in the absence of conversation there are lots of figurines battling each other. On our table, they set up a diorama figure which is pure Halloween. There is also dancing and faux DJing from some of the group who dance to the silence.
_Faux DJing _
Having fun with figurines
Poached Pear with vanilla ice cream
Dessert comes out and it is a spiced poached pear with a rich Maggie Beer vanilla bean ice cream. The pear is a little soft but the flavours are delicious together and even though everyone is full, all bowls go back clean.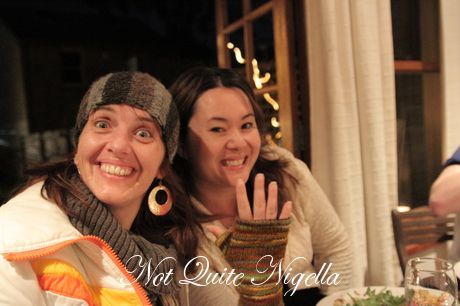 At the strike of 10pm someone lets out a peep of noise. Startled and a few people whisper "Shhh!" but then gradually music fills the room and everyone simultaneously bursts into a stream of talking. We find out what people do and their names. The girl who was attending with her father tells us that her father doesn't speak any English and that he is from Shanghai so this was the perfect event for him. The other girl did work for a politician after all. Conversation spills forth like a bursting dam and people's confirm understandings and misunderstandings. It's all a little surreal being so noisy after such a prolonged period of interactivity with silence.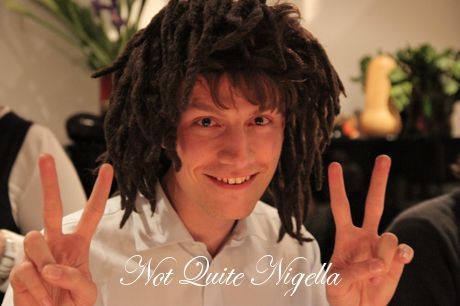 Was it worth it? Absolutely so, anyone fascinated by fellow humans or human nature would find it a most interesting evening indeed.
So tell me Dear Reader, do you think you could go for two hours without speaking?
The Silent Dinner Party
Part of the Sydney Fringe Festival
To book email honi@hedonics.com.au or call 0413 375 619. The cost is $30 per person.