A few years ago I thought it would be fun to make pies for a living. I made them for a restaurant and I made them using the owner's secret recipes. They were brilliant recipes but sadly I was sworn to secrecy so I am not able to share the recipes with you. So when I come across a pie shop that makes their own pies I always get a bit excited. Because it gets me closer to my favourite thing in the whole world: pastry (well after Mr NQN ;)).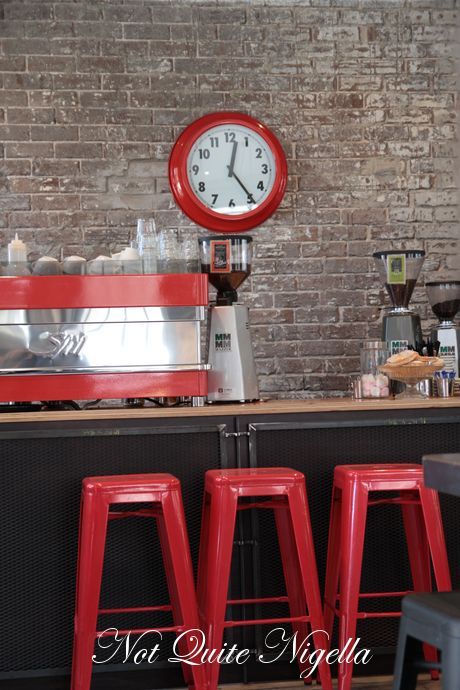 Just off King Street in Newtown, The Pie Tin is housed in a heritage listed building. In the front is a large cafe area with separate tables and a large communal table made from a converted trolley. Ordering is at the counter which is where the selection of pies begins. I'm meeting my friend Christie from Fig & Cherry for lunch with her adorable bub Poppy and I go up to the counter to order. It's a hard choice-we want to start with a savoury pie but we walk past the tempting display of fourteen sweet pies including a peanut butter and chocolate pie, coconut cream pie, cherry ripe cheesecake, American style sweet pumpkin pie, sour cherry pie, a massive apple pie and Oreo pie...oops there I lost myself for a second didn't I?
But I'm trying to set a good example for Poppy who is eating her own version of carrots and risoni so we start with a savoury pie. There are several options with beef, lamb, pork, chicken and vegetarian pies with flavours like butter chicken, Moroccan lamb and hearty lamb and rosemary as well as a couple of sausage rolls and a Cornish style pastie. A pie meal with two sides on a metal plate is $10 and so we go for the Southern Style pork with apples and a beef & ale pie with potato based on a staff recommendation.
Poppy, just because I adore her
Vintage pie tins and pie funnels
There are four sides to choose from to go with your pie including mushy peas, potato mash, sweet potato mash and baked beans and I want them all but I also love chips and gravy so we have that with one and the sweet potato mash and baked beans with the other. There is also a choice of three salads but I honestly forgot about selecting them-truly! On a side table are house made condiments including a slightly textured tomato sauce and a bbq sauce. And while you're choosing , behind the counter is a large kitchen where the chefs are preparing the pies.
Big Bertha $7.60
Because I tend to love anything either oversized or miniature I bought a Big Bertha beef pie to take home to Mr NQN. A stocky six centimetres high it is topped with buttery, flaky pastry and generously filled to the top with nicely seasoned tender beef mince and no gristle in sight.
Southern Style pork with apples BBQ sauce with chips and gravy $10
The staff had recommended this so I was eager to give this a go as they mentioned that the pulled pork centre is cooked for four hours until very soft. It's sweet with cinnamon and apples and we ate this with relish and gusto. The fat chips, cooked fresh and light which is really the only way to eat fat chips are drizzled in gravy and this plate was a definitely favourite.
Beef and ale pie with potato and Boston beans and sweet potato mash $10
We didn't mind the beef and ale pie-it was good, not great especially when compared to the pork pie above. The ale flavour is strong and the beef is nice, big and tender chunks. Christie comments that the potato topping looks a bit dry and it has a creamy sour cream flavour to it and it is baked so that it is crunchy edged on top. It isn't one of those creamy whipped potato tops that you can get. The potato itself retains little chunks of potato which I don't mind as it gives it texture and means that it's made from real potato as opposed to powder. The Boston baked beans are flavoured with tomato, pieces of ham and a tangy vinegar whereas I'm used to molasses sweetened, smokey flavours of Boston baked beans. The sweet potato mash, also slightly chunky is spiced with grounds of black pepper.
Sweet pie display
Apple pie $6.50
"Do you feel like dessert?" I ask Christie. I'm hoping that she will say yes because I've seen the range of pies. I know that I need to get the sky high apple pie for Mr NQN because he complains that apple pies never have enough apple in them. They bring out a new apple pie while groaning under the weight of it. It looks to be about 45cms across in diameter and they tell me that there are 5 kilos of apples in it. And by George Clooney it is good! The sweet crust on top has a crunch from the sugar on top and the apples have an excellent texture to them with just the right amount of sweetness and yep it is just $6.50 for a slice of this gigantic pie!
Coconut cream pie $6.50
I ummed and aahed in front of the display for a few minutes narrowing it down to the Oreo, peanut butter & chocolate and the American pumpkin pie but the coconut cream pie just looked at me coquettishly and I ordered that. It's a generous sized slice and once we sink our forks in we can't help but finish most of it off. There is a bottom layer of vanilla custard and on top is a fluffy light, sweet layer that tastes like a fluffier marshmallowy textured buttercream sprinkled with toasted coconut. When the two layers combine together they are sweet and balanced and we end up mostly eating the filling from the pie due to an activation of the emergency stomach. The base is similar to a shortbready biscuit and it is served with a side of thick cream.
I leave with my two enormous slices of pie to take home - I need Mr NQN to do some housework so I considered this money well spent in bribes ;)
So tell me Dear Reader, what is your favourite type of pie: chicken, beef, lamb or vegetable? And do you ever use food as a bribery tool? ;)
And did I mention that at every turn Poppy wanted to grab bits of the pies?
The Pie Tin
1a Brown Street, Newtown, NSW
Tel: +61 (02) 9519 7880
Open: Monday to Wednesday 9am-6pm
Thursday-Saturday 9am-8pm
Sunday 10am-5pm