When I was studying for my high school and university exams, I needed absolute silence. There was no traipsing off to the the uni library and even now for me to write it has to be silent. I can't quite comprehend being able to write in a cafe where there are so many distractions. Yet as we sit in Sadhana Kitchen in Newtown, people sit with their headphones on, head down and working on their laptops.
My main distraction here would be the food. It isn't easy to get raw food in Sydney, in fact the first time I tried it was near Margaret River in W.A. but I became fascinated by the whole concept. I never grew up eating any raw food, everything in my parent's household was cooked but there is a lightness to raw food that appealed to me. And when I heard from the lovely owners of Rubyfruit in Leura that Sadhana Kitchen in Newtown had a 100% raw food menu that was also vegan and delicious, Mr NQN and I just had to go.
A bit of a secret, it's located on a quiet street parallel to Enmore Road and sits in a converted warehouse space. The owners also own a yoga studio so you really follow the signs to the yoga studio and you'll find yourself in a space with a tiny kitchen and a colourful mural of Lakshmi on the back wall. Sadhana is a Sanskrit term that means "conscious spiritual practice." A sign near the cash register lets you know "you are loved" and the bill comes with a note to "have an awesome day."
The drink and smoothie menu is extensive and spans two pages long and prices aren't cheap although if you've visited a health food store lately and seen the prices, you'll see why. We order a drink each and sit back and relax. The vibe is chilled and slowly yoga student after yoga student files past us as they've just finished a class. Some stretch and some order the raw chocolate coated ginger bites or a smoothie. There is regular and also cold drip coffee. The cafe started as a response to one of the owner's blog which featured raw food recipes. People asked where they could try them so they opened up Sadhana Kitchen.
Tejas Tacos $15.50
Our food comes out first and we start with the tacos served on large butter lettuce leaves. Three to a serve, they're filled with walnut mince, salsa, guacamole and vegan sour cream which is thicker and more like a ganache texture than sour cream. No matter though because these are full of flavour and when you try it all together it does have that whole taco-ey flavour to it. There's a little salad in the centre and that is dressed with the moreish sweet mustard dressing.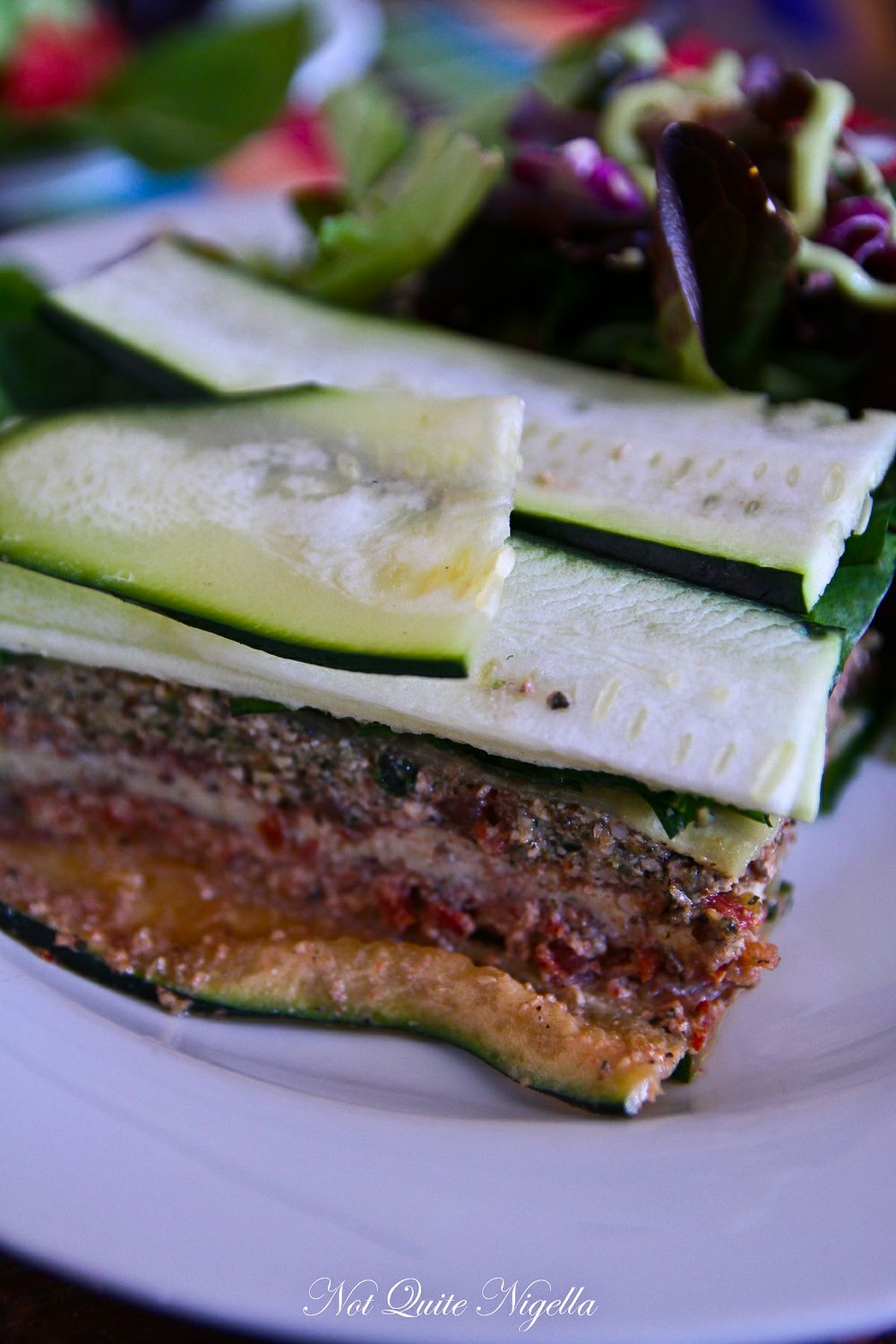 Sadhana Lasagna $15.50
This was my favourite dish and I would happily eat this in place of a regular lasagna.The pasta is replaced by thinly sliced zucchini strips and it is filled with cultured cashew cheese, basil pesto, walnut mince, wilted spinach and chunky tomato sauce. The side salad is flavoursome and dressed with an avocado dressing.
Warrior Smoothie  To build strength and stamina $9.50 and Skin of the gods > To purify and beautify the skin $7.60 (regular size)
We read that the juices and smoothies are cold pressed so that they aren't exposed to any heat. Mr NQN went for the warrior smoothie as they had run out of mango which was the main reason why he chose again. This one had blueberries, raspberries, banana, sun warrior sprouted brown rice protein powder, chia seeds, coconut oil, mesquite almond mylk, ashwaganda and was thick and almost chocolatey with the occasional crunch from chia seeds.
My drink was the green tonic which they substituted orange and lemon for the yellow grapefruit and added cucumber, kale, aloe vera. The coconut oil was to be applied topically but it didn't come with the drink and it was only when I came home that I realised that it never arrived. This wasn't quite sweet enough for me, I like green drinks if there is a sweet element like apple juice or a fresh element like parsley.
Samadhi Quiche $15.50
We wondered how they would do a raw vegan version of a baked egg dish. This is not very similar to a traditional quiche although it is full of flavour. The texture is thick and reminds us of the salty intensity of miso. It's a spinach and mushroom filling topped with caramelized onions and smoky coconut crisps. The side salad has goji berries and raw white sesame seeds and a sweet mustard dressing.
Mango float $10.50
I'm a complete nut for raw desserts - they are usually very light and don't make you feel weighed down. The mango float is a tall, light, fluffy and so creamy coconut and nutty slice of cheesecake split in the centre and filled with nuts and dates. It's more coconut than mango but I'm quibbling as my fork kept going back for mouthful after mouthful of this.
Blueberry and lemon cheesecake $9.50
This is a case where people dismiss this because it's a bit flatter and smaller than the other cakes but this is so very close to a regular lemon cheesecake. You almost forget that it's raw and vegan. Sam, one of the owners tells us that they use coconut nectar for this instead of agave nectar as the former is lower in GI although it does give the cakes a distinctive caramel shade. OK perhaps I could work here although I suspect not much work would get done...
So tell me Dear Reader, can you work or study in a cafe or a busy place? Or do you need complete silence? And what do you think about the whole raw food and vegan idea?
Sadhana Kitchen
76A Wilford Street Newtown NSW 2042, Australia
Tel: +61 (02)9516 1334
Open: 7:30am - 4:30pm | Tuesday - Friday
8:30am - 4:30pm | Saturday & Sunday