All meat is just not meat, that much is clear from our first turn of the Mumu Grill's menu page. It is a place that takes its meat very seriously. Sustainable and organic produce is their focus and it serves only grass fed beef, a beef that a lot of restaurants eschew because of the variability in quality due to the reliance on things such as rainfall which in turn affects the grass. To overcome this they have 4 beef suppliers. We read that grass fed beef is also said to contain more Omgea 3's than grain fed beef and is said to have 3 times more Omega 3's than farmed salmon although of course the salmon farmers would disagree on this point.
All of the pork here is Sweet Bangalow Pork and the Lamb is Arcadia Saltbush. For those unfamiliar with Saltbush Lamb, it is free range lamb that has been fed on a diet of "Old Man Saltbush". This Saltbush is a hardy, drought tolerant perennial that also helps reduce soil salinity which means that it has the ideal characteristics for Australian soil. There is also a distinct taste from the Saltbush plant. Both the grassfed beef and saltbush lamb are lower in fat because most beef and lamb are "grain finished" which means that they were fed grain in order to fatten them up quickly before they are sent to the abattoir whereas these are not resulting in a leaner meat and therefore one that is best cooked below a medium level.
Decor is very nice indeed as is service here and we look forward to our meals, particular the Kona Coffee crusted Beef and Saltbush lamb. We start with a selection of Tapas dishes - and for tapas lovers, to the left there is a tapas bar where diners can sit with a cocktail or drink and nibble on all sorts of Spanish goodies. We have ours at the table.
Those of you that remember our trip to Tapas Brindisa and our first sampling of Jamón ibérico de Bellota probably remember how much we loved the stuff. The Pedro Nieto Jamon Iberico is reportedly the same brand that was served to the King of Spain recently. It's delicious and smooth as silk. We get some 15 month and 18 month Jamon Iberico for a comparison and whilst they're both food, the pick of course is the Jamón ibérico de Bellota.
_Fresh figs with "Cadra" and proscuitto $8
_
We're served a plump, ripe, black fig sliced in half and wrapped in proscuitto and grilled until the proscuitto is crisp and the fig deliciously voluptuous. My husband particularly loves the sweet and salty combination.
Stuffed Zucchini flowers are one of my favourite items and these are superb - the batter is light and very crispy while the cheese oozes out languidly and the tomato salsa provides a delicious contrast.
Kona Crusted (papua New Guinea Kimel Coiffee Bean) Aged Sirloin sourced from the pastures of Goulburn Valley 400g $39.50
Onto the mains and I try the Aged Sirloin with the Kona crust. I adore the crunchy coffee crust which isn't so much screaming "coffee!" but rather it tastes intriguing and unusual and very moreish. There is bernaise on the side which my husband likes with it but I like it unadorned with just the crust, beans and new potatoes.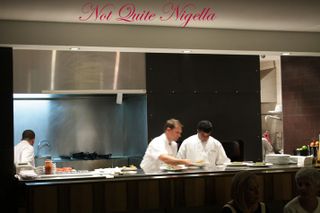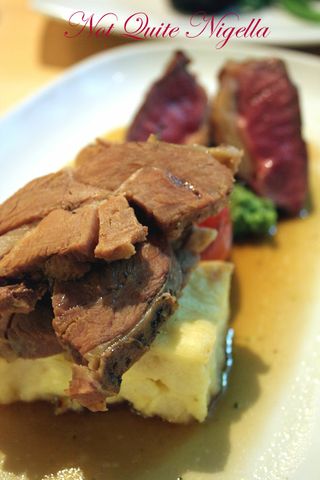 Saltbush Lamb 2 Ways: Slow Roast 10 hour shoulder and grilled backstrap "W" pea and mint puree with tomato confit $29
The slow cooked shoulder half is fall apart soft and is served with a cauliflower grain. This is my kind of "people" and just the ticket for tonight. My husband falls hard and fast for the grilled backstrap with the parsley puree. The lamb does have a distinctive taste, it's almost like a concentrated lamb taste with a lingering aftertaste.
There's no room for dessert but when you have the lingering taste of Saltbush lamb on your tastebuds you'd best stop right there.
Mumu Grill
70 Alexander Street, Crows Nest, NSW
Tel: +61 (02) 9460 6877
[http://www.mumugrill.com.au/
](http://www.mumugrill.com.au/)NQN and Mr NQN dined as guests of Mumu Grill. [
](http://www.mumugrill.com.au/)