Despite how it sounds being Tweeted is not a bad thing. Particularly when you're tweeted things such as "2 Prime rib into the oven for 4 hours. Tonight's take it slow dinner." and "bone marrow roasted, mixed with chopped parsley and into sauce" from Chefmumu (aka Craig MacIndoe) who is busy preparing the night's dinner and whetting our appetites with what he has in store for us. He is also the brains behind a great offer for you readers (read on!).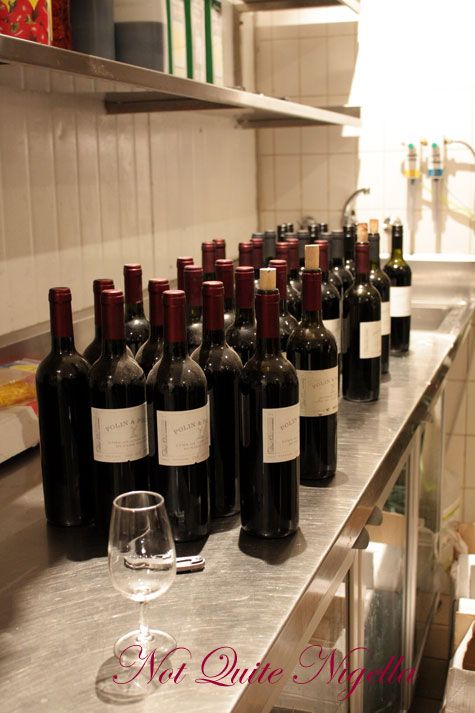 Polin & Polin Hunter wines
The Lamb Oven
Duck Fat potatoes: worth the applause
When I arrive along with a gaggle of other hungry, excited bloggers, we get another quick impromptu peek into the kitchen, past the furiously hot ovens to reveal the delicious Duck Fat potatoes, the other oven which has slow roasted the Lamb for 13 hours and the display of wines from Polin & Polin wine.
Kumatoes which then become...
Kumato relish
18 month Jamon
After our little tour, we're ushered into the Tapas Bar where we're fed delicious, delicately laid sheets of 18 month Jamon Serrano while watching a short documentary featuring a visit to Graham Strong's Arcadia Saltbush Lamb farm which he runs with his parents and how the drought tolerant plant Saltbush makes such an impact on farming.
Slow Roasted Arcadia Lamb done 2 ways: View 1
Slow Roasted Arcadia Lamb done 2 ways: View 2
_Slow Roasted Arcadia Lamb done 2 ways: View 3
_
We're then led to our table and after some speeches from Graham Strong, Michael Polin (the winemaker) and Craig, we're served our entree, a 13 hour slow roasted shoulder of lamb with a grilled cutlet with pea and mint purée and kumato chutney with mache (lamb's tongue lettuce). The shoulder is deliciously soft and melts in the mouth. It's perfectly paired with a square of creamy cauliflower gratin and Craig explains how cuts such as the shoulder are ideal for slow roasting where cuts like the cutlet are not. And having learnt the anguish from not picking up the cutlet bone and gnawing on it, I grab mine and chew away happily.
There are speeches from Peter Clay from Taralga Springs Beef before we are presented with our mains...
Aged Taralga Springs Rib Eye Roast
Our main is a 100% grass fed beef slow roasted for 4 hours with Duck Fat and thyme roasted potatoes, green beans and bone marrow sauce. When they announce the dish there's even a clap from a fellow diner for the Duck Fat potatoes. I get a slightly gristly piece but the bone marrow sauce for this is absolutely divine and the prime rib has been roasted at 80C for 4 hours to produce a soft, very rare finish. The sauce is made with veal jus (which they make over a period of 3 days), roasted bone marrow and caramelised red wine sauce and parsley. I was so taken by the bone marrow sauce that I just needed to know how it was made so I twittered Craig who obligingly sent me the recipe.
_Chocolate and Raspberry Square _
The Chocolate and Raspberry Square is served with a vanilla gelato and Belgian chocolate tile. We took our photos of this at the kitchen counter as a fellow diner asked us to ease off on the flashes. The dessert is rich and almost brownie like with a river of sweet raspberries meandering across the top and the 52% cocoa French chocolate is particularly good and I nibble on the tile blissfully.
Thanks so much to Craig (aka Chefmumu) for inviting us and letting us run amok with our cameras! As I promised, there is an offer for people that sign up to the Mumu Grill newsletter. They say there's no such thing as a free lunch but I beg to differ. If you join Mumu Grill's mailing list, Craig will treat you to a free lunch up to the value of $35! Sign up to Mumu's mailing list here.
So tell me Dear Reader, have you ever had a free lunch?
All bloggers dined courtesy of Mumu Grill.
Mumu Grill Take It Slow Dinner
Shop 1-6/70-75 Alexander Street, Crows Nest, NSW
Tel: +61 (02) 9460 6877
Mumu is also hosting a Christmas in July event on the 25th of July, 2009