MamaMia and I were hungry, it was 9.45am and we were driving around the North Shore in search of food. She stopped in front of Delicado Foods in McMahons Point and pointed at the striking red and black facade. "That's the place I was telling you about, it's _always _full. Always." It was music to my ears and to our stomachs as we sauntered up to the front, past the rather impressive looking wine shop (it was only 10am so we bypassed it), through the deli, past the small but pretty courtyard to find a seat outside. We both grab a cushion (and why don't all cafes have lovely cushions to rest against?) and take a look at the menu.
We're looking at the breakfast menu as well as their extensive beverages menu. There is a range of teas and coffees as well a Bloody Mary section (only available after 11am!) which is a Virgin Mary where you can select the range of spiciness you want from the mildish Siesta to Running With The Bulls for what sounds to be an extreme chili hit. There's an Adults Only coffee called Cafe Carajillo which is a black coffee with a shot of Spanish Brandy on the side ($14) and it is another after 11am item. Sadly since it's early, we miss out on these but we choose a couple of coffees and the churros for breakfast (would this qualify us for extreme eating?) and something I completely butcher when pronouncing called the Huevos al plato al modo de Avila.
Our coffees arrive first. I've ordered the Cafe Canario which comes out layered. Did I mention the reason why I ordered this? No? It's the layer of sweetened condensed milk lying under a shot of black coffee. It's intense and sweet with the strong black coffee shot and sweetneed condensed milk combining to make a thick, sweet syrup.
The Leche Manchada is essentially a reverse macchiato. Literally translated it means "stained milk" and the menu recommends it for lovers of weak brews of which MamaMia definitely is. She's a fan of this and tips the tiny cup of coffee into the foamy milk to stain her milk.
I touch the churros and they're thankfully warm. There's a wodge of Dulce de Leche on the side and a generous serve of chocolate. There are 6 crunchy churros in the serve which are generously sprinkled with sugar and cinnamon but I don't really like the bitter chocolate which seems a bit watery to me and prefer the Dulce De Leche (although that's a no brainer as I love the stuff).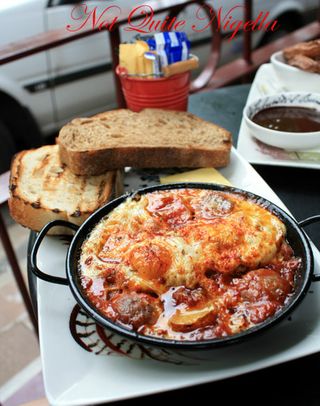 The plate of the baked eggs with chorizo, potato, sofrito and sourdough toast  is a lovely sight full of colour and causes the woman at the table next to us to exclaim that it looks lovely. We dig in and it's very good although I would love some more chorizo (again no surprise there, I adore the stuff). The bread is much softer than a sourdough though and quite light but it matches well when buttered and eaten with the sofrito laden slightly spicy eggs.
As we pay I see the RCA award on the wall and recall where I had heard of them. Reem and I had attended the Restaurant & Catering Awards recently representing the amazing Perama restaurant (and yes of course Perama won the Best Greek category and yes we had to go up on stage to accept it, a rather knee knocking experience!). Delicado Foods had won the Best Tapas award at the recent awards beating out names such as Bodega, Emmilou and Subsolo. At the time I had turned and said to Reem "Who?" as I'd never heard of them. I shall now consider myself happily informed.
So tell me Dear Reader, are you a fan of Tapas and if so, do you prefer traditional Tapas dishes or the more experimental Tapas dishes?
Delicado Foods
Shop 2/134 Blues Point Road, McMahons Point, NSW
Tel: +61 (02) 9955 9399
http://www.delicadofoods.com.au/
Open Tuesday-Sunday for Breakfast, Lunch and Dinner