Anyone that knows me knows that I am a Kirrbilli markets fan and every month I make my way there to buy whatever takes my fancy. And since November last year, every month I've walked past Catalonia, stopped by the menu and wistfully gazed inside. Call it an infrequent OCD ritual. This month, I've booked it for a birthday dinner, my second of three.
With a successful pedigree (the two owners are ex Salt Yard in London and Victoria Rooms in Darlinghurst) they serve not your run of the mill Spanish Tapas but a more modern, exotic and sumptuous version with ingredients like Wagyu, Zucchini Flowers and Truffle shavings. It seems that servings are a little bigger than the Tapas I've had in Liverpool Street although of course as they're Tapas they're not large by any definition.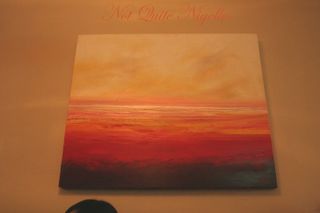 We're seated on a Saturday night upstairs in a rather cozy, very dimly lit, warm sunset shaded room with a lovely Pomegranate coloured wallpaper on one wall. Tables are a little small but given that the plates of tapas aren't that big, it's not so much of an issue. I wish some restaurants would give bigger tables, indeed a friend of mine always books for 1-2 more people than are coming as she hates being squished. And as the light was so low, I must apologise for the pictures, we did our best but didn't want to use the flash too much so as to disturb other patrons.
There are 5 vegetarian Tapas meals and a good selection of meats including delectable sounding seafood. Indeed one of the vegetarian meals sounds so lovely that it makes it way onto the meat eaters order: the Zucchini Flowers with blue cheese mousse and honey.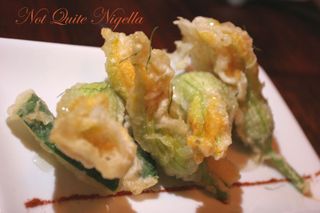 Being tapas, the food arrives pretty quickly and in a timely fashion, with waves of 3 dishes so that it doesn't overcrowd the table. The Zucchini flowers, 4 per plate with batons of deep fried zucchini underneath are as good as they sound. Actually, scratch that, they're even better. Crunchy with tempura batter on the outside they are fried to perfection with an oozing mousse of blue cheese inside. If any dish could convince someone to turn vegetarian, it's this.
I try some of the croquettas and the filling is superbly soft and creamy. Rather close to one of my favourite foods in Japan, the cream croquette. Yes if I were from the vegetarian society I'd also have this in my arsenal for converting meat eaters.
The Scallops with truffled potato mash, jamon and sofrito dressing are three fat juicy scallops, just how I like them, on a fat squiggly bed of creamy truffled mash. The jamon are those thin strips of crisped ham dotted as exclamations on top of the potato. OK yes I'm back on the meat eater's side. I can't give up dishes like this.
This is a favourite of the vegetarians although I have to admit, it didn't do much for me. I dislike bitter leaves like endive and red cabbage and the valdeon cheese, a cow and goat's milk blue cheese and the pomegranate and pear aren't enough to make me love it.
The Spanish cheese plate comes with the Valdeon blue cheese (the same cheese that they used to stuff the Zucchini flowers and the one used in the aforementioned salad), an Artavaggio, a Mahon cheese (a cow's milk cheese from the Island of Menorca), wild figs and a date and walnut roll. I'm not a huge cheese eater, I enjoy it but I can stop after a couple of small wedges. It get the approval from the vegetarians though.
The Jerusalem Artichoke tortilla with romesco sauce is an fairly interesting tortilla, mainly because of the sauce, a much more complex and interesting alternative to a straight tomato based sauce. It's a sauce full of nuts, bread, tomatoes, vinegar and chili and I think I can taste capsicum too.
The Guinea Fowl Bisteeya with quince salad is similar to the B'stilla I had at Alhambra. It's slightly sweetened with a light dusting of icing sugar although less sweet than Alhambra's version, and the Guinea Fowl is beautifully soft inside.
The Morcilla stuffed Squid with lentils and saffron aioli is topped with a green shaded tempura of the squid tentacles, crisp and delicious. The stuffed squid itself is very good although the squid casing is a little tough but the filling is delicious as are the pebbly black lentils which have a delicious curry and saffrony aroma.
The Crispy Pork Belly with chickpeas and quince aioli was cut into 4 pieces each showing the multi layered ripples of fat, meat and melt in the mouth crackling. The quince aioli should be bottled and sold, it was so perfect for this dish and I'm sure many others and this is the kind of dish that the meat eating council would use as a counterpoint to the pro vegetarian lobby. You just couldn't eat this and convert to vegetarianism. And I'm not even a big fan of eating fatty pork.
After all of this exquisite and unusual tapas, it's no surprise that Patatas Bravas receives a lukewarm welcome. It's not bad but compared to the other delicacies, it's just not going to be able to compete. It's Eric the Eel, that is, it's in the race but just never going to win.
The last dish to arrive is the braised Wagyu beef shin with a rather interesting accompaniment, coffee soil. It looks like soil indeed though thankfully it doesn't taste like it as it's a combination coffee, sugar and ground nuts. The wagyu itself is fall apart soft and gelatinous in texture but lacking a little seasoning. The coffee soil is not what I would choose to season it and I am unconvinced about it on this plate. I feel the Wagyu needs salt rather than sugar.
As we leave, they run after us, asking what the photos are for as they were worried that we were neighbours taking footage as they'd received noise complaints. Why a noise complaining neighbour would be taking picture of the food itself eludes us. When we explain they are apologetic and inquire how we found our meal. It's a little odd, although perhaps they feel that a happy diner is a neighbour that doesn't complain about noise?
Catalonia Spanish Restaurant
Shop 2, 31A Fitzroy Street, Kirribilli 2061,
Tuesday 6pm-10pm
Wednesday - Saturday noon-10pm
Sunday noon-8.30pm