"Chee Chong what?" you may ask. But have a closer look at these babies. You've probably seen these proffered from stainless steel trolleys driven by determined Yum Cha trolley ladies that either drive the trolleys right past you ignoring you or stop and interrupt you when you clearly have enough on your table already and are busy mid conversation. I confess years ago a friend of mine and I had a fantasy about being Yum Cha trolley ladies for a day just to see what it was like. We wanted to see whether driving trolleys in a packed Chinese restaurant, maneuvering around tight spaces and being gridlocked at random, inopportune times gave you a very special version of road rage and made you resultantly dismissive and cranky as most of them seem to be, or whether it was an innate personality thing.
My Mother actually said that making these rolls were hard as they sometimes worked but sometimes didn't but let me assure you that between the two of us, through trial and error one afternoon, we managed to find a foolproof way to make them quickly and easily. Usually the mix is made and stands for an hour and they then need to be cooked in a steamer. This version however produces a deliciously soft but easy version using a microwave with no standing time and only 2 minutes cooking on high. They key of course is in the rolling. This is best achieved if they are allowed to rest for 1 minute to firm up slightly and of course become cooler to the touch.
You can use prawns or whatever filling you like. Traditional fillings range from beef, chicken, pork sausage (in Vietnamese cuisine) and vegetables and it is very versatile. My husband gobbled these down in no time with very little urging. I adore these too and am a little ashamed at how many I can eat in one sitting (ok I'll confess, I can eat 8 in one go easily).
Tell me Dear Reader, what is your mum's favourite recipe? The one that lures you home?
P.S. If you haven't had a chance to do so, I'd be ever so pleased if you could fill in the Not Quite Nigella survey. There's a chance to win 1 of 3 Nigella Lawson aprons! :) Link here.
And if your mum's or Nanna's recipes are just so fantastic you want to share them with the world, click here to see our Secret Nanna recipe book project!
Chee Chong Fun Rice Noodle Rolls
An original recipe by Not Quite Nigella
Makes 10 rolls in a 16x21cm container
For Rice Noodle Rolls
2 tablespoons cooking oil
For filling and garnish
300g BBQ pork (Char Siu) diced into small pieces
Soy sauce and sesame oil to drizzle over to serve
Step 1 - Combine all ingredients for the Rice Noodle Rolls in a bowl and mix thoroughly to ensure that all of the lumps of flour are removed. You can always sieve it before you add the oils if you like just to make sure.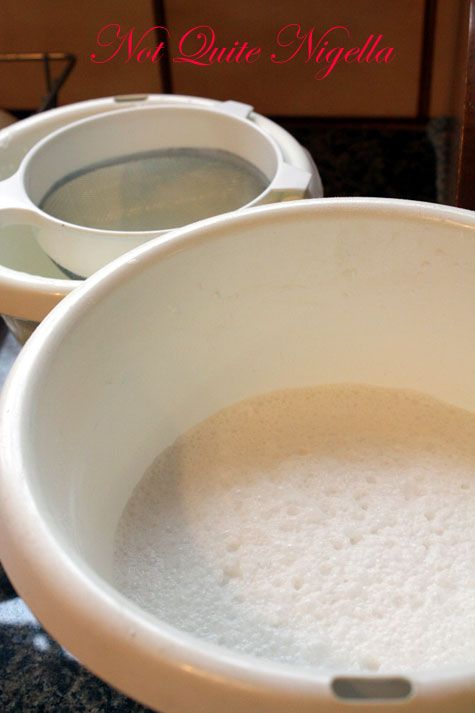 Sieving the rice flour mixture
Step 2 - In a clean dry microwave proof container (roughly 16 x 21cms) spoon a ladleful of the mixture ensuring to stir the contents well and making sure to incorporate the flour that settles on the bottom. If you have containers of that size, a 150ml ladle is perfect but if not, no fear, there should be roughly 3mm of liquid. Cover and microwave for 2 minutes (depending on wattage of microwave oven you may require a bit more time). It should be set but not hard or dry.
You can start rolling this from the opposite end and therefore end up with the filling showing through the translucent rice paper
Step 3 - Set aside for 1 minute to cool. Sprinkle BBQ pork and spring onions at the shorter end - about an inch will do. You can either roll these up from either short end. At Yum Cha they like to show the filling facing up so you would start from the end without the filling and roll up - we did it from the opposite way as shown in the picture. Ensure that you wash the container well and dry it between making each one.
Step 4 - Serve with extra spring onions, a drizzle of soy sauce and sesame oil.