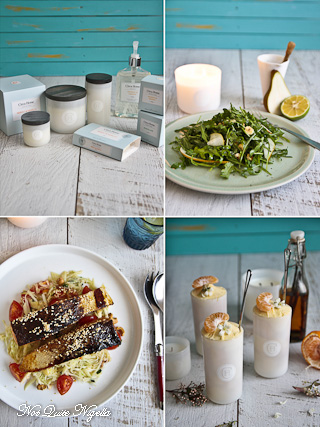 This three course dinner will help you with entertaining without pulling your hair out. Inspired by the Circa Home fragrances, the entree is a rocket, pear and hazelnut salad with a lime and black pepper dressing. The main is a divine Asian flavoured salmon with a green papaya salad - a light but easy way to cook salmon perfectly. Dessert crosses over to the Middle East and England with an orange blossom and honey tiramisu spiked with Earl Grey tea and whipped mascarpone sweetened with honey and vanilla extract.
I recently went away on a girls getaway in the Blue Mountains with two of my gal pals Belinda and Queen Viv. During the weekend away we did super girly things like afternoon tea, spa treatments and a perfume workshop. That is, between many episodes of dodgy reality TV and episodes of Orange Is The New Black. It was during the perfume workshop that I realised something about myself.
The first is that a) smelling 60 or so scents makes me go slightly gaga and that smelling lots of essential oils can make you both hungry and sleepy (that's actually what we were told, not what I was supposing because it happened to me. And b) I have very uncomplicated tastes when it comes to scents.
Queen Viv loves complex perfumes. Often ones that are described as smelling like "sex" and "dirty laundry". Belinda likes a fruity and floral scent called "Good Girl Gone Bad" (we didn't read too much into the name ;)). As for me I like simple scents because they allow me to more easily access good memories, especially food scents. Coconut is one of my favourite scents because it reminds me of being on holiday. They say that you start forming scent memories at the age of five years old.
I was recently asked to create a series of recipes for Circa Home, an Australian made home fragrance brand known for their scented soy wax candles and melts, fragrance diffusers and hand washes in mouth-watering scents. For me smell and taste are so intrinsically linked that it was a natural fit. They wanted me to make three recipes to match three candles. I wanted the recipes to be fresh and full of vitamin and nutrient rich ingredients but I also wanted the three recipes to be done in an hour. Because it is possible to do this and not lose your sanity when entertaining. Take a peek at the videos that we filmed here: http://www.circahome.com.au/notquitenigella
The first item is the entree, a pear, hazelnut and lime salad inspired by the Pear & Lime fragrance (one of my favourite scents). For this recipe I picked up a fun tip from Marissa from Pinch & Swirl who massaged oil and salt into kale to soften it. I did the same to the rocket as it can something be a bit dry (especially wild rocket) but I like the peppery aspect of it. I made a garlic, honey, lime and black pepper dressing for it and added crunch with hazelnuts and sweetness with thinly sliced pear. For me pear reminds me of being little. I used to often get a pear in my lunchbox as apples were too acidic for me.
The main course is using salmon because I've had quite a few of you ask for salmon recipes. I love salmon really simply cooked and slightly pink in the centre so I marinated it for 10 minutes in sweet soy, ginger and garlic and then pan fried it. It sat atop a crunchy Thai green papaya salad and this was inspired by the Mango & Papaya Circa Home fragrance. Can I just say how good this main was? I could not stop eating it! Plus the added bonus was that mango and papaya both remind me of tropical holidays (along with coconut) so that is never a bad thing at all. In fact I think that is why I gravitate towards those ingredients in everyday life (and I wonder if it will ever switch over so that they remind me of everyday life?).
The last one is dessert and I used the Circa Home glass jars because people often collect them and use them to store things (see #reusecircahome). I use one to store my makeup brushes and another to place small scissors and pens in the kitchen. There are three different sizes and I used the tallest size to make a tiramisu. Tiramisu means "pick me up" in Italian through the use of coffee (or alcohol). I decided to make a version inspired by the Neroli & Vanilla fragrance by Circa Home. Neroli is another name for orange blossom so I made an orange blossom and vanilla tiramisu with Earl Grey tea as the pick me up!
And because Circa Home wants to spread the love, they are giving away some wonderful prizes to Not Quite Nigella readers. One winner will receive a whole year's supply of Circa Home Fragrance products plus there are also 3 runner up prizes (see below). For a chance to win, simply tell us what fragrance you would love to have in a candle? The competition ends at midnight, the 21st of July, 2015! Simply add your answer as a comment to the story. You can enter this competition once daily and it is open to anyone within Australia.
Circa Home has a lovely range of scents from $9.95 and the scent throw on these candles, melts and fragrance diffusers is amazing. Putting one candle on perfumed our whole apartment very quickly!
First Prize Winner will receive the following Circa Home products in their preferred fragrances:
9 Classic Candles 260g RRP $29.95 each
4 Perfect Spaces Candles 165g RRP $19.95 each
7 Miniature Candles 60g RRP $14.95 each
4 Fragrance Diffusers 250ml RRP #39.95 each
1 Electric Wax Warmer RRP $39.95 each
6 packs of Scented Soy Melts 90g RRP $9.95 each
3 Hand Washes 450ml RRP $19.95 each
First prize valued at RRP $773.30
Runners Up:
Three runners up will receive the following Circa Home products in their preferred fragrances:
3 Classic Candles 260g RRP $29.95 each
1 Perfect Spaces Candles 165g RRP $19.95 each
1 Miniature Candles 60g RRP $14.95 each
2 Fragrance Diffusers 250ml RRP #39.95 each
1 Electric Wax Warmer RRP $39.95 each
2 packs of Scented Soy Melts 90g RRP $9.95 each
3 Hand Washes 450ml RRP $19.95 each
Total Prize Value for each runner up: $324.35 (total $973.05)
Competition Terms & Conditions
Pear, Hazelnut and Lime Salad