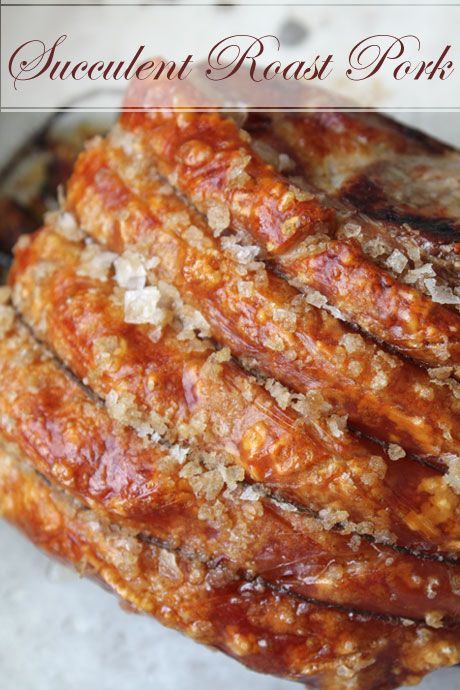 I recently tweeted about my husband buying me a Hard Drive. The look on his face was pure beaming pride, something about being a good provider for his wife and despite the fact that the Hard Drive was a much needed purchase, I couldn't help wishing that it was a a pair of shoes. Yes I am a rather ungrateful wife but I am willing to bet that if you were offered a choice between a Hard Drive and a pair of Choos, you'd choose the latter.
However my compass also points to gifts of food and when we were given our goody bags from the Pork Dinner I got extremely excited with my gift - a gorgeous 1.2 kg Murray Valley Moisture Infused rack of pork. It seems that they know that people can overcook pork and therefore this precooking process, similar to brining helps to ensure that the meat remains succulently moist. The possible downside to this is that some find it hard to get a truly crispy crackling with all of this brine as the best crackling is from a very dry rind.
How did I find it? Slicing into it, it's absolutely gorgeous and moist and not a single bit dry at all. In fact even after leaving it to rest for the requisite time, I found that the juices flowed and I became something of an overawed idiot tweeting such provocative nonsensicalisms such as "I've just been porked" and "It was hot and juicy porking".  And of course I went straight for the crackling. I've said it before, Crackling is my Crack and this is every bit as crispy as I could've dreamed up and a lovely contrast to the super moist meat. The best of both worlds if you will.
Tell me Dear Reader, what is your favourite type of roast? Do you have any tips for a good roast?
Succulent Rack of Pork with Roasted Fennel, Apples & Potatoes
An original recipe by Not Quite Nigella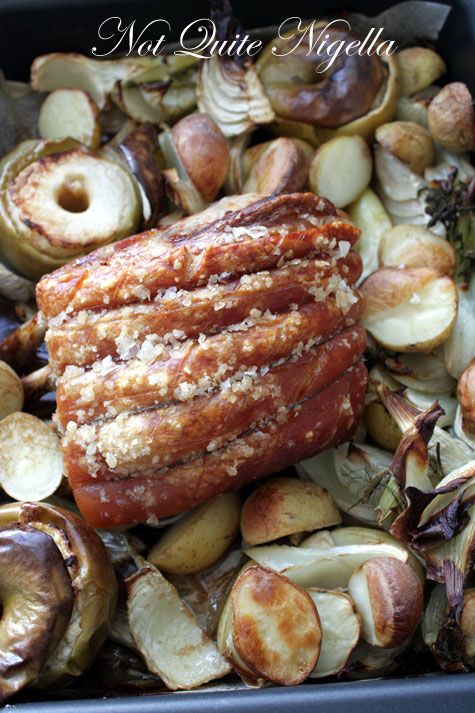 Serves 2-4
1 Moisture Infused pork rack, rind intact, with 4 ribs (about1.2kgs)
2 large bulbs fennel, inner core and protruding tops removed and sliced into sixths or eighths
2-4 Granny Smith apples, tops cut off and reserved and cored (depending on whether you want a whole apple each)
14-15 small cocktail potatoes, halved
100ml concentrated veal stock
Method:
Step 1 - Prepare the pork rind to make crackling by making sure that the rind is as dry as possible by pressing paper towels against the rind only (you want the rest succulent so don't soak up the brine for the non rind part). Preheat the oven to 230C. Score the pork with a very, very sharp knife and wrap with string as shown. Sprinkle 1-2 tablespoons of coarse salt and some pepper over the skin and rub in 1-2 tablespoons of oil. Place on a non stick baking tray lined with baking paper and bake on this very hot temperature for 30 minutes. The crackling should start to become nice and brown.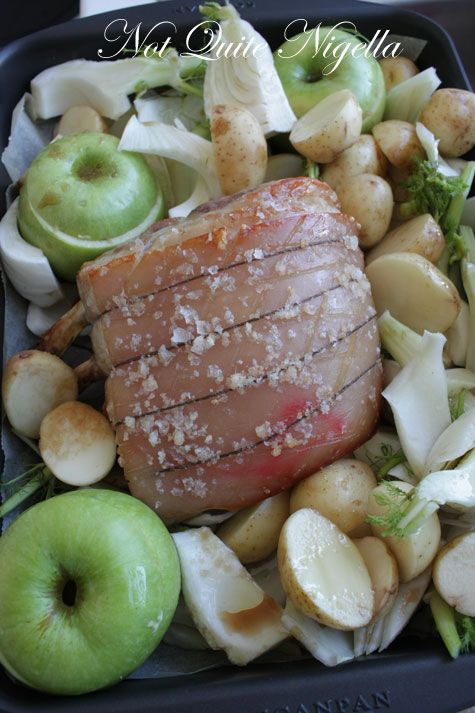 The start of the crackling, after 30 minutes in the oven then put in the vegetables and fruit
Step 2 - Meanwhile prepare the rest of the vegetables and fruit. When the pork has had its 30 minutes, place the apples, potatoes and fennel around the pork and then drizzle the stock and balsamic over the vegetables being careful to avoid drizzling it on the rind. Drizzle 1-2 tablespoons of oil on top too. Reduce the temperature and bake at 200C for 1 hour.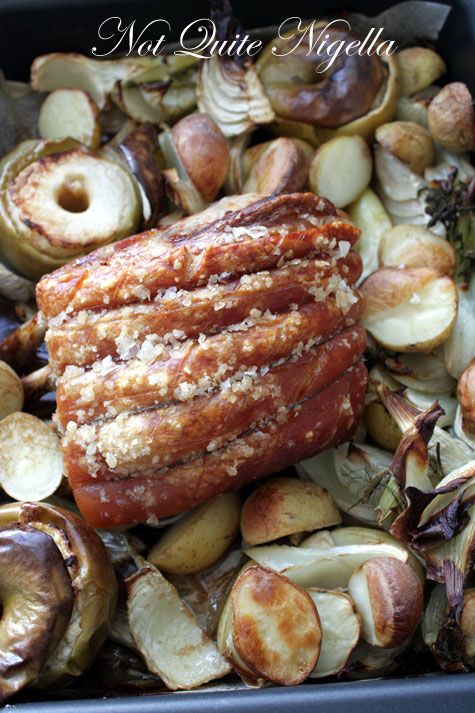 Step 3 - If you want the crackling super, super crispy, raise the temperature of the oven to 240C and place the pork by itself on another lined baking tray and give it a final blast for 10 minutes. It will be beautifully crispy by then. Rest for 15 minutes before carving.
After an extra 10 minutes blistering