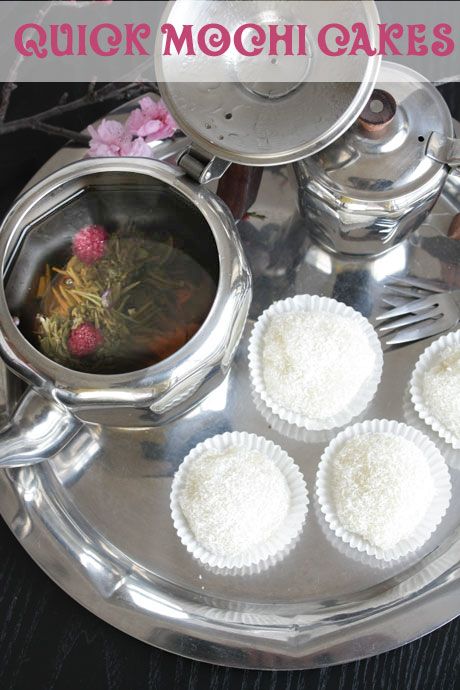 Everyone has a dish that they bring a lot to a gathering or party. My mum's is these quick Mochi cakes, a sweet, sticky and chewy cake that many people eat in Japan and Asia. In Japan, they eat these on New Year's Eve and the stickiness and chewiness indicates a long life. Ironically many elderly choke on these every year and a death count of unfortunate mochi chokers is published in the papers a few days after. If I were an elderly person with false teeth I'd want to ensure a long life ahead and _avoid _these should any well meaning relatives offer them to me.
I've eaten many, many mochi over the years as I love the chewiness and stretchiness of them and the little surprise inside of filling. My favourite fillings are sweetned lotus paste or red bean but when I was grocery shopping, I picked up one of my favourite spreads ever: Coconut Kaya Jam. If you've never tried Coconut Kaya Jam I urge you to. It's glorious and even for people that don't love coconut it's not overwhelmingly coconutty. It's like a rich curd or butter and yes I have eaten it by the spoonful it's that good.
The easiest way to remember this recipe is with the 1, 2, 3 rule. 1 cup of sugar, 2 cups of water and 3 cups of glutinous rice flour is all that it takes to make them plus whatever centre you want. Filling them is the hardest part but even then it's not impossible. Practice really does make perfect and it doesn't really matter all that much if it doesn't seal perfectly as long as it mostly holds together-just put the seal at the bottom and it won't show. Just remember that water prevents it from sticking but you need a certain amount of stickiness to seal them then it becomes easier. Coconut Kaya Jam is also harder to work with than a more solid filling like sweetened lotus paste but the way around this is to freeze the kaya until it becomes firmer - it won't freeze hard but it will freeze to a more solid consistency which is infinitely easier to work with.
Are they worth the effort? Absolutely so and I adore the sweet burst of coconut curd in the centre and the mouth stretching, jaw workout chewiness of the mochi.
So tell me Dear Reader, what dish do you always bring to a party? A favourite dip? A much requested dessert? Or do you bring a bottle of Champagne or wine and be done with it?
And yes that's right, we've made it to another Hump Day! Today is Wallpaper Wednesday which means a new wallpaper: a Cheese, Cherry & Coconut Strudel.
Quick Mochi Cakes
An Original Recipe by Not Quite Nigella
Makes approximately 20-24 cakes (depending on size)
2 cups of water (do not use warm or hot water)
3 cups of glutinous rice flour
1/2 jar of  Coconut Kaya jam ( spoon into 1.5cms  balls and freeze - it will not freeze hard but it will be firmer)
1/2 cup of dessicated (not shredded) coconut
Buyer's tip: Glutinous Rice Flour, Lotus Paste and Coconut Kaya jam can be found at Asian grocery stores
1.  In a large bowl mix sugar, water and flour and try to get rid of any larger lumps. To quickly get rid of the smaller lumps pass the liquid through a sieve into another bowl and press out the lumps with the back of a spoon.
Step 2 - Cover with cling wrap and microwave for 12 minutes on 70% power (this is using a powerful microwave, if you have a low or medium watt microwave perhaps give it a minute longer).
Cooked Mochi outer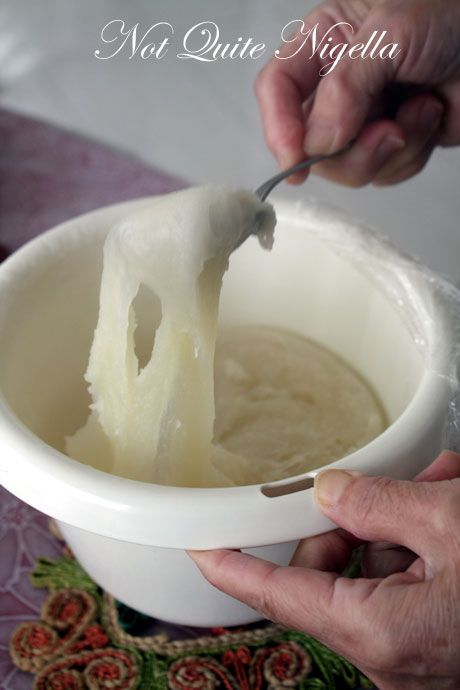 Step 3 - Get your mise en place ready as the mochi cakes are sticky and you want everything at your disposal when you start. Have a bowl of cold water at the ready and 2 plates and wet both of the plates lightly to avoid it sticking. Also have a bowl of dessicated coconut and your Coconut kaya jam balls ready with a teaspoon. Place patty pans on the table too ready to put the cakes in.
Scooping out rough balls with 2 spoons
Spreading out balls with fingers
Filled with coconut jam and pinching back into place
Step 3 - Wet two soup spoons with the water and spoon out 4 or 5 rounds onto the wet plate. Cover the remaining mochi mix with the cling wrap. Remember that the mochi will stick to itself well but it will not stick as well if it's wet or has the jam on it and therefore will not seal up properly so don't use too much water. With wet fingers, stretch out the mochi into a flat circle. Place jam or lotus paste in the centre and using your hands, seal up by pressing the edges against each other.
Step 4 - Roll in coconut and place on patty pan. Can be stored in an airtight container at room temperature.