I was a virgin and it was the first day of SIFF (the Sydney International Food Festival). OK let me clarify that rather preposterous statement. I was a Let's Do Lunch virgin. This year, I finally was going to take part in a Let's do Lunch where for $35 you get a main meal along with a glass of wine with tea or coffee. However at Bilson's we learn, the let's do lunch deal is slightly different from the rest. For $25 you get a main meal and a glass of wine but it does not include tea or coffee. I am lunching with Reem this sunny, warm Spring afternoon at "One", Tony Bilson's new restaurant at Number 1 Alfred Street Circular Quay. I'm a little lost (yes I get lost easily) and I need to ring Reem to find out where she is (it turns out she is only metres away from me under the stairs, in a shaded area).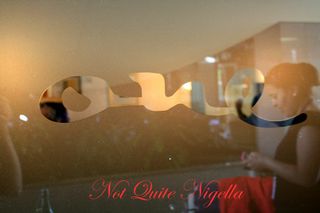 We take a quick look at the menu. There is of course the Let's Do Lunch deal which is the Swordfish Nicoise salad which is normally priced at $33 so to get this for $25 plus a glass of wine is a steal. I opt to try something else (for the sake of research of course) so I choose the most interesting sounding thing on the menu, the pig's trotters. The food is mainly French which Bilson is known for but with bits of Italian and Spanish and a tempura dish thrown in to please everyone.
We were hungry so we answered yes when we were asked if we'd like bread. It's not bad and the butter is unsalted but I prefer some of the more sour sourdoughs on offer at other restaurants. The appearance of $7 for the bread on the bill is a bit of a surprise to me too.
The pigs trotters appear as two orbs of glistening meat settled in a creamy celeriac puree with dutch carrots and wilted spinach. Crepinettes are like sausage parcels and for want of a better comparison these are like round rissole type of items made up of the soft flesh from a pig's trotter. The flesh is coarsely torn and richer than rich and the sauce is thick and gelatinous as befits a pig's trotter sauce and the truffle scent is light but gives it an added dimension. The dutch carrots are perfectly cooked as is the spinach and celeriac puree. I hold back on licking the plate, instead using the leftover bread to mop up the juices.
Reem's Nicoise salad is impressive looking with a lovely cooked swordfish steak still tender inside and not a jot dry and a perfectly poached egg with a riotously coloured orange yolk. When the waitress offers us a look at the dessert menu we immediately say yes and our eyes gravitate towards the Number One Souffle (Blood Orange) and the Pear Tart so we order these along with coffee.
The tart is buttery and gives a satisfying crunch when a knife cuts into it. The pear is sliced paper thin and the almond fragipane's aroma is distinct. The vanilla ice cream is good but could be more vanillaey for my taste but the butter puff and frangipane and pear are fantastic. I think I should have perhaps stopped there.
The Number One Souffle isn't very Blood Orangey at all, in fact it's the very slightest after thought much like chilli in chocolate is a subtle aftertaste. We were both hoping for something with a bit more punch and a strong citrus souffle would have been gorgeous.
When the coffee arrives I sense danger. The froth on the cappucino is made up of huge bubbles, not the tiny compact bubbles of a frothy foam. Unfortunately both of our coffees are burnt and for me I can't drink more than a tiny sip. The waitress looks a little hurt when I tell her (perhaps she made it).
Losing your virginity is fun but I can't help thinking you need to know when to stop!
So tell me Dear Reader, are you taking part in any SIFF events this year?
Number ONe Tony Bilsons Wine Bar & Bistro
Goldfields House, 1 Alfred Street, Circular Quay, NSW
Tel: +61 (02) 8252 9296
www.numberonewinebar.com