Only the other day a friend said to me with a loud, dramatic sigh, "Nothing happens on Oxford Street anymore..." He was thinking back say 20 years where the hum of business and people used to make it a vibrant, buzzy place.
Today however, on this sunny Sydney day, there seems to be a lot happening on Oxford Street. And of course it happens when I'm running late to meet my friend Amanda at Le Salon. She had texted me a warning (or was it excitement?) that there were lots of firemen around and that Oxford Street was partially closed down. It turns out that there was a fire at a sex shop. Ahem...well who says nothing happens on Oxford Street? ;)
I walk past two topiary trees in pots and into the restaurant and Amanda is waiting for me at a table at the front of the restaurant sitting in a black velvet lounge chair that could seat two. That's definitely the table to sit at if you want to people watch (or just fireman watch!). There are sexy booths out towards the back but these are darker and for those who seek less light.
The decor is lovely and easily covetable with vases of blossoms perched high on the wall, sparkling chandeliers, pressed tin walls and grand mirrors. And do you ever get this familiar feeling when you see something from your home in a restaurant? The F. Champenois poster in the dining room and on the back of the menu is just like the one framed in our apartment.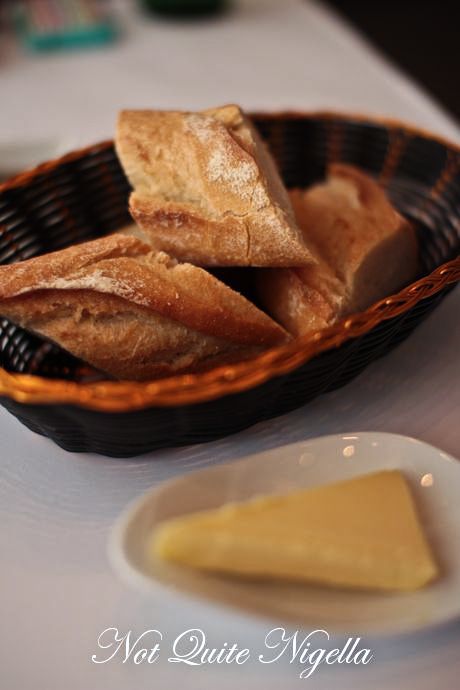 OK first things first-who is Claire? Well she or he is Claire de Lune aka French chef Marc Kuzma's alter ego or drag name. He used to do the Kerri Anne Show and one day before Mardi Gras he thought to do the show in drag which was quite a hit with the viewers apparently (with some writing in not realising that it was a man in drag and suggesting that Claire de Lune and Marc do a cooking segment together - bless!).
Carre de saumon au coulis de pouvron rouge $25
At the waiter's recommendation we choose our dishes. The carre or square of salmon is done confit style with a pink interior. It sits on a delectable red pepper coulis which is sweet with a hint of red pepper char and there are toasted white and black sesame seeds.
Steak tartare $24
I do love a good steak tartare and this comes deconstructed so that you can add your own condiments. There is the steak, finely diced with finely diced pickles, capers, chives, onion and French mustard with a raw egg yolk on top in its shell. The creamy egg yolk slips down between the crevasses of the diced steak and after a bit of mixing action and a dab of mustard and voila, we have steak tartare done just to our liking.
Poisson du jour $32
The fish is the pan fried trevalla fillet on a carrot puree with pickled Japanese ginger straws and red wine butter. The slender fillet is still moist inside and it goes well with the silky smooth and sweet carrot puree. The pickled ginger gives the dish a nice contrast and acidity and the red wine butter is what we're guessing to be the pool of golden butter sitting on top of the puree - it's not particularly red winey but adds that lovely butter flavour. Lastly the edible flowers lend a pretty garnish and you can eat them if you wish.
Canard en croute $32
Said to be the chef's speciality, the duck and pinot noir pie is sumptuous and perfect for the chilly weather that is coming about. Amanda and I are quite smitten. The duck meat, soft as fairy floss with some pieces of duck skin too is tucked into a puff pastry pie shell along with melted double brie on top and a creamy mash on the bottom and a rich, almost black pinot noir sauce.
Dessert trolley $18 for 4 (normally 6) 
Oh dessert trolley, how I love thee! Unfortunately if you come for lunch, the dessert trolley may not be in full bloom as we experienced as it is a dinner sort of thing. There were only macarons on offer and we didn't realise that ordering the macarons, three per person and six in total would be $18. So we only asked for two each so our dessert ended up on the pricey side. They were quite good - well rested and soft although the flavours weren't particularly strong and were more on the subtle side. There were three flavours, raspberry, strawberry and green tea and the raspberry was my favourite as it was the most distinct.
So tell me Dear Reader, what is your drag queen name? To work it out, you take the name of your first pet and the first street you lived on. Mine is Kitty Alma! ;)
Claire's Kitchen at Le Salon
35 Oxford Street, Darlinghurst, NSW
Tel: +61 (02) 9283 1891