I never really gave the humble pineapple much consideration. I mean, they're great to eat but any further than that and I'd be hard pressed to think of another use for them. Until we walk into Ananas which means pineapple in French where it is a symbol of welcome and good hospitality and there are pineapples as far as the eye can see.
There is a tropical vibe as befits an establishment named after a pineapple. Antique bronze hanging bird sculptures hang off gilt swings and there are four custom painted mural mirrors with masked nymphs and fruit. The atmosphere is theatric and pineapple lamps, hooks, lights and hand painted tiles are adorned with the pineapple motif.
There are antique hanging mirrors and a long pewter bar ends with the crustacean tiled oyster bar although the display is looking a little sparse early this evening. Women's bathrooms have pink flamingo wallpaper while the male bathrooms have had a notorious makeover. After only being open for three weeks, the male bathrooms were stripped of their  controversial urinals which resembled the lipsticked mouth of the Rolling Stone's Tongue and Lips Logo.
We were dining with my sister Blythe and my parents Ronald and Rose and service is quite friendly and attentive throughout the night. We're a family of food sharers and even though these dishes aren't necessarily meant to be shared, that's how we tend to prefer to eat. Ananas is also open late until 3am from Thursday to Saturday and there's apparently DJs playing live Thursday to Saturday although by the time we leave at 8pm there wasn't one and I'm quite glad as the music usually prevents any sort of conversation.
Bread is brought out by a young apron clad man whose sole job appears to be to take bread to all of the tables which is an interesting touch. There is a white and a rye bread, the rye being the favourite spread thick with butter.
Salmon tartare with truffle remoulade $19
The entrees arrive quickly as we are one of the first table this evening and dining at 6pm. The salmon tartare comes in a teardrop shaped glass bowl with a neat topping of truffle remoulade. Whilst the salmon was lemony fresh, the truffle was not discernable in the remoulade. The cracker has a slightly sweet flavour to it which goes nicely with the fresh fish.
65 degree organic egg, asparagus, porcini and bellota bellota $19
The top of the 65 degree organic egg was lopped off and the egg deep fried in crumbs. Cutting it open revealed a golden, oozy yolk that dressed the asparagus, meaty porcini mushrooms and salty rich bellotta ham.
Scallop, black pudding, apple marmalade, lobster jus $24
My favourite entree is something that you see a lot of menus but I particularly liked the balance of the sweet apple marmalade, the earthy richness of the black pudding and the well cooked scallops and rich lobster jus.
Lobster ravioli $25
The last entree consisted of six neatly fanned, glossy pieces of lobster ravioli. The ravioli skin is thin, much like silky won ton wrappers and there is a small amount of lobster filling in each one. A tuft of deep fried ginger accompanies the pasta parcels.
Whole organic chicken roti for two, truffle mash, choice of two sides $70
We were waiting a short time for our mains and our waiter explained that it was because the chicken is cooked to order. It arrives in four pieces. The chicken itself is tender and juicy inside, even the breast area which can be dry. It needs a little seasoning and comes with a chicken jus that adds saltiness and there is also a container of divine truffle mash which is strong in truffle. So strong that Mr NQN wonders if the truffle is too strong - why never! :) The two sides that we chose were upon the waiter's recommendation. The first was a sauteed spinach which wasn't the most exciting side at all. The potatoes pont neuf or thick cut potato chips were not particularly crispy and needed more seasoning.
Beef cheek bourguignon, cremolata, carrot vichy $28
The beef cheek bourguignon was richly flavoured and sticky, the sauce worth scooping up. Served with mushrooms and bacon and topped with a cremolata made with parsley, I ladled some of the truffled potato from the chicken and had it with the beef bourguignon.
Crispy pork belly, braised kale, jus roti, ocean trout caviar $32
Blythe's favourite dish was the pork belly which was served with braised kale and pan juices. The crackling on top wasn't quite crispy as specified on the menu and I didn't think that the ocean trout caviar went well with the pork belly but once you removed that, the rest of the dish was good.
Black cod, la plancha squid, saffron risotto $34
Black cod is such a sublime fish with a texture like butter. Here it is served with a saffron risotto which had a very rich, buttery flavour but my nose didn't get the hit of saffron that I was hoping for. The la plancha squid was a single, tiny piece of squid on top which seemed sparing and there was also some foam.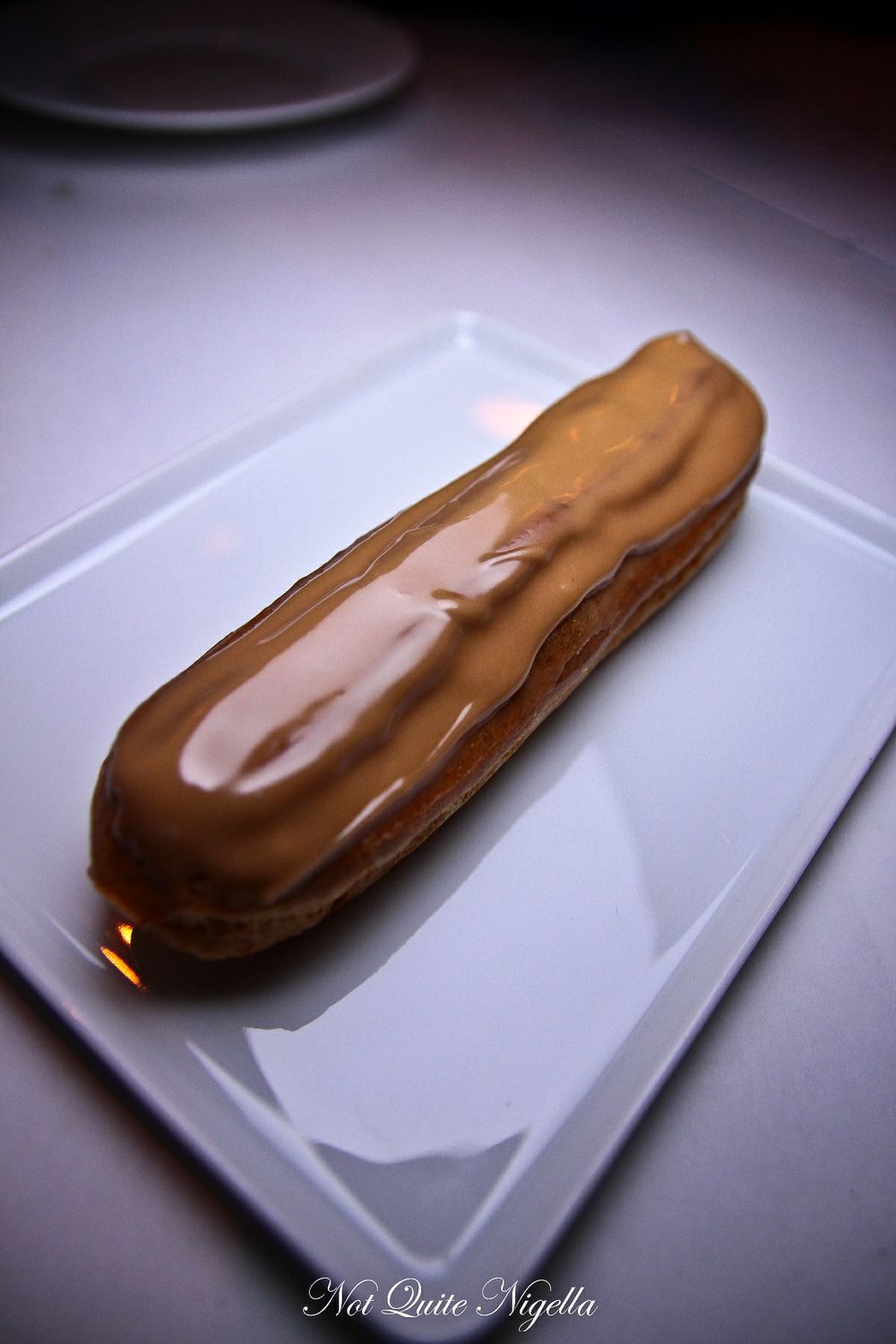 Eclair salted caramel $12
As we're finishing our mains and it's about 7:30pm, the lights dim quite a bit and we quickly order desserts as we have to go soon as Blythe needs to get up very early for a 6am flight back to New York. We start with her choice, a salted caramel eclair which is very good with just the right amount of salt in it. Although perhaps adding something else to the plate might have been good for presentation.
Ananas ravioli, berries, pinacolada sorbet $14
Mr NQN's favourite, the pineapple ravioli was finely diced pineapple and berries draped in the finest, thinnest layers of pineapple instead of pasta. The pinacolada sorbet was divinely refreshing and it all sat on thin layers of pineapple and dots of berry jus.
Snickers 2012 $16
We did ask if there was a 2013 version and apparently there wasn't one yet. The square plate had a peanut ice cream in one corner with a chocolate curl and in the other corner, there was a very airy light chocolate mousse in a thin tube of chocolate. A Snickers was never this ethereal.
There's an awkward moment as we leave and we overhear the waiter informing another waiter with the amount that we left on our tip (9% by the way, rounded up). It gives the night an odd ending as it makes us feel as if we haven't left enough.
So tell me Dear Reader, do you like the concept of a DJ playing in a restaurant? And would the tip part make you feel awkward?
Ananas
18 Argyle St
The Rocks, NSW 2000
Tel: +61 02 9259 5668
Lunch Mon- Fri 12pm - 3pm Dinner Sun - Wed 6pm - 12am | Thurs- Sat 6pm - 3am