If you've ever wondered what it's like to cook for a President, Danièle Mazet-Delpeuch knows. She was the first female chef to cook in France's Elysee Palace under President Mitterand. Her tenure was controversial and fascinating - the stuff that movies are made up of. In fact, the new French film Haute Cuisine is based on her life.
And one evening in Sydney, 140 diners would get to try some of the dishes that featured in the  film. The event held at the Sofitel hotel with its proud French tradition was sold out with a waiting list. Included in the three course menu is Mitterand's favourite dish: choux farci au saumon which is a layered dish with salmon stuffed between cabbage layers.
Humourous, warm and modest, Danièle who is now in her mid seventies answers questions candidly on her remarkable life and the film. "They wanted to do a movie about food and fun and politics and you may know that for two years I was the private chef of the President of France and after the film was released people in fact didn't want to hear that much about the palace they just wanted to know who was the real cook, who was the actress playing the cook."
The idea of a female chef ruffled feathers in the traditionally male dominated French kitchens but Danièle's response is disarming. "You know I really love to be a woman and it never bothered me. I just don't care! Most of the time maybe because I love men so much, I don't realise that they don't like me!"
In 2000 after she had left the palace, she also embarked on another challenge, cooking for sixty Frenchmen at an Antarctic station. "I was almost 60 and I felt like I was getting old so I need (sic) a change and I went on the internet and I found an ad going to Antarctica. I liked the idea so I called the number." She didn't have the necessary qualification that the ad desired but "I said I have a good reference,  I was the chef for the President. [The woman] 'Oh that's fine! but I want to tell you that you have no chance to go there because you are a woman.' I said "Pardon?" She asked 'How old are you?' and I said "59." Daniele pauses for effect. 'Oh madame, you have no chance at all. The limit is 30 (years old).' I said "Are you telling me that as I am a woman, an old woman, I can't apply? I'm going to apply and I want to go... and I went!"
Foie gras au torchon, apple ginger, chutney and cocao nibs tuile served with Champagne Taittinger Prestige Rose, NV
The foie gras au torchon was something that we ate a lot while in Montreal and Quebec City. It's where de- veined foie gras is wrapped in cloth and then poached and sliced. It is served simply with an apple ginger chutney and a delicately thin cacao nib tuile which lends the foie gras additional sweetness without having the melting quality of chocolate. Danièle is considered the queen of foie gras and when asked what she thought of states like California banning foie gras she says "If I were in California I would be a little upset but I live in France where a lot of farms, especially in south west of France live on raising geese for foie gras. It's almost in our genes and I respect any ideas about that. Personally I still love foie gras very much."
Choux farci au Saumon de Tasmanie served with Champagne Taittinger Grand Cru NV
Next comes Mitterand's favourite dish. A whole cabbage is twice blanched and filled with one centimetre thick pieces of salmon. The cabbage is wrapped in about a metre of cheesecloth and plunged into salmon stock and simmered for fifteen minutes and then the sliced into cake sized portions. Accompanying it are goose fat stewed carrots. It's a comforting dish and quite mild flavoured and I think everyone at the table wonders how it is made.
Before dessert, Danièle comes out to talk to diners. This is her second visit to Australia, the first twenty three years ago. When asked what it was like to become President Mitterand's personal chef she says, "It was a very interesting moment can you imagine I live in the middle of nowhere, a lovely, lovely place but it's a simple palace in the middle of the forest. One day one morning they come to pick me up and by the end of the day I become the chef de cuisine de la President, the President's cook. It's a big surprise and I really liked it very much because the President was a gastronome and he knew what he wanted so it's a miracle for a cook when your boss knows what he wants."
Danièle in the kitchen with the Sofitel's Boris Cuzon and chefs
Her only brief was to cook grandmother style for the President whom she called easy going. "When I was asking for directions nobody told me what to do so I had no idea. It was the first time I had met a President and I asked and he said "If you cook simple things like my grandmother was doing I'll be very happy" and I said "Monsieur Le President, nobody can cook as a grandmother but I'll try!" Mitterand's favourite ingredient was truffles.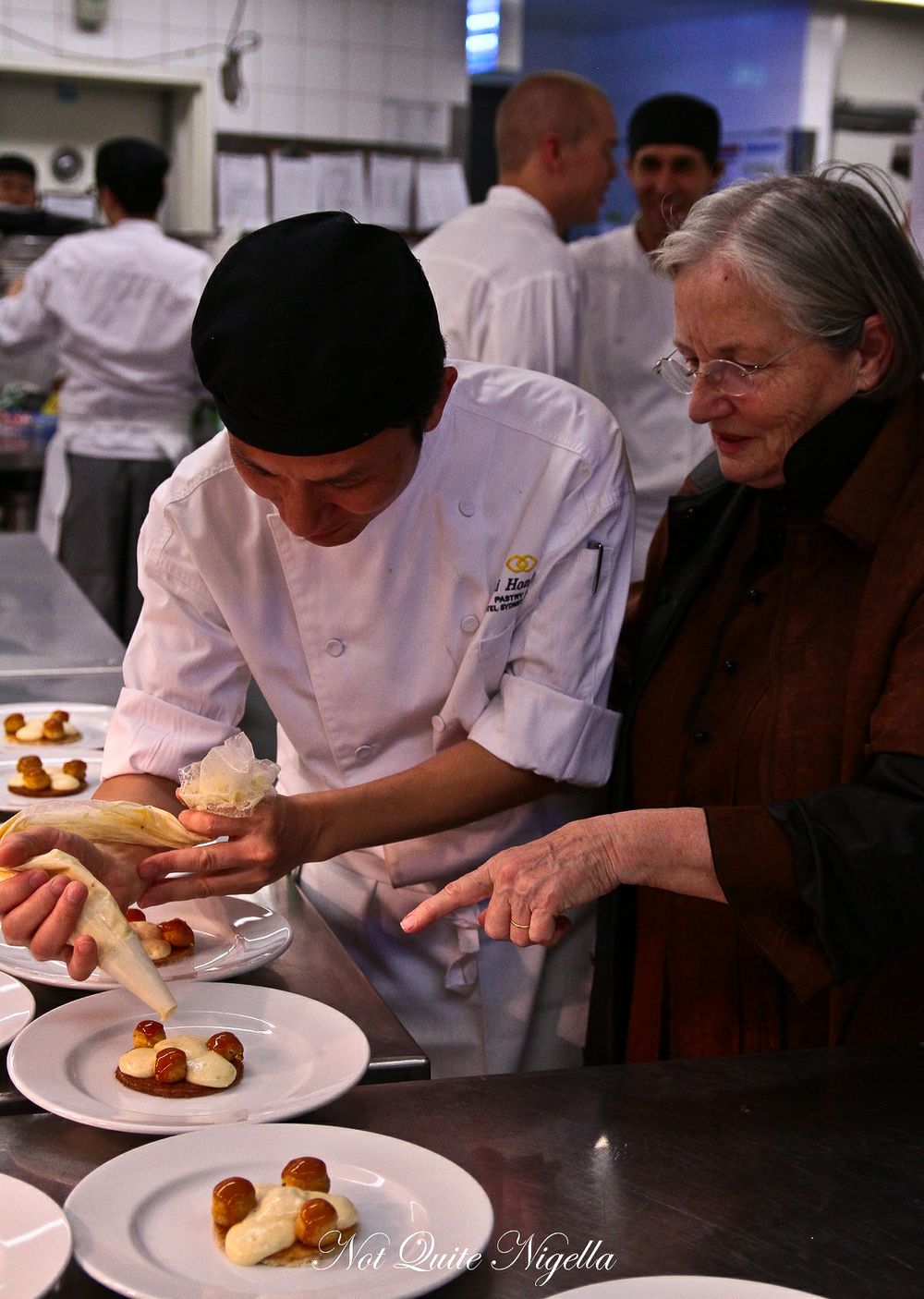 In the kitchen prepping the Saint Honoré dessert
A diner asks her to recount a historical meal. "I had the privilege to make the only dinner that the President gave at his private home. It was just before the Berlin wall fell down. He asked me to make this dinner for Monsieur Gorbachev and Madame Gorbachev. It was in 1989. There was Monsieur and Madame Gorbachev, President and Madame Mitterand and two interpreters. I proposed menus with truffles and I made something silly. I made an entree, a souffle as you may know a souffle can't wait. When a souffle is cooked you must serve the souffle. A souffle de legume, a vegetable souffle, a truffle in crust, truffes en croûte and a fillet beef in madeira sauce and made an ice cream with three different chocolates but let's go back to the souffle. The menu was decided and the police said yes so the menu can't change."
"The one in charge of security his name was Patrick and he was a friend and I said I need absolutely for you to tell me when you are leave the palace because I need ten minutes. I prepared my souffle and everything was nice and Patrick said we leave the palace and it was something like eight minutes. Then Patrick called me and said "Madame Gorbachev has asked that we come back to the palace, she forgot something" and my souffle was in the oven and to be sure I made ten of them and all of them at the same time were in the oven in individual molds. It took her ten minutes to do I don't know what! You can't imagine in the kitchen you may ask all chefs you know we have stress, we want to do well, we want perfection and here we have four so important people and my souffle-aarrghh!"
"I had to take them out of the oven and the souffle when you take them out they (sink). I couldn't change anything, it was absolutely terrible and Patrick called me 'Danièle, we come, we are now six minutes.' I could have killed myself absolument! It was terrible, it was my honour, it was my dignity it was my everything! And I put the souffle back in the oven. Guess what? They raised perfectly. This night I learned first that souffle can be cooked two times and the second thing is that I would have the possibility to poison two Presidents! My life after would have been quite difficult... Viola!"
Saint Honoré served with Champagne Taittinger Millesime 2004 NV
This pastry is also a reference to the Elysee Palace which sat at 55 Rue du Faubourg Saint-Honoré, Paris. The Saint Honoré is her version of the choux pastry confection. On the bottom is a layer of the crispest, buttery pastry and on top is a vanilla bean crème pâtissière  and three choux balls dipped in toffee. They have been filled with the crème pâtissière and the toffee and the pastry disc are crisp against the luscious, heady custard.
Danièle's lessons in life are simple, perhaps gleaned from years defying conventions. And as for her secret for how French women stay so slim, she is candid. "Errr I don't eat a lot and I'm not slim!" When asked what she has learnt about life she says, "Everything is possible, just go!"
So tell me Dear Reader, if you could give anyone some advice on what you've learnt about in life, what would it be? And if you could get a chef to cook you anything that you want for dinner tonight, what would it be?
NQN dined as a guest of the Sofitel Wentworth
Sofitel
61-101 Phillip St  Sydney NSW 2000, Australia
+61 2 9230 0700
sofitelsydney.com.au/