I've never really had a local place that I revisit. The reason probably is because of what I do and the fact that I'm always trying to find new places. But the idea of having a local sounds lovely and there is occasionally a place that you feel so comfortable and at home in and that is decorated just so that you want to go back and explore the menu more. And for  friends and people that I had met, that place is The Falconer.
On Oxford Street towards the Hyde Park end, it used to be one of those cafes whose name you can't quite remember with neon signs outside and a window-ful of cakes and a heavy sliding door. It looks as if the neon signs are still there and there a few cakes in the window but the decor has been replaced with a vintage typewriter sitting on a vintage sideboard and an reference book sits open. There are brass statues of deer and other assorted wildlife and every table has a booth for that comforting at home feel. A mix of jazz and country music plays in the background and there is a shelf full of LPs.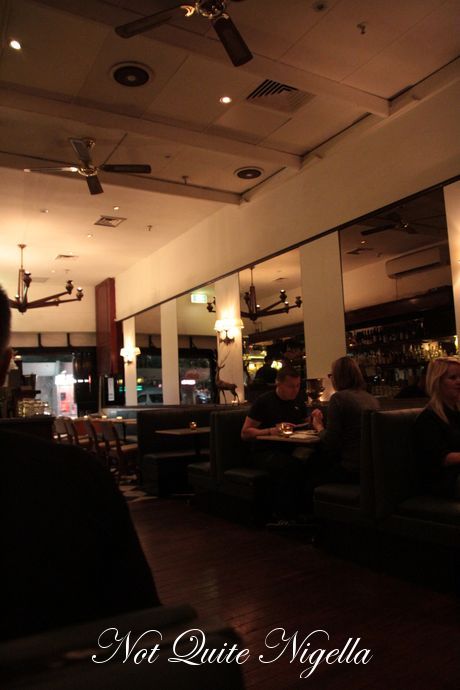 Petrina and I peruse the menu which is broken down into sections and a sandwich board out the front announces the special, for $20 a bowl of pasta, garlic bread and wine can be yours. The menu has entrees including terrines, scallops with prosciutto and an antipasto plate. There is a section of pastas (which smell tempting) and a meaty wintry main section plus sides and salads. The most expensive item is the beef tenderloin at $28. It is also licensed and open until midnight with many wines available by the glass.
Golden beetroot salad with spinach, crispy bacon and gorgonzola filo $16
The golden beetroot salad has soft golden beetroots, smaller than I've ever seen them, with spinach leaves, crispy bacon pieces and a gorgonzola filo pastry finger. The gorgonzola in the filo pastry was a bit too rich and salty for the rest and I always find gorgozonola goes well with sweeter items so it needed more of the sweet roasted golden beetroot than what there was.
Braised rabbit pie with carrot puree and micro green salad $17
The braised rabbit pie has a lovely gamey flavour to it and a soft texture to the rabbit. It is wrapped in a filo pastry which has a nice crispiness on top and sits on a creamy carrot puree with a fluff of micro green salad.
Crispy shoe-string fries with The Falconer aioli $8
Petrina and I both love fries so we order what seems to be a huge serve accompanied by a suitably garlicky aioli.
The Tom Waits - dark chocolate mousse with tobacco syrup, whiskey ice cream & meringue powder $12
We just had to try this based on the name and the description. So named after Tom Waits as he liked to drink, smoke and take drugs. The drink is whiskey ice cream, the smoke is tobacco syrup and drugs are a line of white meringue powder. The mousse is delectably good, smooth and airy and all the best parts of a chocolate mousse. The Tobacco syrup has a mysterious quality to it and certainly adds interest and the whiskey ice cream is a balanced number that rounds it off along with the line of meringue powder.
So tell me Dear Reader, if you could name a dessert after a celebrity or musician, whom would it be?
The Falconer
31 Oxford St, Surry hills 2010
Tel: +61 (02) 9267 8434
www.thefalconer.com.au