I never quite believe it when people say that they're too busy to eat. Too busy to eat? Seriously? But that's the highlight of the day surely! And last week when I was furiously busy prepping for my Hallowe'en party, I was rushing about lamenting only having a certain number of hours in the day but I was looking forward to my lunch at the new Cotton Duck, from Jared Ingersoll of Danks Street Depot.
On Holt Street, where nearby Vini sits, it is like the spacious, beachy cousin of the all black, small Vini. There's a decorative ceiling with dangling laser cut spirals and unexpected patches of greenery. Jared himself is at the open kitchen (it's always comforting to see the chef in the kitchen let alone for everyone to see). When offered cocktails Laura and I demur (too much to do afterwards and after all it is a work day) but when we spot the last page of mocktails we order excitedly.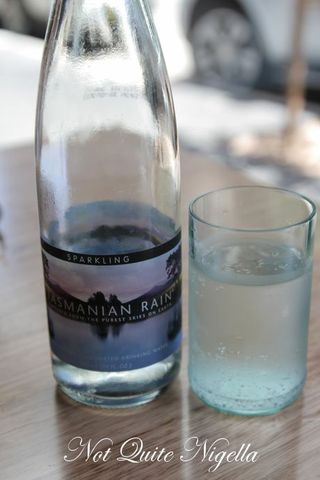 We try a new mineral water-a very crisp sparkling Tasmanian rain water.
Ginger, treacle soda, mint and lime $8
The ginger treacle soda with mint and lime is a pretty sight to behold and I take a sip. It is dominated by the ginger flavour which reaches right to the back of my throat. Mr NQN would love this but it's a little too strong for my tastes and I don't really taste the mint and lime such is the strength of the ginger.
Aloe Vera, mint and orange blossom $8
This is more my style with the aloe vera the predominant flavour with a little taste of lime and orange blossom. This is sweetly floral and refreshing but never too sweet.
The seeded warm bread comes out with soft butter that is made by Australian Cultured Butter. The outside is crusty and the inside is dense and white.
Lyonnaise Salad $18
The Lyonnaise salad is a fetching salad with frisee lettuce fronds, finely diced pancetta, pickled onions and a soft poached egg. I pierce into the egg and the yolk comes oozing out dressing the delicate tendrils and I enjoy the salty, bacony pancetta, pronged leaves and creamy yolk along with the crunchy, plentiful croutons (which are totally moreish in themselves).
Peas and beans $15
Described as a plate of spring peas and broad beans in parmesan jus it comes out looking very pretty. I enjoy the sweet peas but the finely diced onion is a bit undercooked and Laura and I both find that there is just something missing in the dish.
Pasta sheets with butternut pumpkin, blue swimmer crab, sage and walnuts $26
The layered pasta sheets are lovely and silky textured with generous amounts of roasted butternut pumpkin and chunks of blue swimmer crab, toasted walnuts and sage leaves. The flavours and textures combine very nicely indeed and we both adore this.
Veal and Tuna: a play on vitello tonnato $24
I love the Italian dish vitello tonnato (veal with tuna sauce) and when the waitress tells us that it is a veal fillet that has been stuffed with tuna in the centre I'm pretty much sold. The homage to it ends there as it comes out as a juicy, tender fillet and sure enough, in the centre under the quail's egg is a centre of tuna. The taste is entirely different from vitello tonnato as it is doesn't have that strong tinned tuna flavour and mayonnaise although it is very good.
Pumpkin Pie with pumpkin cream gin and brandy snap $16
Do we have time for dessert? Absolutely! And a good thing as the desserts sound enticing with a nice mix of old fashioned or homely ingredients like treacle, brandy snap and pumpkin pie. 'Tis Halloween season so we order the pumpkin pie which comes out as a slender slice with a biscuity base and a clear jelly layer on top. The pumpkin inside is gloriously smooth as silk which makes it slightly different from other pumpkin pies which have some of the texture from the pumpkin. It is also not overly sweet at all so this is ideal for the non sweet toothed out there. There is also a brandy snap with what the waitress tells us is a pumpkin seed infused cream which is unsweetened and there are pumpkin seeds embedded into the crunchy outer. The cream isn't much by itself but is just right with the sweet brand snap and pumpkin pie.
Cheese Coulommiers with fig and date bread $18
Coulommiers cheese is a cow's milk cheese from France similar to Brie with a slightly nuttier and stronger flavour. It comes with a studded nut bread and golden Iranian raisins.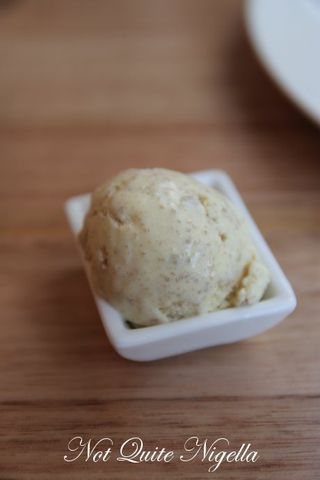 Rye ice cream scoop
We can't resist and ask for a scoop of the rye ice cream which comes with the steamed treacle pudding as we're curious to see what it is like. It is like a brown bread ice cream that I have made except the bread is untoasted here and roughly crumbled into rye rubble so that you can taste little bits of rye bread as well as light crumbs.
Chocolate petit fours
Oh my. This is a morsel of sweet, nutty goodness with pulverised nuts interspersed through the cold chocolate fudge square. I could quite easily and happily polish off a dozen pieces of this. If I were to compare it to anything, it does remind me of the sweet nougaty flavour of a Toblerone but like its couture cousin. A lovely way to end off our meal.
We're in and out for lunch in one and a half hours and we both rush back to our respective desks well fed!
So tell me Dear Reader, do you order cocktails or wine at lunch on a work day?
Cotton Duck
50 Holt St, Surry Hills, NSW
Tel: +61 (02) 8399 0250
Open: Lunch Thursday-Friday 12pm-3pm
Dinner Tuesday to Saturday from 6pm