"They have a Tea Master!" says my friend, the PR superstar The Second Wife. She knows of my major love of tea and she tells me that the kind people at the Sir Stamford have invited me and a friend to High Tea at their Circular Quay location so I'm taking along Queen Viv for today's ride. And at 2pm I'm walking along the marbled floors, past the huge gilt edged paintings and into the gorgeous Bar where High Tea is held every afternoon in a very hushed, elegant style.
Queen Viv and I are poured water from a silver jug and sparkling wine as soon as we sit down which is lovely for our parched souls. After browsing through the tea menu we see why they have a tea master - they take their tea very seriously here and the brand of choice is Ronnefeldt of Germany, one of my favourite teas.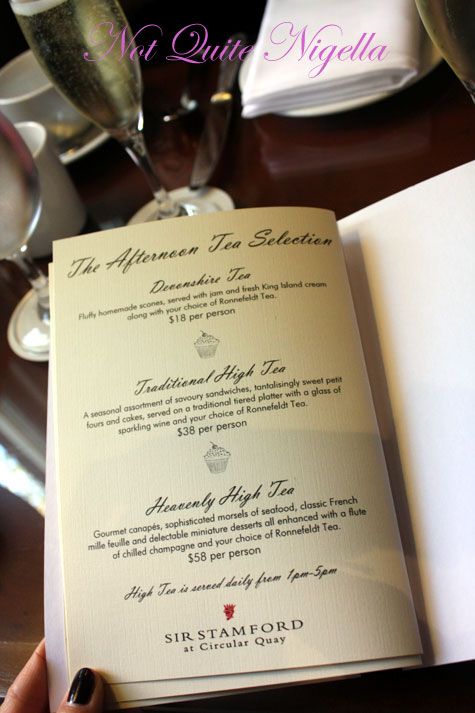 There are enticing Green and White tea varieties and a South African Vanilla Roibosh (Rooibos) that Queen Viv selects but I'm more of a black tea drinker so I select the Wild Cherry from India. I've often spoken of my witching hour around 4pm when I feel vulnerable to sugary snacks and concoctions in order to boost my energy levels. Apparently according to the tea menu, the Countess of Bedford felt the same calling it "a sinking feeling" during this time.
Teapots and hourglass
The teapots of tea arrive with The Austrian Tea Master, Robert Gachiel who sets down an hourglass timer set to 3 minutes for our tea to steep. He tells us he is one of five Certified Tea Masters in Australia. Ronnefeldt started training tea masters a few years ago when they saw a gap in the market. Gachiel is currently on silver status with the gold status to come next year when he completes the Gold programme in Sri Lanka where they are required to oversee and participate in all aspects of tea from the very beginning where it is grown to visiting the old tea factory. Tea Masters need to identify 18 types of tea leaves both wet and dry and complete oral and written examinations before they reach Gold Tea Master status and join the 60 or so people around the world that share the title.
Robert Gachiel, Tea Master
Once the requisite three minutes is up, Gachiel is back to pour our tea. We try both teas and they're beautifully aromatic and strong. I adore my Wild Cherry tea but Queen Viv's Vanilla tea is also delicious.
Our three tiers of heaven
Our three tier display arrives, with four icing dusted scones with strawberry jam and King Island cream on top; a pair each of chocolate hazelnut mousse in a chocolate cup, Tuscan orange and poppyseed cake, chocolate and hazelnut brownie, white chocolate creme brulee, and 4 types of sandwiches at the bottom: egg and dill; smoked salmon, ham and Swiss cheese and cucumber.
Starting with the savoury, we try the sandwiches-they're all divine and fresh. The round egg and dill sandwiches and the Swiss cheese and ham are particular favourites of mine but needless to say they were eagerly scoffed with pinkie raised.
The top layered scones are light, fresh and warm and I spread them thickly with strawberry jam and King Island cream and before I know it, I've eaten two of them without even noticing.
The middle layer of miniature cakes are an adorable range of mini tiramisu (lovely and light); chocolate hazelnut brownie (rich and fudgey); Tuscan orange and poppyseed cake (a favourite, delightfully moist and redolent with orange zest); white chocolate creme brulee (divine, Queen Viv's favourite) and a chocolate nut mousse housed in a small chocolate cup which is has unusual peanutty chocolate flavour. Later on that afternoon he stops to refill our teapots.
Before we know it, the clock strikes 5 o'clock and we've been chatting for hours over this 3 tier stand of deliciousness and gorgeously aromatically tea. Every High Tea needs a tea master I think. Scratch that -  every house needs a Tea Master.
Did I mention how much I love the paintings?
High Tea in The Bar
Sir Stamford at Circular Quay
93 Macquarie Street, Sydney, NSW
Tel: 9252 4600
ETA: Sadly the Tea Master has departed the Sir Stamford but they are looking for a replacement Tea Master.