For Northern Hemisphere readers, the concept of Christmas in July or "Yulefest" must be an odd one at best. Why would you have Christmas in the middle of the year and why in July? One reason why we Antipodeans celebrate it is because of the weather. As a child I used to watch television shows where Santa would visit children who lived in houses covered with snow and Christmas was a time to feast on warm roasted turkey, potatoes and other delicious warming goodies. Santa never delivered presents to kids wearing shorts and thongs (flip flops, not G strings!) and as such I always yearned for a White Christmas. During December the weather here is so warm that having a Roast Turkey and potatoes during the 40 Celsius (104 degrees Fahrenheit) degree temperatures seems for the hardcore traditionalists and salads and cold seafood feature mostly on the Australian Christmas dinner table. However July is the coldest month here and as such we can simulate some sort of cold Christmas.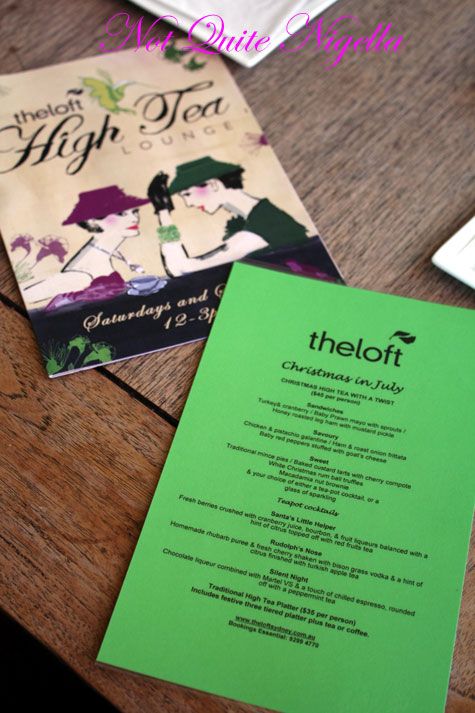 So when Lisa organised a High Tea at the Loft and the theme was Christmas in July I eagerly agreed  straight away. I've spoken often of my absolute love for Christmas (almost as much as Halloween) so I take any chance to celebrate it. It's not really freezing cold and it seems nowadays Sydney is often bathed in the warm embrace of sunshine but I'll also take any excuse for a High Tea. My fellow High Tea-ers were Betty, Helen, Karen, Lisa, Steph and Suze.
For $45, the High Tea with a twist features a teapot cocktail, a selection of sweets and savouries and a pot of tea. We take our time choosing everything as they look pretty tempting. All teapot cocktails are serves for two so we try one of each of the three Christmas in July cocktails: Santa's Little Helper, Rudolph's Nose and Silent Night. They arrive in adorable teapots and we ask Betty who is suitably attired for a Christmas in July in a green and red jacket to pour them for us.
The Santa's Little Helper teapot cocktail has fresh berries crushed with cranberry juice, bourbon and fruit liqueurs balanced with a hint of citrus topped off with a red fruit tea. The bourbon is a bit too strong and medicinal as it's virtually identical in appearance to the pinky red hued Rudolph's Nose once poured, we do a lot of sniffing and guessing to try and avoid it.
The Rudolph's Nose teapot cocktail is delicious and the definite crowd favourite with homemade rhubarb purée and fresh cherry shaken with bison grass vodka and a hint of citrus finished with Turkish apple tea. It's sweet, with a light dash of alcohol and vodka is always a great choice to avoid clashing with other flavours.
The dark brown shaded Silent Night cocktail was the one that people were dreading the most with a chocolate liqueur combined with Martel VS and a touch of espresso, rounded off with peppermint tea. The flavour is more espresso with a touch of liqueur more that anything else and not really a chocolate peppermint crisp flavour that I was envisaging. Still it's more palatable than the Santa's Little Helper.
Sencha Quince Fizz - Lillet shaken with a hint of vanilla, fresh passion fruit pulp, pink grapefruit and chilled T2's "Sencha Quince" tea
The last teapot cocktail is the Sencha Quince Fizz which is Lillet shaken with a hint of vanilla, fresh passion fruit pulp, pink grapefruit and chilled T2's "Sencha Quince" tea. It's sweet and favoured by many however the passionfruit flavour overwhelms most of the other flavours within the teapot cocktail.
When food bloggers attack! Nicely of course...we're ladies!
The food tiers arrive but of course we must go through the customary ritual and the cameras capture the tiers from every angle. The sandwiches are quite tasty with fresh fillings although the bread is a touch dry on the outside perhaps from sitting uncovered. There is turkey and cranberry, baby prawn and mayonnaise with sprouts, honey roasted leg ham with mustard pickle.
Sandwiches, frittata, chicken and pistachio galantine and baby red peppers stuffed with goat's cheese
The item that Betty, Karen, Lisa and Steph said was less than spectacular in their regular High Tea offering was the frittata and it is with some relief that they see the frittata flavour is different. It's a ham and roast onion frittata with lots of sweet caramelised onions (albeit they're onions that are shaded blue). The petite baby red peppers are stuffed with goat's cheese and they are a deliciously creamy pop in the mouth morsel and the chicken and pistachio galantine is a cold poached chicken roll which is tender but needs more seasoning.
Scones with strawberry jam and whipped cream and White Christmas rum ball truffles.
Of course the test for any High Tea is the scone and these aren't bad at all although they're yet to reach the fluffiness of the QVB Tea Rooms, they're warm and light in texture. I do love clotted cream though although whipped is probably a healthier option (relatively speaking of course). The white christmas rum ball truffles pack a sweet hit of alcoholic punch.
Clockwise from front left: Traditional mince pies (with star), baked custard tarts with cherry compote and macadamia nut brownie.
We then start on the sweets. The surprise is the Traditional mince pie-it's absolutely delicious owing to the buttery shortcrust pastry which is so short and shortbread-like and there isn't too much of the aromatic, spicy sweet mince filling. The same buttery tart case is used for the baked custard tarts with a sour cherry compote which is also very good. The macadamia nut brownie is also not bad with a crispy top although now I'm hitting my satiety point and all I want is a cup of tea. It should be noted that tables are rather squishy here and we would have preferred a bigger table where we could fit around easier.
Our teas arrive and our waitress has thoughtfully noted the excessive camera taking and oohing and aahing over the teapots so she brings out the tea in some pretty teapots. I stick with tradition and go for my favourite, the French Earl Grey which is very fruity and floral and I also try Steph's Turkish Apple which is a lovely light slightly sour apple and Lisa's Chai which is milky and aromatic. A nice way to spend the afternoon indeed!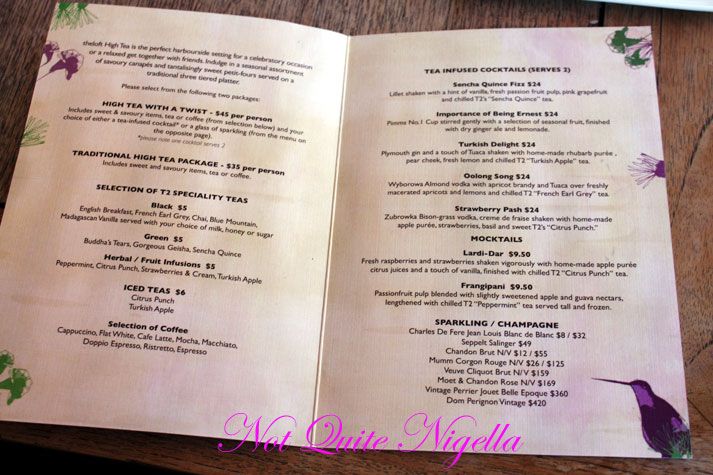 So tell me Dear Reader, are you a cold Christmas kind of person or a warm Christmas kind of person?
And what did you think of Julie winning Masterchef last night?
The Loft
13 Lime St
Sydney New South Wales 2000
Tel: +61 (02) 9299 4770
High Tea is available from 12pm-3pm Weekends. Christmas in July menu is available until the end of July. Bookings essential.