The onslaught of Summer heat in Australia can be oppressive when the temperature hits above 40 degrees C. You just don't want to move, you just _cannot _move no matter how hard you try and the thought of leaving air conditioned comfort fills you with dread. It's at times like these that you transform to a Winter lover and fantasise of snow. Sweat pours from your brow although I should take the chance to confess something about myself. I can't really sweat. That's why I feel the heat that much more than everyone else as my very own inbuilt air conditioning system is faulty. So I absolutely need cool drinks and desserts to help me through the day.
This is really based on the Ice Kacang dessert from Singapore and Malaysia but of course it's not entirely faithful so that's why I haven't put any claims forth or called it Ice Kacang. For starters I don't think that they would use Pomegranate syrup on theirs and instead of fruit they use sweetned red beans and palm seeds. I've made a version which is more Western in flavour for the simple reason that I didn't have the Asian ingredients to hand. I can imagine pursits clucking amongst themselves "Coconut! Mango! Cherries and Ice Cream, that's not an Ice Kacang tsk tsk!". I made this last year for my friend Queen Viv, M and her boys and they loved the sweet coolness and immediately asked me for the recipe.
You can use an ice shaver for this but I don't really have any room for single use items in my kitchen so I use a food processor which does a good enough job. What you do need is syrup, sweetened condensed milk (in a tube works best), fruit and the a big spoon to tunnel into the snow capped mountain. I used young Coconut meat which you can find at most supermarkets nowadays (and the juice itself is delicious), lychees, ice cream and achacha fruit which is a new type of fruit which is similar to Mangosteen which is one of my favourite fruit. Sadly I've yet to have a good Mangosteen here in Australia but opening these up is much easier, they're much more reasonably priced and they're just as sweetly gorgeous (and the season has just started yay!).
With the young coconut, you'll need a very, very sharp and heavy knife and even then my chef's knife wasn't really a match for it. I kept banging and banging using the thick base of the knife (no use breaking an knife for a coconut no matter how delicious the innards are!) and I found it best to summon up any inner rage and beware your fingers. It will give way eventually and then some delicious coconut water will come out. Have a bowl ready to catch this delicious water. Once the coconut has drained then take a spoon and scrape away the smooth white coconut layer inside and drink the juice separately.
This also happens to be fabulous for kids and relatively low in fat particularly if you use a low fat ice cream or just one scoop. They love towers of colours and digging at things and of course the sweetness. Ah yes the sweet coolness, there's nothing quite like the ice cold trickle of the syrup, fruit and ice down a parched throat. And raising an arm to spoon this in is the most I can do most days.
So tell me Dear Reader, how do you beat the heat?
Snow Sundae Dessert
Makes 1 medium to large bowl (serves 2)
Sweetened condensed milk, chilled
1/2 whole Young Coconut, chilled and cut open, the sweet white meat removed
Fruit such as lychees, achacha, mango cubes or cherries, chilled and cut up ready to use
2 scoops of ice cream, cold (obviously :) )
Buyer's tip: Achacha fruit are available at Eveleigh Markets, Sydney.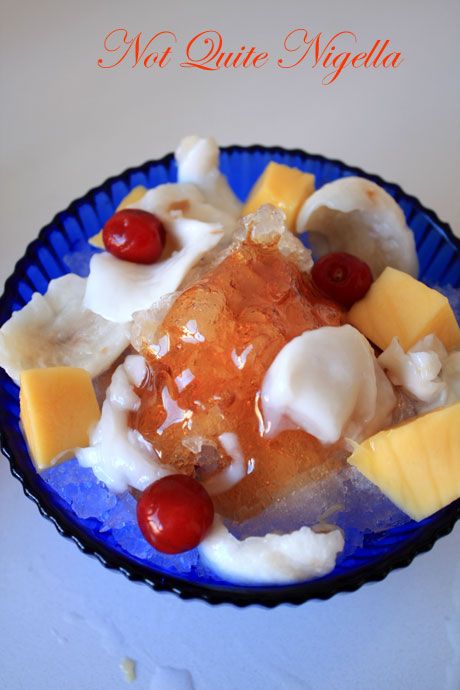 Step 1 - Take out everything just before using. Place 1 tray of ice cubes in the blender and blend until it resembles shaved ice. Place a scoop of ice cream in a bowl and add some fruit and coconut meat at the bottom. Add the shaved ice on top of this and pour some syrup over and then douse liberally with some sweetened condensed milk. Add extra scoop of ice cream and the add more fruit around it. Serve immediately.