All trips to the airport should start out like this. There's a knock on my front door and I open it. "Hello Mrs Elliott, I'm a touch early but I have your car waiting for you outside" says the chauffeur of the car that is to take me to the airport. Being chauffeured to the airport is part of the business class and first class service on Emirates Airlines and I, as a non driver couldn't be happier about it. I arrive 2 hours before we are to take off and go to the business class lounge where I meet my other travelling companions. The walk through is easy as we have an express pass that they're currently trialling that short cuts us through every queue. Check in is also a breeze with only 3 people in front of me in the queue instead of the fifty that are in the economy queue (I'm starting to worry that I'll become addicted to business class at this stage). The luggage allowance was a whopping 40kgs. That's a small person! I wouldn't get caught out with my compulsion to buy jams again.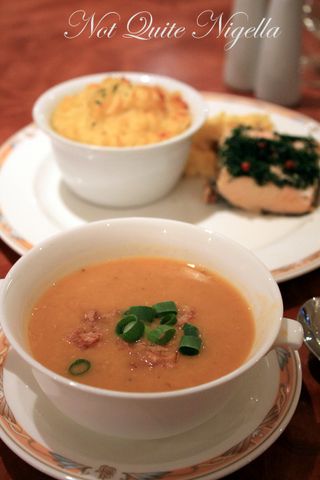 There's a decent array of food and I pick a seafood pie, salmon fillet and some lentil soup. Rumour has it that we're having a 6 course meal when we get on the plane but Mike tells us that he heard that it's just a snack and at 8pm I'm rather peckish. The pie is delicious with a crunchy top, the salmon has a lot of dill on the top and the lentil soup is quite good, like a liquidy dahl.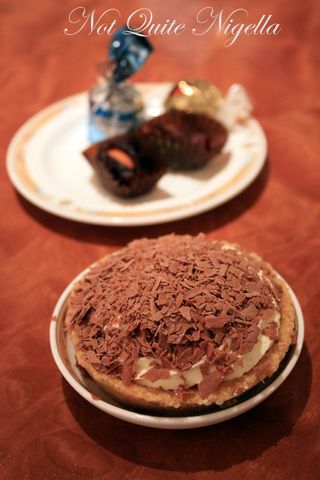 Even with the idea of a light snack in the air, I am tempted and I get some sweets from the display. There are almond stuffed dates and plain dates as well bannoffee pie which just begs to be tried. The pie is actually pretty good with a nice crust, thick caramel and billows of whipped cream (although a bit more banana would be great). After using the internet, it's time to board the A380 and I'm excited as it's my first time on the new plane.
The plane is so large that we don't even see the other passengers boarding apart from the fellow Business Class and First Class travelers. First Class enters in a different section alongside us and economy...well we didn't see anyone from economy boarding. I survey the space where I'll be spending the next 15 hours. I'm seated at the side and where in economy you'd have someone next to you, next to me is no-one which I should confess is a bit of a delight. There's a 19 inch screen in front of me with on demand entertainment and apparently over 1,000 options (I didn't test them all but from perusing the booklet, most of them are music). I settle in and start playing with the buttons on the side console. There's a massage option with four options and a speed and intensity control and I get so excited about this that I feel the need to tweet "Holy crap my airline seat is massaging my back and legs- love the emirates! Altho im ruined 4 economy Qantas now...".
It's a 15 hour flight to Dubai and I never do well sleeping on planes being a light sleeper and the fact that I can't sleep unless my feet are raised (unlike Mr NQN who can sleep in any position at any time). So when I find my seat I'm delighted to see that I have my own area with my very own flat bed literally at the touch of a button and I have my own little section of drinks and storage. The drinks provided are mango nectar, Pepsi, Perrier and still water. I'm given the amenities bag and the products are by Bvlgari and there is a hand cream, toothbrush and toothpaste, perfume, oshibori (wet towel) and comb. They announce the languages spoken by the crew and it's a long list. It is a big plane after all but the range of languages is long and impressive and ends with "Zulu".
We're offered orange juice before we take off and soon after the menu arrives. It's true, there is a 6 course meal involved although these courses involve canapes and salad and even though it's abut 10:30pm I happily accept it for research purposes you understand. I'm offered champagne (It's Moet et Chandon Brut Imperial NV for this flight). The canapes are delicious and are a marinated vegetable stick with mushroom, black olive and a stuffed sweet pepper (I particularly love the pepper). There's also smoked salmon on a pumpernickel round and ham and melon in a spoon which are both delicious and my appetite is well and truly whet.
We're offered a range of bread from the bread basket and are encouraged to have more servings. I choose the garlic bread and a sourdough and use the tiny bottle of  fantastic olive oil and balsamic for the sourdough (pocket sized balsamic and olive oil, a good idea to carry around no? ;) ). They then lay down a white tablecloth and set our tray table with butter, salt and pepper shakers and a glass of water with a napkin wrapped cutlery set. When I try and take out the tray table, I'm stopped with a deft "Please allow me".
The appetiser arrives and it's a choice between a crayfish and scallop salad and a beef roulade. You know which one I ordered right? The crayfish salad is surprisingly quite succulent although a little bit on the super chilled side and the scallops and avocado go well with it. It's served with a creamy grained mustard dressing and a stuffed cherry tomato which explodes with creamy goodness in my mouth.
_Main course: Roast lamb rump (salad course not shown)
_
The main is a lamb fillet which comes with roast potatoes, capsicum and sugar snap peas. It's quite tender although I admit I am not extremely hungry at this point and mainly finish the sugar snap peas and kipfler potatoes. It's very rich as the sweet red capsicum is stuffed with gorgonzola. Normally I'd devour this eagerly but tonight, well my stomach is telling me no.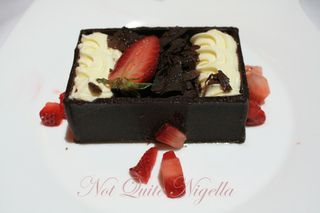 The dessert is a white chocolate bavarois in a dark chocolate cup with marinated strawberries. It's rich, like whipped cream and I like the strawberries although I leave most of the chocolate cup behind as it's too thick to cut through. The cheese course cannot even be contemplated at this stage. I look at the trolley longingly thinking "I'll be back for you another moment dear cheese".
If by sheer miracle or if you have worms and are still hungry after all that food there is a range of "light bites" which can be ordered at any time. These include a deli sandwich, lamb skewers, fish & chips, mushroom risotto, beef pie an ice cream selection and tea and coffee. Did I mention the bar area at the back of the Business Class section? It's set up like  a bar and must be tempting for some. Me, I just want to sleep.
A smiling flight attendant asks if I would like them to make the bed for me and I say yes. They place a little mattress and sheet on the bed in preparation for sleep, the starry lights above go on to resemble a star lit sky and I put on my noise cancelling headphones and earplugs (I brought these as I am such a light sleeper), put on the massage function and recline on the flat bed and drown out the party that's happening nearby in the bar area with a few guys who are loving the free cocktails and snacks. Sadly it was too conspicious to take a photo so I've used one from the Emirates site which is pretty accurate (just insert three guys partying hard in there).
Eight hours later in the morning we receive our breakfast and it's a light fruit salad which features very juicy and sweet fruit, a delicious honey yogurt (and I can never finish a whole pot of yogurt but I do here), some breads and sweet pastries from the bread basket where I choose a Danish and then we're offered a hot choice.
I choose the French toast as it's rarely seen on an airline menu. It's more like toast like than French toast so I pick at it still full from last night's dinner. The dried fruit compote that is served alongside it is delicious and still nice and moist but very  sweet.
We stop off at Dubai Airport for our 3 hour stopover and we take to the enormous business class lounge. It's awfully busy with nary a seat spare (except for the ones near the smoking area). There is a pretty wide selection with breakfast options, lunch options, lots of drinks and desserts and it somewhat resembles a hotel buffet. We all use the internet there (although you will need to bring your own Australian adaptor as their powerpoints don't accommodate Australian sockets and they don't have any adaptors).
After catching up on our emails, we board our next leg: the Dubai to Munich flight. Sadly, it's not in an A380, it's in a smaller plane that doesn't have the flat bed seating. Here we're in for a 4 course lunch and the champagne on this flight is Tattinger.
The appetiser is an Arabic Mezze which I was very excited to see. There was also a smoked salmon fillet but as I love Middle Eastern food and we were leaving Dubai, I thought I'd choose this. It comes with tabouli, moutabal with pomegranate seeds, artichoke and broad bean salad and labneh (yogurt cheese) rolled in mint with Arabic pickles. The bread I choose from the bread basket is the Arabic flat bread pocket. It's delicious albeit very, very filling and considering the amount of food I've ingested I somehow manage to finish most of it.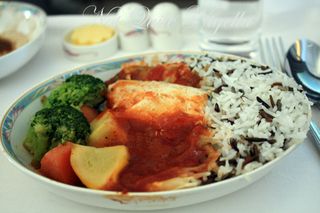 In each menu there is a low calorie option and perhaps it's a little too late to be choosing this option but I do (I should have perhaps done so from the first flight given how much food there is). The low calorie option today is the poached sea bass fillet. It's poached in a light court bouillion and is served with a tomato and fennel sauce, steamed white and wild rice and  steamed broccoli, carrot and yellow squash. I had expected it to be a touch Lean Cuisine-ish but it's actually very good. The fish is tender and delicately flavoured and the flavours go well together and I don't feel like I'm eating a low calorie meal.
One of the hardest things is passing up dessert and who am I to do that now especially since they've wheeled out a trolley of desserts and cheeses and I have a slice of white chocolate and cardamom tart in front of me. With dessert there's no alternate choice here although there is a good selection of cheese. The tart is rich and smooth with a crisp chocolate base. The pandan coconut ganache is a dream and I scoop up all of this. It's served with a tart kumquat compote.
The cheeses are a mixture of hard and soft including parmesan, an Australian Persian Feta from the Yarra Valley, a German smoked goat's cheese and a blue vein and a French cheeses. I try a tiny bit of the Persian Feta with some grapes and I'm beyond caring how many calories I've consumed in the past 24 or so hours.
After it's set down, another flight attendant offers me some Godiva chocolates from the box. I choose one and sit back and relax. Yes, going back down to economy is going to be near to impossible. I'm picturing handcuffs and sedatives...
So tell me Dear Reader, so you have an obsession with airline food too?
NQN travelled as a guest of Emirates Airlines.
Emirates third daily service has commenced and will become a daily same-day-to-Europe service on 1st January 2010.
Emirates Airlines
http://www.emirates.com/au/english/