Today we test out low cost carrier Air Asia's Premium Class product. From the food, drinks, bed and entertainment to the overall flight experience is it worth upgrading? See what premium class offers for the 7.5 hour flight from Kuala Lumpur to Sydney on an Airbus A330-300!
Dear Reader, I have a confession to make: I don't really understand the appeal of premium economy class when flying. For me the best thing about business class is being able to lie flat to sleep. I'd rather save money and fly economy than fork out the extra to go premium economy (because at 152cms I don't really need the legroom, just the ability to stretch out my legs when I sleep). But when I heard that Air Asia's Premium Class product has a flat bed at the price of premium economy I was intrigued to try it.
Air Asia is an airline with a loyal following. Someone I knew reviewed Air Asia and pulled no punches about the airline and got hate mail from it. I think much of her review stemmed from being unfamiliar with how to fly with them. Here are some ground rules to flying with Air Asia:
Ground Rules
On Air Asia you pay for everything that you want. That means food, drink, water, blankets, pillows and baggage allowance. The upside is that you don't pay for anything that you don't want or use.
In economy you have a choice to buy a sleep kit that consists of an eye mask (a good quality one, not plastic material), a blanket in a sleeve and an effective blow up neck pillow.
Any changes to your ticket are charged for. With baggage there is a staggered table of prices depending on whether you book baggage or meals with the initial booking, after booking or at the counter with the price increasing with time after booking so it is cheapest to book it all on your initial booking. The carry on allowance for both economy and business class is 7kg which is quite limiting.
Food is best and cheapest pre-ordered ahead of time. You can also buy food on board but there is a limited choice and if you're towards the back of the plane you may not get your original choice. The meals are very inexpensive and tasty with the majority being Asian or Indian style dishes.
Most airlines charge for exit row seats and Air Asia is no different. If you want extra leg room with an emergency row seat or a "hot seat" then rows 1, 2 and 14 have hot seats with 20.3" of legroom. Be aware that seat 14A has no window which is good if you want to sleep but obviously not if you want a view. On one flight I was in row 14 which is also in the quiet zone with no kids under 10 years of age allowed but there was a baby in the premium class section that cried a lot so premium class babies can circumvent that rule.
Economy seats don't have any USBs. Also, despite what some sites say there is no free wifi although you can connect to their inflight system using your own device and watch a limited range of shows. If you want to connect to the internet, that is extra. My biggest tip if you want to stay awake is to load up a device with your favourite shows and bring a battery pack and earphones.
Although some low cost airlines have low standards of service often with curt or uncaring staff, the staff at Air Asia are all very friendly and pleasant even if you are travelling economy (because let's be real, most staff are nice if you're flying business class).
Now onto the premium class review!
Comfort Amenities and Air Asia's Flat Bed
The premium class cabin is small made up of 2 rows with 6 seats in each row in a 2x2x2 configuration with 12 seats in total. Unlike premium economy or business class on other airlines there is no welcome champagne or juice although bottles of water are brought around to passengers. Pillows are already placed on each seat when you board.
After take-off, flight attendants bring around thick red duvets. Then they check our boarding passes (this is done rigorously both classes to make sure the person that paid for the meal gets their meal) and ask us what time we'd like to eat our meal and write this down. The flight attendants cover all cabins and there isn't a dedicated flight attendant for the premium class cabin although there is always someone around if you need anything as the galley is at the front.
The premium class seat has a 59"/150cm pitch and is 19"/48.2cms wide. It is an flat bed that leans at an angle but does extend out to be flat. There isn't bedding or a mattress added but it is comfortable and you can get a good night's sleep on this.
There were 4 seats free in the premium class cabin during my flight. My seat is 2D on the left centre although I could have switched to a right hand side window or aisle in the second row if I wanted as those were unoccupied. On the armrest are the buttons to recline your seat, put the leg rest up or recline the back of your seat. The seats have a hard shell which protects you any bumps or nudges from passengers behind you.
All premium class seats have international adapters towards the base of the armrests. Air Asia's premium bathrooms are the same as economy bathrooms although because there are less customers they remain clean and tidy. A handful of people do try to use these bathrooms (despite the curtain saying that access is for premium customers) and are gently guided back to the economy bathroom at the back of the plane.
Premium class passengers also get 40kgs of baggage included, a dedicated counter, lounge access, priority boarding and insurance.
Food
In Air Asia's Premium Class you do get a meal included but this is one hot meal and a bottle of water while anything extra you pay for. The food in premium class is served on a red plastic tray while economy class food is not served on a tray. I managed to sample a range of food on all of my flights (four in total) and I'll go through each one:
Snacks
There is a decent range of interesting snacks available from nuts, chips, chocolate coated nuts and dried fruit. I tried two of the hot snacks.
I have to say that I did a double take at the prices because usually travel involves resigning yourself to being ripped off at the airport. Air Asia's food is very well priced especially compared to Australian prices. The potato and chicken curry puffs come out hot and they're pretty good with a good amount of filling and warm pastry. I'd order these again.
I have a thing for soup when I'm travelling especially on planes as flying dries you out. The chicken and mushroom soup is served steaming hot and is pretty good. There isn't a powdery texture to it (which can happens with some premix soups) and this is one of the few Western options.
Mains
Most mains are Asian or Indian but there are a few western style mains. There are also packaged noodle cups available although I didn't try any of these.
My absolute favourite main was the Inspi(red) Burger by Thai Hong Thaimee, a Thai chef with 10% of sales going to The Global Fund for HIV and AIDS programmes in the ASEAN. She devised a chicken burger marinated with fish sauce, kaffir lime leaves and lemongrass.
The patty is topped with shredded purple cabbage, seedless tomato and her grandmother's 'Nam Prik Noom Mayo' green chilli mayonnaise sauce in a pink beetroot brioche bun. It comes out warm and it's delicious, especially with that deliciously spicy mayonnaise. I'd order this again in a flash.
I also tried the Nasi Lemak which is coconut rice dish served with Pak Nasser's chilli sambal and chicken rendang and half a hardboiled egg. On the side is a little bag with fried anchovies and peanuts that I scattered on the rice. It's nice but I can never eat that much rice and just enjoy the curry.
Out of the Nasi Lemak or Nasi Padang I slightly preferred the Nasi Padang with white rice, beef rendang, stir-fried cassava leaves, ikan bilis balado and green sambal. This comes with prawn crackers in a bag and it's tasty and full of flavour with a good rice to curry ratio.
This is one of the Western style dishes along with a turkey, cheese and egg sandwich (not available on my flight when I asked). This has roast marinated chicken breast pieces served with herb roasted potato wedges as well as blanched carrots and broccoli. The chicken is tender and the black pepper sauce is delicious.
The only main dish I wouldn't go for again is the sushi because the rice was quite hard. I ordered it more out of curiosity because the other meals had been very tasty and I had a craving for sushi.
Desserts
The dessert menu is tempting with options for cheesecake, butter cakes, pineapple tarts to chocolate brownies.
The airline's signature dessert is the burnt cheesecake. It's very good with a smooth and creamy texture. It isn't overly sweet and it comes with whipped cream on the side. The cream has a slightly different flavour from fresh dairy whipped cream.
The pineapple tarts are filled with pineapple jam and come as a generous five pieces per serve. A little warning: lean over your tray table when you eat these because they are super crumbly (as pineapple tarts are) or you may end up with crumbs everywhere.
Drinks
There are a range of drinks on board that sound interesting from a collagen drink, bottled Milo, tea, honey sparkling drink to mango Calpis water as well as regular tea and coffee.
I usually steer clear of packaged coconut water because I don't like the taste (it tastes off to me) but this one is pretty good. It does develop that particular packaged coconut water flavour after a while of being opened.
The flight attendants serve the matcha latte either hot or cold. I'd normally go for hot but there was some turbulence so they were only serving it cold. It's pretty good with just the right amount of matcha flavour for me and I'd order this again.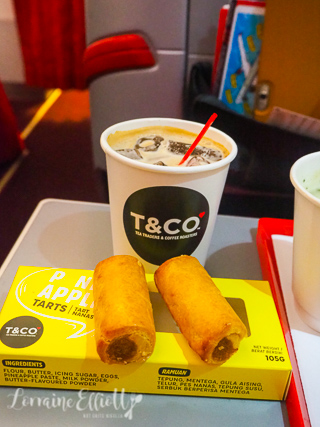 I am not usually a coffee drinker but I'll make an exception for a Vietnamese Iced Coffee. This is terrific, just what you'd want a Vietnamese Iced Coffee to be. I did worry that I'd have trouble sleeping but I fell asleep for a few hours straight after drinking this.
Entertainment
In business class they bring around a tablet and a pair of noise cancelling headphones which you have to sign in and out for. The entertainment is better than the free entertainment in economy although there isn't a huge range and a lot of the shows I had never heard of before. I watched a couple of films but fell asleep and then woke up to eat before touching down in Sydney!
So tell me Dear Reader, have you ever flown Air Asia? What did you think? Do you have a favourite low cost airline?
Air Asia
airasia.com/en/gb